Mahira Khan, the superstar of Pakistani showbiz is well and truly loved for her talent and beauty. Mahira Khan is a fashion icon and a diva for the younger generation who love her for unique sense of styling. Mahira Khan shows that she has the confidence of carrying herself and her outfits with grace and elegance. Mahira Khan is one of those very few actors who attained the stardom overnight after her TV serial Humsafar went on air. Since then, Mahira Khan has continued to touch the sky and she has stayed on top of her game right from the beginning.
Mahira Khan is one of those stars who stay connected with their fans and she has kept herself quite open and accessible by sharing minute details on her social media related to her pictures. Mahira Khan's sense of styling is always on-point and that is why, she looks absolutely gorgeous no matter what she wears or how she carries it. Mahira Khan's personal sense of styling is very casual and chic but when it comes to making public appearances when her profession calls for it, she always brings something new to the table. Mahira Khan's glam is always minimal but when it comes to her clothes and outfits, she does not shy away from experimenting and trying something new every single time. Mahira Khan always adds a personal touch of quirk or elegance to her outfits and the masterstroke happens to be the confidence and grace with which she carries it.
Mahira Khan is one of those very few celebrities who will be seen wearing all kinds of cuts and colors in her outfits. Mahira Khan knows the kind of body language that is needed to wear both eastern and western dresses, that is why she always looks effortlessly beautiful irrespective of the kind of dresses that she wears. Although Mahira Khan has always looked flawlessly gorgeous in all kinds of outfits, here are our top 10 picks of Mahira Khan's dresses:
The Timeless Pishwas
Mahira Khan looks like a vision in this Pishwas designed by Zara Shahjahan. Mahira Khan shows that no matter how simple or less heavy a dress is, she will always look ethereal and just perfect wearing it. This beautiful earthy toned Pishwas is heavily flared. It has a motif and embroidery on the bustier. The entire fabric is self-printed and self-embroidered. It has been finished with laces and despite it being such a simple dress, it looks timeless and classic. Mahira Khan paired it with heavy traditional earrings and also a few statement rings in her hands. Mahira Khan kept the makeup fresh and minimal and went for a sleek bun. Mahira Khan completed the entire outfit look wearing a pair of Khussas which compliment a Pishwas perfectly.
Pastel Toned Floral Saree
Mahira Khan takes chic to another level in this Sania Maskatiya piece. This pastel colored floral saree is crinked and has a sleeveless blouse. Mahira Khan has kept the styling to an absolute minimum but she still looks well put-together to make a public appearance and be a head-turner in the crowd. Letting her hair in its natural state, a slightly plum shade lipstick, heavy blush and statement earrings make Mahira Khan look effortlessly radiant and just perfectly ready to slay.
Regal Eastern Gown
Mahira Khan wore this gorgeous piece of Menahel and Mehreen during her Toronto premier of Superstar and she actually looked like a star in this gorgeous dress. It was a perfect day-time dress with very soothing colors and tones. This dress played heavily with the textures, heavy embroidery and heavier embellishments. It also had a beautiful netted kamdani dupatta. Mahira Khan carried this dress beautifully. The statement of this dress were the ornamental hangings at the back, which added another touch to it. Although it was a formal dress, these hangings stopped it from looking monotoned or too simple. These statement hangings at the back made this dress charming and unique. Mahira Khan went for a textured braided bun which was a beautiful change in her look.
The Cinderella Dress
Mahira Khan looked like a real-life Cinderella in this gorgeous powder blue dress that she wore at Lux Style Awards. This dress speaks for itself and Mahira Khan is nothing short of a vision in this beautiful outfit. A simple plain blouse paired with netted flared skirt which is embellished at the waistline, this stunning dress is not only unique but shows that less is more. Mahira Khan went for her signature sleek bun, no-makeup makeup look and she let this dress do the talking for her!
The Gorgeous Shalwar Kameez
This beautiful Shalwar Kameez designed by Sozan Kaar is one of the most beautiful Shalwar Kameez worn by Mahira Khan. This dress has all those colors which work in harmony and make any clothing article a visual treat to look at. This dress is aesthetically pleasing and even though there is a lot happening in dupatta, kameez and shalwar, they all compliment each other so well and make a perfect formal shalwar kameez that can be worn on any big event or occasion. Mahira Khan looks gorgeous in this ethnic and traditional piece. The gota bordered striped dupatta, heavily embellished banarsi kameez and shalwar with heavy sequin work show that a lot of designing and love was put into this piece. Mahira Khan went for a slightly varied bun and also went for a bronzed smokey eye to go with this heavy jora.
The Boss Lady Suit
Clad in Ermanno Scervino label, Mahira Khan made her presence felt looking like a Boss Lady that she is, at the Cannes Film Festival in 2018. This outfit despite being a basic designed suit was enough to make a statement. It had a studded detailing at the back of the coat and the length of the coat made it a playful take on a regular women suits. Mahira Khan wore a plain white dress shirt underneath. She went for beachy waves and basic makeup look, something that Mahira Khan carries with absolute effortlessness. This outfit of Mahira Khan showed that she meant business!
Lady In Red
This midi dress worn by Mahira Khan during Superstar promotions is everything. Red is definitely Mahira Khan's color and she has carried it with utmost charm and persona. This asian inspired fabric and silhouette of the dress is a different take on the dresses and going by the hue shown in this duochrome dress, Mahira Khan paired it with blue heels. Mahira Khan also had cut her hair short and sported layers after a long time, which definitely suit her and make her look even younger. Mahira Khan also went for a slightly lighter hair color which suits her complexion a lot. This dress makes Mahira Khan look fierce and a force to be reckoned with!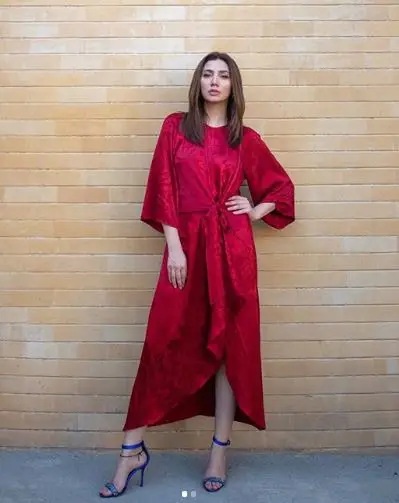 The Kamdani Charm
This beautiful creation of Manahel and Mehreen was worn by Mahira Khan on one of the fundraisers of Shaukat Khanum Hospital. Mahira Khan looked graceful, humble and simply stunning in this traditional outfit. Mahira Khan shows that she can carry a simple plain churridar kameez with utmost charm and sheer elegance. The kamdani dupatta is the highlight of this dress. Even though this dress is simple, the embellished butterfly at the back adds that touch of style and fashion to this simple piece. Mahira Khan did keep her look simple but she wore a heavy layered necklace to go with the kamdani silver hue in the dupatta. This entire look and dress is absolutely gorgeous.
Vision From The 60's
Mahira Khan looks like a vision in this Manahel and Mehreen white and black saree. The overall look is a work of art and shows a lot of thought has been put behind it. The ruffled and textured black blouse is the star of this saree. Mahira Khan's hair and makeup makes her look like she is that timeless ethereal beautiful heroine from the 60's. The way Mahira Khan has draped this saree goes to show that she wanted the entire focus to be on the gorgeous ruffled and laced blouse because that is what is making this look complete. Mahira Khan also added two hairpins, to give herself that 60's glam and look. She paired it with a huge statement necklace which is not only gorgeous but is timeless as well.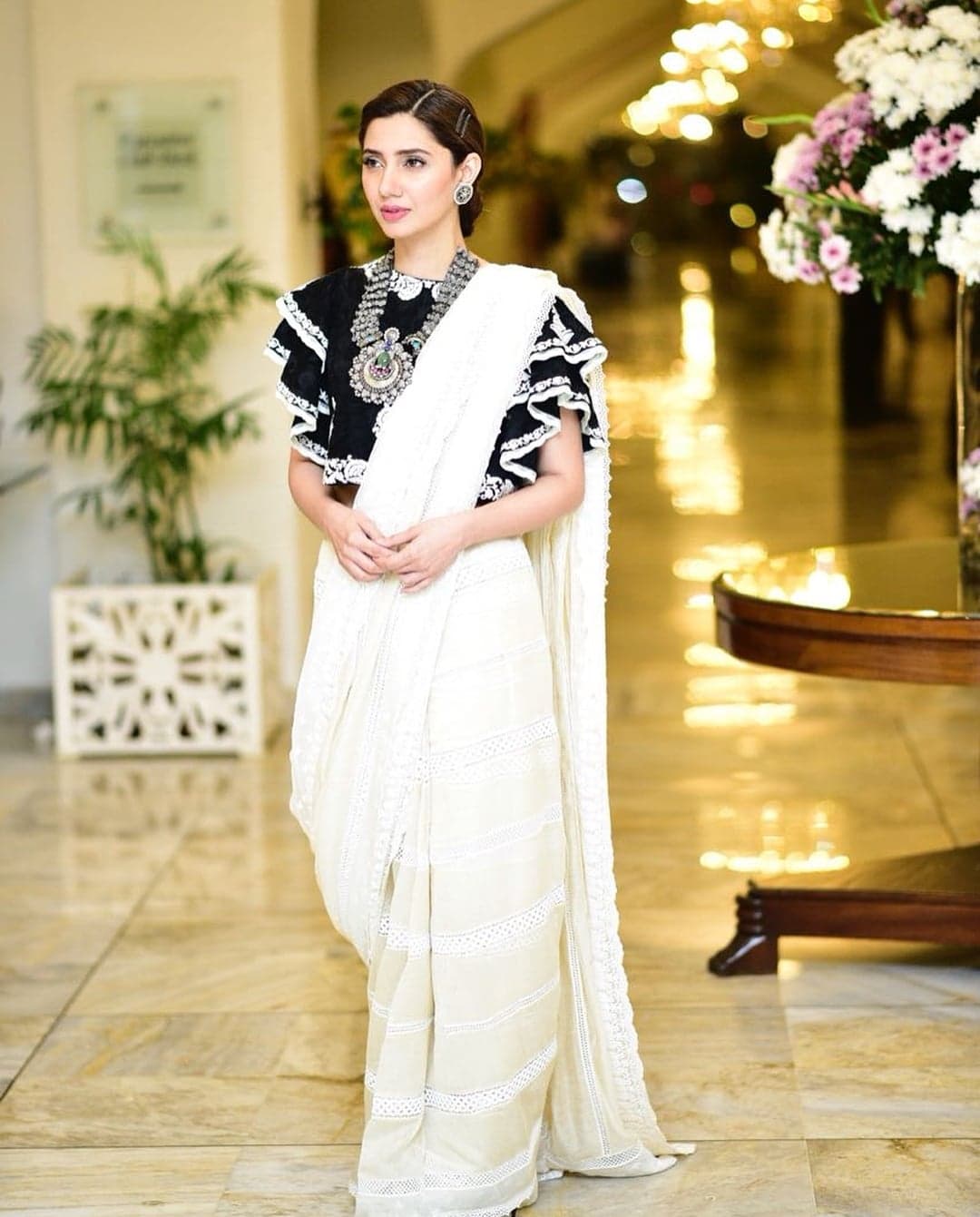 The Classic Black Dress
We have not forgotten this gorgeous black outfit of Mahira Khan that she wore at a PSL event. When it comes to black, nothing can go wrong and with Mahira Khan sporting such a look, it is bound to work and look gorgeous. This beautiful black outfit was flared and hugged Mahira Khan's perfect figure like a dream. The gorgeous dupatta with hues of blue added a touch of color and broke the black spell in a perfect manner. The sleeves of the shirt were also making a statement. Mahira Khan went for a bolder colored lipstick and a signature sleek bun but this entire look and outfit worked like a dream.