What do most of you look for when you visit the instagram pages of your favorite celebrity or any celebrity at all? Some people just want to see what these celebrities are keeping themselves busy with, others are interested in pictures only whether they reveal the whereabouts or activities of the celebrities or not and there are some people like me who are looking for much more! When I visit the official page of a celebrity which is run by the celebrity himself, I want information, inspiration and something else, it can be anything at all which will make me like this celebrity even more because isn't that what most celebrities want through these posts? A post which makes me like a celebrity more is a success because at the end of the day most celebrities have these accounts so that they will win over more fans. Inspirational posts are hard to come by but when you find one then it is always a topper.
Most of the Pakistani celebrities use instagram. Some of them use it only for posting pictures but there are many others who also share their feelings, future plans and dreams in these posts. We decided to pick the best instagram posts by Pakistani celebrities posted in the last 7 days. The reasons for choosing these posts is mentioned below.
Sajal Ali And Feroze Khan's Inspirational Gesture
Sajal Ali and Feroze Khan started the promotions of their first Lollywood venture "Zindagi Kitni Haseen Hai" with visiting a school for special children. This one picture and the post shows that this was much more than just an attention-grabbing stunt. They had a great time with the kids, learning sign language and spreading smiles. These kids are not the target audience but these celebrities demonstrated that zindagi is only haseen when you spread happiness. Way to go Sajal and Feroze, you won our hearts this week with this gesture and this post.
Mehwish Hayat's Video And Post Thanking Her Fans And Followers
When celebrities reach a certain height sometimes they forget to pause and thank the people who are constantly showering them with their love and support. It is always pleasing to watch a celebrity thanking her fans. Mehwish Hayat posted a thank you video along with this message for all those fans who have shown their appreciation for her work. This was another post which deserves to be in this list.
Aisha Khan's "Not-So-Glamorous" Moment
After watching her play Jeena in Mann Mayal and many roles which are glamorous in some way, it was brand new to see Aisha Khan posting this picture from the sets of one of the plays she is busy shooting nowadays. What we like is the lack of glamour and an artist willing to accept that it can all get a little tedious and boring at times. We like your honesty Aisha Khan!
Zahid Ahmed Khan Shares His Future Plans
Zahid Ahmed's instagram page is always buzzing with interesting posts. He loves the feedback from his fans and is always keeping them informed about his upcoming projects. He takes his work seriously. This post is on the list because Zahid Ahmed revealed a little something about his future projects which gives his fans something to look forward to. Here is the look for his upcoming drama and few details which he shared about his character.
Faysal Qureshi's Father-Daughter Moment
They say that a picture is worth a thousand words. This pictures proves that it is very true that sometimes a picture can say more about a moment and someone's feelings than any words. This picture on Faysal Qureshi's instagram page captures a loving father-daughter moment perfectly.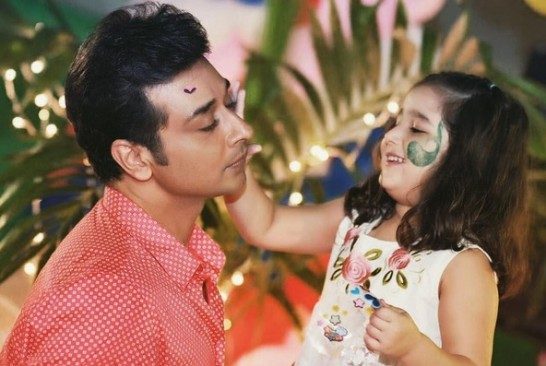 Please feel free to add to the list. Which instagram posts did you like the best in the past 7 days?