App Ke Liye Episode 07 – Slow Already!?!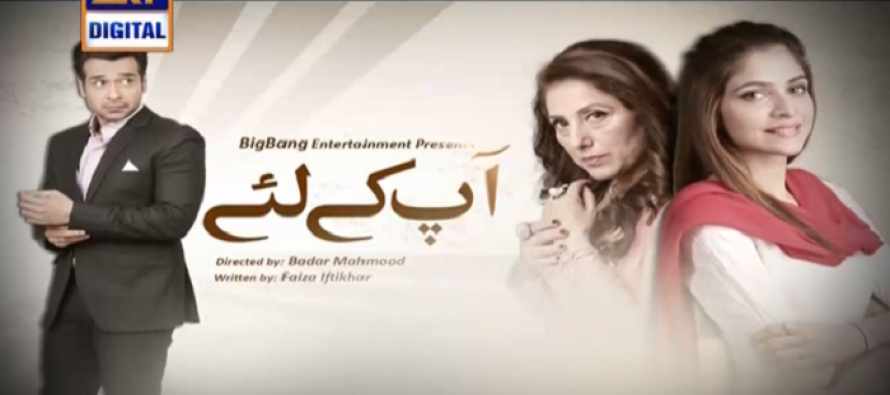 Ohkay so, this episode of App Ke Liye was good in bits & pieces, but I found it on the slower side because a lot of coverage was given to the side characters & their scenes seemed never ending. The only good thing about this drama is the lead pair & the chemistry that the couple shares but other than that, all the tracks & the characters are quite weak & don't really succeed in grabbing my attention.
Washma was shocked at what Shaheer did, that is why she barged into his office & told him to rectify the situation, as she only asked for a favor from him & never really meant that she was serious about anything. Shaheer decided to convince Washma & all the things he said pretty much made sense that is why Washma not only calmed down but understood what he said & meant. Shaheer knows that Washma doesn't believe in planning things beforehand & also she was at that stage in life where she had no idea what the future will hold for her, so he tried to make her realize that getting married to Shaheer was the best option because not only her brother was happy but also because she had a point to prove to her ex-fiancé Arsalan too.
Washma immediately understood everything that Shaheer said & just because she happens to be quite impulsive, she went ahead & decided to go ahead with this adventure too. Washma might not have any other reason to get married to Shaheer, but her brother's happiness & approval was enough for her to accept Shaheer's proposal because for Washma, Waheed's happiness means everything & she wants him to live a peaceful life where his wife can't use Washma as an excuse to pester him.
I loved the way Washma tackled Imdaad Hussain. It was actually quite amusing that Imdaad Hussain became Washma's father in front of Shaheer whereas in privacy, he never left an opportunity to make advances at her. Imdaad Hussain had never imagined that Shaheer would choose Washma as his life partner & that is why, rather than being shocked himself, he decided to let his wife know that Shaheer's wife Washma will give Nishat a run for her money. I still find Nishat OTT & felt that her scenes & conversations were not only unnecessary but were stretched & repetitive as well, so there was nothing new that she discussed.
I don't really understand why Areesha was so mad at Shaheer's decision of marriage? Shaheer has given her a nod of approval that he would definitely meet Omar, the guy she wants to get married to, so what's the harm in waiting for a couple of weeks more? Just like Nishat, Areesha's track is nor too impressive neither interesting & I feel the drama is quite in an early stage to be depending heavily on the fillers already.
Arsalan got way more coverage than required too but I hope this was the last time we saw him. Abeera's forlorn face didn't help the situation either. She herself went & challenged Shaheer so by now, she must've known him for a considerable amount of time to be aware of the fact that Shaheer won't sit quietly & will make sure to take up the challenge that Abeera set for him. So, now when Shaheer informed her of what she was eagerly waiting for, then why was she so upset? I hope this was the last time we saw her too because it won't be fun seeing her meddling in Shaheer & Washma's marital life. The only character, apart from Shaheer & Washma that I enjoy watching the most is of Washma's brother Waheed. His reactions are spot on & so is his acting. Waheed is a perfect example of how brothers should be, where they allow their sisters to breathe & take decisions regarding the most important aspects of their life.
Overall, this episode was alright but I feel the side characters are taking a lot of screen-time & unnecessarily at that, which is why it has made the pace a bit slow. I think Asad Siddique & Faryal Mehmood are the weakest in terms of acting & it is quite burdensome to watch them. Arij Fatima & Faysal Qureshi are doing their job really well & like I mentioned in the last week's review, I will mention it again that it was quite tiresome to watch this episode as well because of the camera movements. I so wish they hadn't done that because I seriously can't imagine how will I follow the rest of the drama. Please share your thoughts about this episode of App Ke Liye!
Keep Supporting,
Cheers,
Zahra Mirza.
Zahra Mirza
The one who starts her reviews with 'Ohkay so'. ;)
---