It is said that " a successful marriage is an edifice that must be rebuilt everyday". We often talk about reel life couples who have made a very special place in our hearts which is irreplaceable. On screen couples like Bano and Hassan, Asher and Khirad and a few more leave a deep impression on the viewers because of the on-screen chemistry that the artists playing the characters share. There are many real life couples in our entertainment industry too who look great off screen and also on screen, whenever we get a chance to see them together. Here are the top 5 celebrity couples of our industry.
5. Hira Tareen and Ali Safina
Both of them are very cute and very talented. We do not get to see a lot of Hira or Ali on television but whenever we do they give us something to remember. Hira and Ali compliment each other beautifully. You can see the love they feel for each other just by seeing the way they look at each other. Hira looked beautiful on her engagement and her wedding.
4. Syra Yusef and Shehroz Sabzwari
They look fantastic off screen and also on screen. They rocked as the young and cute couple in the play Tanhaiyaan Nayee Silsilay. Syra's and Shehroz's wedding was the most talked about wedding last year because it was not just the union of two actors/models but also the union of two people who looked fabulous together.
Shehroze Sabzwari and Syra met through a mutual fiend. For Shehroze, it was love at first sight but Syra took some time falling for Shehroze. Now that they are finally together, it is plain to see that they were meant to be with each other.
3. Usman Peerzada and Samina Peerzada
These love birds have been together for almost forty years now. Both of them, like all other couples in this list are very gifted and they look wonderful together. Usman and Samina give each other the space they need to grow as individuals. This is the reason they have come so far.
"You could call our marriage unconventional," said Samina Peerzada in an interview. "That's because we both are unconventional people. We like to live life according to our own rules rather than conform to society's stereotypes." Their love story is very filmy; Samina Peerzada's mother did not want her to get married to an actor therefore these two love birds decided to elope! "We got tired of the parental pressure and tied the knot, returning to our respective homes after the ceremony. Then, a few weeks later, on Valentine's Day itself, we had a proper wedding with our family and friends." confessed Usman Peerzada in an interview.
2. Aamina Sheikh and Mohib Mirza
I simply love Aamina and Mohib because one aspect of their relationship that is very obvious from their joint interviews is that they respect each other a lot and also have a lot of understanding. I always wanted to see them on screen together. They proved that they can be an unmatchable on-screen couple as well in the film Seedlings (Lamha). Mohib said in one of his interviews "it was great working together but we want to be known for our individual work rather than get typecast as an on-air couple".
Mohib Mirza and Aamina Sheikh got closer to each other when Aamina was directing a children's show which Mohib was hosting. It took a lot of hard work to convince Aamina's father in particular. "Aamina's family is not involved in the media at all and they had their reservations towards her marrying so soon and that too, to an actor. I met Aamina's father five times before he gave us his approval," recalls Mohib in an interview. Both of them are multitalented and excel in their respective fields.
1.Rahat Kazmi and Sahira Kazmi
These two need absolutely no introduction. Although both of them have not been seen in dramas for a long time but they have been engaged with theater and television in some way or the other. They have grown old together but theirs is a relationship which only got stronger with time. Sahira Kazmi has not been seen on screen for such a long time because she has been working on her own private production and also because she is not happy with the way things are progressing in the entertainment sector. While giving an interview she said "Unfortunately, this mushrooming of channels has resulted in an overdose of half-baked professionals who begin as actors, turn into cameramen the next day and directors a day later".
Rahat Kazmi also said in one his interviews "My current state of mind is that I have grown old and that the creativity which used to be there is no longer there".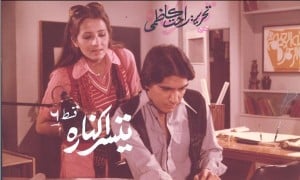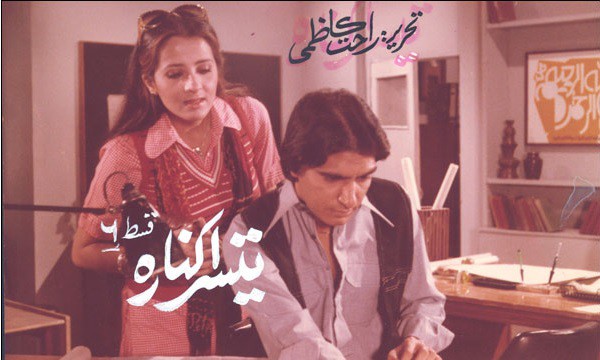 Rahat Kazmi was the one who suggested Sahira's name for her first drama, she was a news caster at that time. Rahat said in an interview ""The beginning of our romance was with an argument…. We were going to the TV station. Somebody had commented that the camera work was very conventional and she agreed. I said it suited the material; it was neither conventional nor unconventional. So we started arguing and it has continued till date"! Sahira Kazmi said in an interview "I love and respect him for what he does. He's highly educated, and he's done what he's wanted to do – besides, I have brought humor into his life, which is very important!" She believes in the power of love but also accepts that it takes more than just love to keep a relationship going, " Love is important, there's no two ways about it, but that can fizzle out. It is important to trust and respect each other; when you live together and are friends, you figure that out."
What do you think about the list? Who is your favorite celebrity couple?