Controversies and scandals are part and parcel of an actor's life. In this era of social media, it doesn't take much for anything to go viral and spread like wildfire. Some actors make sure to stay away from any kind of controversies and in order to do that, they make sure to stay politically correct or calculated in their responses. Some actors on the other hand are unapologetically opinionated and they do not shy away from saying what is in their hearts. Celebrities are always in the limelight so it is very natural for them and the nature of their job to come under scrutiny for everything they say or do. These controversies die down quickly but they do leave an impact and stay embedded as the chapters in the book of an actor's life.
Saba Qamar Zaman is one of those few actors who has touched the sky and has earned a star status with her immense hard work and persistence. Saba Qamar Zaman is one such actor who does not shy away from saying the truth out loud or sharing what she feels about any given situation. Over the years, Saba has proved that she is unapologetically honest and will never sugarcoat things. She says what she feels and does not care whether her opinions sit well with others or not. Even though Saba Qamar Zaman is focused and she means business, she has often landed herself in scandals and controversies, which revolved around her personal or professional life.
Let's take a look at the controversies that have been a part of Saba Qamar Zaman's career:
Saba Qamar Zaman Called Salman Khan 'Chichora'
Saba Qamar has been a part of the Pakistani drama industry for years now. She was invited to morning show hosted by Noor Bukhari named Good Morning Zindagi and there she was asked about her opinion on working with different Bollywood actors. While appearing in the show, Saba stayed true to her nature and she gave unfiltered answers. Saba must've had no idea that she will land herself a leading role in a Bollywood movie in the future. Saba was asked about famous Bollywood actors and given some imaginary situations, but she did not have anything nice to say about them.
When asked if Saba will have to reject Hritik Roshan's proposal, how would she do that, Saba said "she didn't want a father of two and he's not her cup of tea"
When asked about working with Emraan Hashmi, Saba said, "she didn't want mouth cancer"
When Saba was shown Ritesh Deshmukh's photo, Saba said, "she was an A-lister actor of Pakistan, so she'd only want to work with A-list actors"
When Saba was shown a picture of Salman Khan, she said "He was a chichora and that he didn't know how to dance".
Saba Qamar debuted in a Bollywood movie "Hindi Medium", starring opposite Irrfan Khan. It was released in May, 2017. The Indian media dug deeper into Saba Qamar's career and past and that is when they found out the clip from Saba Qamar's interview and they made a huge issue out of it. Saba Qamar was also confronted and questioned about her opinions but she brushed it off jokingly by giving an example of Koffee With Karan, saying what is not stated in that show, similarly what she said was all in good humor and fun. Saba Qamar also took her words back and said Salman Khan is a superstar and he is very humble, why would she say anything like that about him?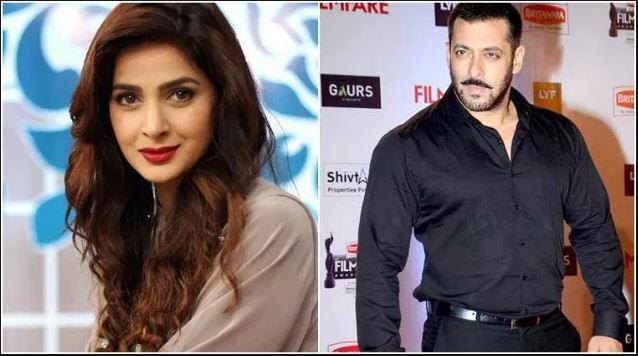 Saba Qamar Zaman and Hamza Ali Abbasi's Relationship
In 2014, pictures of Saba Qamar and Hamza Ali Abbasi went viral on the internet and people started speculating whether they were in a relationship or not. Those pictures suggested the obvious because both Saba and Hamza seemed a bit too comfortable with each other. Saba Qamar also posted 'I love you" on one of Hamza Ali Abbasi's pictures but later deleted it. When Saba appeared in Tonite with HSY, she refuted all the rumours. Saba said that it was a prank played by Hamza who used her mobile phone and commented that on his own picture using her account. That's all that Saba Qamar had to say about this controversy. She said they were just good friends but later they both drifted apart.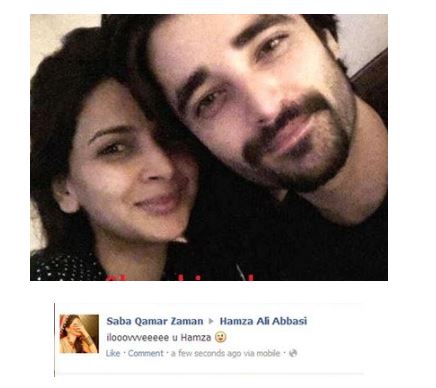 Saba Qamar Zaman Called Hamza Ali Abbasi "Mardon Ki Meera"
In 2014, Saba and Hamza's equation turned sour when Hamza Ali Abbasi took it to the internet and openly spoke against item songs and item girls in Pakistani films. At that time, Saba Qamar had done an item number for the movie Mastani herself and she took offence to Hamza Ali Abbasi's statement. In a Facebook post, Saba Qamar just mentioned Mardon Ki Meera and further elaborated her point of view in the comment section. That was the final nail in the coffin that both Hamza Ali Abbasi and Saba Qamar will not be friends anymore.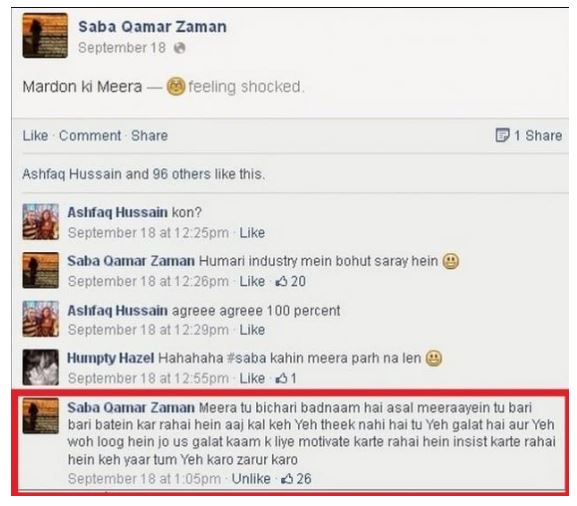 Saba Qamar Zaman Took A Dig At Mahira Khan's Rap:
In 2017, Mahira Khan and Osman Khalid Butt performed a rap song at Lux Style Awards. Saba Qamar had boycotted Lux Style Awards citing prejudice against her as one of the biggest reasons. Saba Qamar also stated that now that she had done a movie in Bollywood, she was being treated as a royalty whereas in the past, none of her work was acknowledged or appreciated. In 2017, both Mahira Khan and Saba Qamar debuted in Bollywood movies and both Raees and Hindi Medium did well at the box office. These films gave Mahira and Saba a platform to let everyone know their caliber as actors.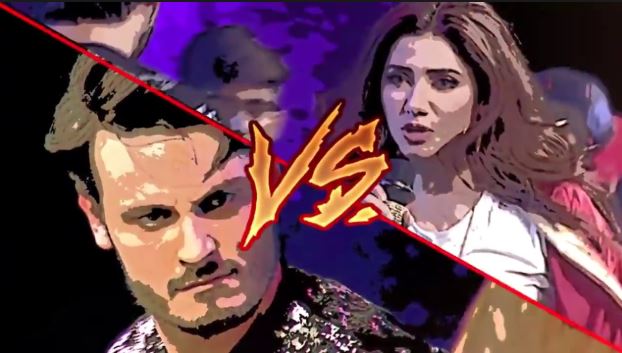 Mahira Khan and Osman Khalid Butt performed the rap and one of the lines of the rap said "kya appki filmain bhi hain 100 crores kamati". This was all fun and games and it did not look like Mahira Khan was indirectly insulting Saba Qamar. Later when Hindi Medium surpassed Raees' box office collection, Saba Qamar quoted this line from Mahira Khan's rap and openly reprimanded it saying she did not like insulting jokes. Mahira Khan had openly wished Saba Qamar good luck and she never once make it look like there was some sort of competition going on between her and Saba. After this post, Saba let it know that she did take it as a competition because everyone on both sides of the border was comparing both Mahira and Saba. This post of Saba also proved that she took that rap personally and later when she got a chance, she got back at Mahira. Osman Khalid Butt, who was the lyricist of this rap took it to his social media and explained the thought process behind this rap.
Saba Qamar Zaman's Leaked Pictures From A Photoshoot
In 2018, Saba Qamar did a photoshoot and while she was taking a break, someone clicked her pictures and made them viral. In those pictures, Saba Qamar's clothing as well as her smoking were highlighted and that turned into a huge controversy. Saba Qamar decided to stay silent on this matter but her colleagues and friends from the fraternity like Aijaaz Aslam, Adnan Siddique and Osman Khalid Butt came in support of Saba Qamar. Some of her friends also said that they knew who it was that leaked the pictures and that they will no longer work with them. Saba Qamar was heavily criticized for her choices and trolled badly but she chose to stay silent and did not address this issue.