Many new dramas have started recently, the viewers have a wide range of storylines, cast and crew to choose from. While the viewers may start watching a drama based on its cast and crew but the fact of the matter is that at the end of the day what really matters is that how engaging a play actually is. Many dramas which were not on top of the list previously have made their way on the top and some plays which people started watching enthusiastically have gone down because they failed to keep the audience engaged.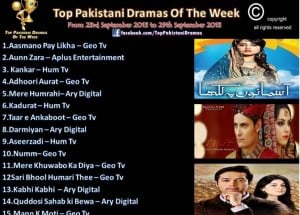 The first episode of Aasmano Pe Likha tops the list despite of the fact that it had some good competition on other channels. People watched this first episode more than giving their time to plays like Kadurat and Darmiyan which air on the same day.
Aunn Zara is second on the list beating plays like Khoya Khoya Chand, Maan Ke Moti and Justuju on the leading channels. This is a great success for Aplus, one which many couldn't have predicted at all.
Kankar is third on the list which means that it has some loyal viewers who did not stop watching the play although the play Kabhi Kabhi which is also very appealing has started on ARY.
Adhoori Aurat is the fourth on the list. With the drama drawing to a close and some dramatic twists and turns in the story, the viewers are more interested in finding out how the story will unwind.
Mera Hamrahi even with its weak storyline and slow pace is number fifth on the list leaving behind a much more engaging play Halki Si Khalish, which did not make it to the list at all.
Kadurat is on sixth, which means that Darmiyan is gradually lagging behind.
Tar e Ankaboot is on number seventh although the story of Rishtey Kuch Adhoorey Se has gotten much more entertaining too.
Darmiyan is on number eight and it is surprising that Aseer Zadi and Numm even with a star cast have bagged TRPs that are not very impressive. Out of all the plays that are in the last five positions, Quddusi Sahab Ki Bewa is the most unbelievable one since it has been on air for the longest time but still is always there in the top charts.
This list looks very realistic, do share your opinion about it.