Tum Kon Piya continues to be as clichéd as always but the direction of the drama makes it a watchable play even with the slow pace. After watching bechari Mannu on Mondays, one does not have a lot of stamina to watch another story which revolves around shadi shuda zindagi ke masail but thankfully this drama has characters which make sense even with their flawed personalities. The scenarios have not been complicated to the point that the story goes off track therefore it is definitely a better watch than the most watched drama of the season even with a very typical storyline, the viewers are left wondering what will happen next. Every episode has one or two unexpected developments and a lot of twists and turns which are done-to-death, all of which I will try to discuss in this review.
This episode opened from where the last one ended. After Sharafat begum told Elma's father off, he left with a heavy heart even more certain than ever that his daughter was never going to be happy in her new house. Elma also remembered why her father asked her to leave Ramish – he put self-respect before everything else. Unfortunately getting married to Zarbab, just like expected, did not help in keeping Waqar Ali or Elma's self-respect intact. Waqar Ali could not see the obvious – something which even Elma's sisters could see when Sharafat begum came with the proposal, only because he was in a difficult situation and had to make a quick decision. Waqar Ali thought that people who belonged to the same class as his would be able to give Elma more respect than those who were very affluent. This particular part of the episode was very convincing but it was dragged. This was the first time however when Elma talked to Zarbab about how she felt but Zarbab of course didn't have much to say about it.  I was expecting Waqar Ali to die but that did not happen – which is good because then Elma would have blamed herself for his death.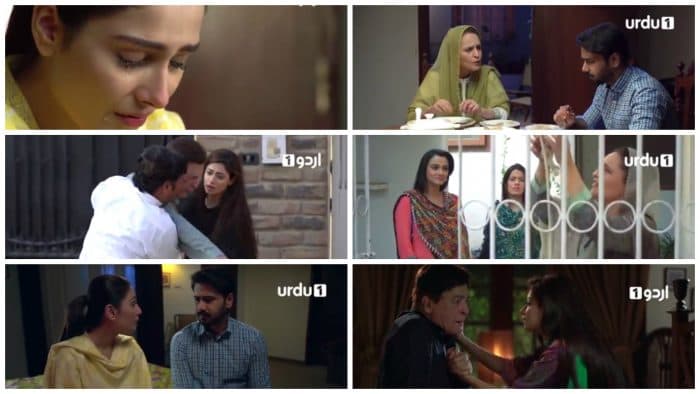 Sharafat Begum managed to have her way yet again without giving Elma any credit. The only new development in Elma's track was her finding out that there was something going on between Zarbab and Javeria. The way these two flirt with each other goes to show that Zarbab won't think twice before cheating on his wife. This particular part of the story was not something I anticipated and definitely not one I like. Zarbab is already a coward which is bad enough, it would have been good if he stayed loyal to his wife – that was the only likeable quality about his character and that too is gone now. Therefore now there is absolutely nothing about his character which makes him different from many other such husbands we have seen in dramas. It was sad watching Sharafat Begum endorse her daughter's point of view about Javeria being around Zarbab.
Watching Waqar Ali lean on Ramish yet again for support was endearing. Although this particular situation is somewhat like Mann Mayal too but what makes it more acceptable is the fact that all these scenarios are linked to what has happened already. Waqar Ali has always liked Ramish and even when he refused to marry Elma with him, their ties were never effected by it. There is a solid relationship between Ramish and Waqar Ali, he is not using him.
Sunbal's character has never been likeable, while she is not as desperate as Jeena but she is very willing to go along with a marriage which is clearly based on one-sided love. Sunbal wants to know more about Elma but no one is willing to tell her who she was and why can't Ramish forget her. Waqar Ali has given Ramish a huge responsibility and if he passes away then Ramish will be more involved with his family than ever. Imran Abbas' acting was flawless in tonight's episode.
Arif's track has to be the most unpredictable of all the tracks. Something tells me that his relationship with this girl in his office will effect Elma more than anyone else at some point. What the story of this drama lacks is absence of someone Elma could confide in and trust in her new house. She is surrounded by people who do not even acknowledge her presence. Zarbab and Javeria's track has to be the most disappointing development in the story. Somehow I always wanted to believe that even with all his flaws Zarbab was capable of loving Elma and would not cheat on her. I am very impressed with Ali Abbas' acting right from the first episode. The director Yasir Nawaz has definitely tried to do the best he could with the script. While the script is typical but the way it has been written is impressive – excellent Urdu and a logical story line. Also, every episode does give you something to look forward to.
How many of you watched this latest episode? Do share your thoughts about it.
Fatima Awan