So you know when you were a little child and would sometimes go through your things and pick up something which was nice but not toooo nice, something you like but not enough to not want to part with and decide to gift it to a friend/cousin who you are off to visit. Grab some coloured paper, one fold, two fold and all wrapped. The recipient likes the gift, oohs and aahs a bit, you are both happy – and the gift is forgotten soon. No? Maybe that was just weird me then. Point being – there are dramas which do not blow you away, probably do not stay with you very long – but they are a decent, pleasurable surprise that viewers enjoy for the most part. You like them while they are on air, can see everything is not perfect but then is not bad either. Tumhare Hain, in my opinion, fits that description like a glove.
My overview for the first half of the drama introduced the four main characters and how they meet and how some of them drift apart. I had imagined the drama to then focus on the marriages of the two main couples and while that remained to be the basic idea, Rayan and Aania's paths crossed again. The whole buildup to the point where they finally meet, fight against their emotions and then give in – I knew it would happen inevitably. I figured the drama would then take either of the two very obvious paths – Rayan and Aania together or they go back to their own respective spouses. What I did not anticipate was actually being interested and drawn into the whole story, the way it was presented and the way the four main performers actually did justice to their characters.
Am I going to ignore how right/wrong/understandable/unforgivable it was for Rayan and Aania to be drawn towards each other again? Yes, I am. I'll let that be their problem and Kamil and Zoya's problems, haha. But seriously, while this could have been a drama about only an extramarital affair, I like actually how the story built up the scenario where Rayan and Aania knew each other before they got married, how they 'tried' to make their marriages work and how they decide to tell their respective spouses the truth. What somehow did not manage to click with me was the conviction in the realisation of what propels them to make their final decision. The repetitive 'we have hurt good people' was not good enough for me for surely they knew that would happen when they set upon the paths they had chosen. It made a bit more sense when Kamil and Zoya actually walked out and Rayan and Aania were left free to be together – but did not want to.
I think I knew where the story was headed in the last two episodes but still those two episodes were presented in such a way that there was still some room for speculation. I was not too impressed with Aania's ' tum nay mujhay pyar karna sikhaya magar Kamil nay pyar nibhana sikhaya' but yes, Rayan's helplessness at realising he was about to lose his best friend forever was a tad more relatable. I also liked how the gap of three months was shown where Rayan and Aania had time to be in touch again but chose not to.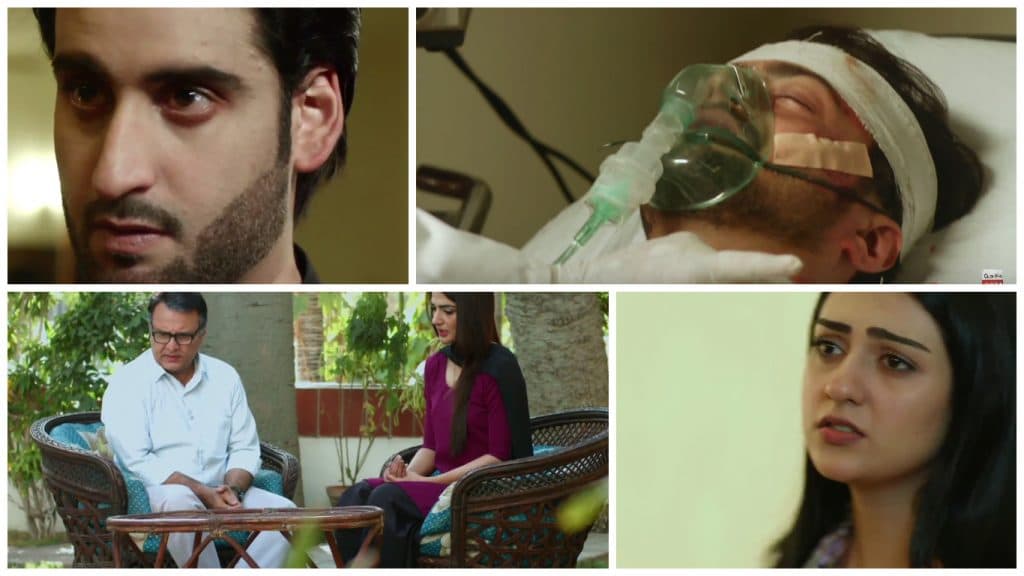 Besides the main story, I feel what appealed to me in this drama was the portrayal of other relationships too. The way Rayan's father was disapproving of Zoya and how she managed to win his affection. How Rayan's mother was not portrayed as a typical mother in law. I also liked how Rayan went to his father in the last episode. Zoya's father seemed to have not totally forgiven her before he passed away which is why she saw a father figure in Rayan's father and gave it her all. Zoya's mother is one character I did not think highly of for she somehow 'tricked' Rayan into marrying Zoya and vice versa and also the tears that seemed to be the deciding factor for any of Zoya's life decisions were very annoying. I was glad that Zoya finally asked her mother to cut her some slack and not push her into making decisions which would only further complicate her life. And – I liked how the male actors weeped much more than the female ones for a change – ha!
What I also found quite interesting was Zoya and Kamil's relationship. Mutual friendship and respect and a glimpse of the kind of people they are. Where Rayan and Aania betrayed their trust, the two remained civil and Zoya's visit to Kamil in the hospital and the mall meeting was very interestingly done. Where Rayan and Aania screamed discomfort and secrets when the four met, Zoya and Kamil seemed to share a pretty warm and comfortable relationship. Hats off to Rabab Hashim, Sara Khan, Agha Ali and Ahmed Hassan for portraying those emotions really well. While I felt Agha Ali and Ahmed Hassan faltered in their acting in moments such as the time when Rayan and Aania met in the park in the last episode and I could not quite gauge Rayan's true feelings and Kamil's overemotional declarations of love or the overly casual bromance with Rayan seemed a bit too forced at times but only at times which is why I am happy enough to think maybe that is what Kamil is all about.
I think of the four main characters, Zoya was probably my favorite. It was nice to see a character that seemed quite in touch with reality. Yes she eloped with Daniyal thinking he was her true love, wallowed in remorse and even self pity for a short while, was cajoled into a marriage at the time when she was quite vulnerable and not thinking clearly and then tried her best to make it work but was not stuck in the past nor self pity nor did she offer unnecessary apologies or tantrums. I liked how she stood her ground when she realized Rayan had betrayed her trust but also found the end quite in line with her character.
Like I mentioned in the overview as well, the simple treatment to this drama was definitely a plus. The focus on simple, everyday outfits, meal times, houses – somehow that really draws me in and makes me relate to the drama much more and Tumhare Hain did that perfectly. The story was not very new I know – but I am not complaining. Would I recommend this drama? Yes, if you have time off to binge watch something that you might want to forward a few episodes in but nothing too heavy duty or addictive or if you are not pressed for choices – then go for it 
I can also not help resist adding that these two gave me some very serious hair goals – if there is such a thing, lol!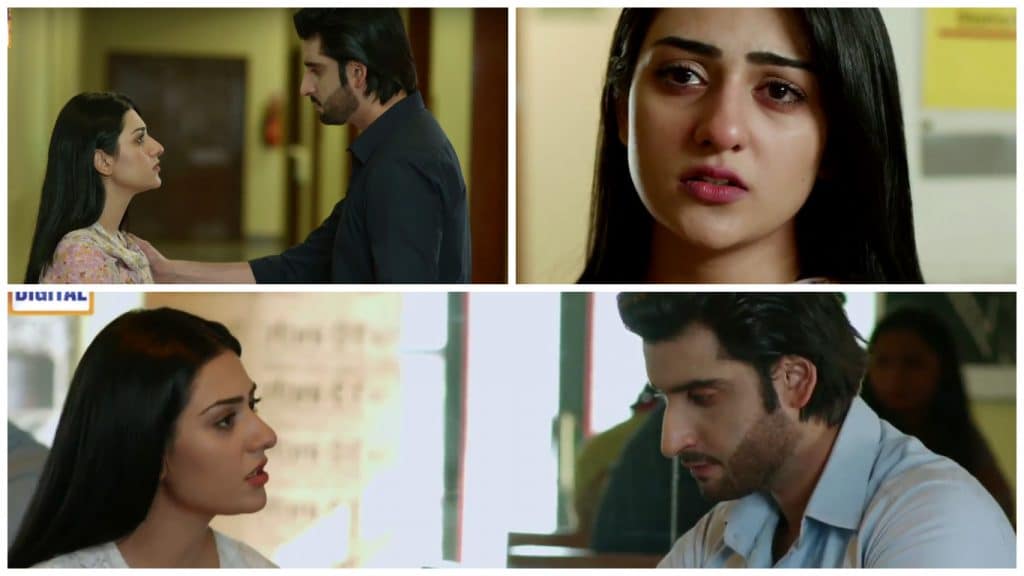 For those of you who watched this drama, what did you think? I will not say whether it should have ended this way or not – but for me, the ending worked. I still have that niggle of suspicion that Aania and Rayan might still have had some feelings for each other and that part was not very clearly given closure but hey, where I am all praises for this drama being so closely linked to reality – I can not expect every loophole to be promptly dealt with and closed so will let it go at that. Did you enjoy watching Tumhare Hain -would love to hear your thoughts 
Kunwal Javid
P.S. Any recommendations of a drama on air that I may be missing – besides the very popular ones. I am on the brink (just about) to check out Bholi Bano. I know, I know – help!