I am really happy that Udaari did not go off air because of the baseless objections by the PEMRA authorities. I am certain that viewers/parents complaint about a lot of dramas but at the end of the day it is up to the authorities to decide which dramas really are 'obscene' therefore I am more disappointed with PEMRA than the people who complained about this drama because their notice and the opinion of their 'experts' endorsed the notion that this drama was against our cultural and social values. This drama would have been against our social values if these values were based on brushing important issues under the carpet and pretending as if they don't exist! I am very thankful to all those people out there who showed their support for this drama because Udaari is a step in the right direction.
This episode of Udaari just like all the previous episodes managed to put the message this drama attempts to put forward in a very sensitive and intelligent manner. The most refreshing aspect of this drama is the relationship Meeran and Sheedan have with each other. Sheedan might have said some very bitter things to Meeran when she found out that her daughter had gone behind her back and done something she would never approve of but everything we saw after that went to show that Sheedan loved her daughter and did not want to see her getting hurt. She took a stand for Meeran when Illays' mother came to give the mithai and in this episode too when Meeran came back home heartbroken, she was there to console her. At the same time Meeran has realized that she was being selfish and at a time when she should have been there for her family, she only thought about her own future and happiness. The scene in which Meeran apologizes was extremely emotional. Bushra Ansari and Urwa Hocane both were absolutely brilliant in that scene. It isn't easy delivering dialogues and giving the right expressions when they are in a language an actor is not used to speaking therefore I will give Urwa Hocane full credit here for delivering dialogues with a lot of Punjabi with precision.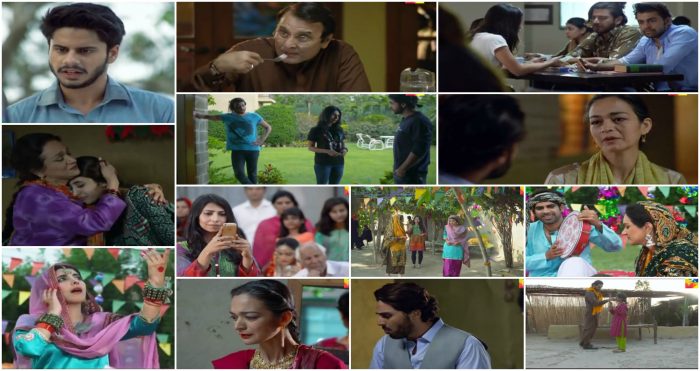 The story moved forward quite a bit with this episode. Meeran decided to sing and that is when Milli spotted her. I must say that this particular development was shown very convincingly, the way Milli ended up in that village was very interesting and I am looking forward to how this particular track will unfold in the future. I still have a huge problem with the way the song sequences have been shot. There are no background sounds when anyone of these people is singing a song which makes it seem like all of a sudden you are in a recording studio and not a village. It would have been so much better if these scenes were more real. These scenes do not add to the entertainment value of the drama but are proving to be very distracting and unreal. I have said it before as well that it would also have been better if a relatively new voice was used in these scenes since everyone is very well acquainted with Hadiqa Kiyani's voice. The scene in which Milli meets Sheedan was hilarious. I am glad that these scenes and this track has been added to the drama because it makes the drama engaging and not very depressing.
Imtiaz's attitude towards Sajida completely changed in this episode. Was it only because of what his friend said or is there more to it? I felt like this recent change could also be due to the support he got from his wife which basically showed that she trusted him blindly and also because the only strong woman who was always watching over Sajida is no longer her friend. He also knows that Sajida has no one to turn to now to share her problems or ask for solutions therefore he can treat her any way he wants. This sudden change also gives out a message to all the women out there who most often think that a man can change so much without there being any reason for it. Imtiaz's scene with Zebu suggested that he is molesting the poor child but like most children she is not sharing anything with her mother probably because she is still confused about what is happening. In such cases mostly the children find it difficult to label someone they love as a villain therefore they get confused and try to justify these actions in their own mind instead of talking to someone about it. In my opinion if showing what was shown today in this scene can save even one child then this drama serial has managed to achieve its objective. It will definitely make mothers think ten times before they leave their child with someone they think they can trust, it doesn't necessarily have to be a step father, it can be anyone at all. Ahsan Khan has done complete justice to his character. Sajida's situation and Samiya Mumtaz's acting made me feel for her. Sajida's only mistake is that she is too naive, she trusts someone who is not worth trusting.
Overall, this was another engaging episode of Udaari which covered all the tracks flawlessly. Except for Meeran's singing scene and Laila Zuberi's acting everything was spot on. Whatever Milli's mother said did not have any impact because of her monotone dialogue delivery but we got to find out more about her character. It was also good to see Behroze Sabzwari playing the loving father. The stars of the show tonight were Urwa Hocane and Bushra Ansari. Their scene together was very emotional and it is so so so good to see a mother on screen who understands and loves her daughter.
How many of you watched this latest episode? Don't forget to share your thoughts about it.
Fatima Awan
Top Trending Video