This episode left me speechless. Truly, it did. I have made those of you who have not watched this episode wonder aisa kya tha – what can I say. Ghasaks hakhdjsr hkahdks huyeiurei – that's me trying to get the words out of my mouth but not being able to!
In my overview, I treaded very carefully – I know there are big KRQ fans, I agreed after I had gotten through the first few episodes that the drama was not bad – but this last episode and the ending in general was very odd. When Mukhtar tells Sadaf that his dance will surely blow them all away, I sat waiting to be 'blown away' myself –  I was very much still all here when his 'dance' ended though! How could Sajid Hasan have agreed to such a scene is beyond me. How awkward for the character of Mukhtar to be swaying like that then sitting wiping his sweat as if he had finished off some Devdas number and also the whole dupatta clad Sajid Hasan was so ridiculous I wish I had not seen it.
Sadaf's strange behaviour and conversations had me thinking maybe this is how the writer was going to end the play – Sadaf too ends up being mentally unstable like Yasif. Her overly joyous tone, purposely reminding Yasif of the beatings he had given her – and I thought she is still in love with him? Turns out she was setting the stage for the final scene which really was the final nail in the coffin! What.in.the.world.was that dance showdown??!! Sadaf and Zoya acting like warrior princesses trying to mark their claim on their common love interest – this chicken of a Yasif?! Or some sort of 'Gulaab Gang' scene (I have not watched the movie but have seen the name and pictures pop up). Cringeworthy does not begin to describe it! So ironic that Zoya says she is glad Danny did not see Yasif and Sadaf together at the hotel earlier for he would have felt awful but then little Danny later sat watching his mother, father and father's ex perform that hideous ritual – I mean, dance!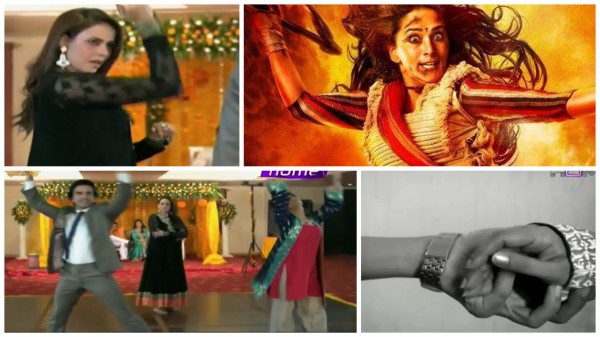 It is not just the direction that bothers me about these scenes. At what point did Sadaf realize it was Mukhtar she was going to end up staying with? That moment really passed me by. Why did she decide to 'hand over' Yasif to Zoya? Because Zoya was faithful and deserved it? And Yasif suddenly wanting to run to Zoya in the end was also unconvincing. All that last 'powerful' scene where Sadaf addresses Zoya had me doing was run a mental tally in my mind as to who deserved how many slaps and who received how many!! Zoya tum mujhay extra thappar maar do because Mukhtar tau mujhay maaray ga nahin. I mean!! When Zoya gave Yasif 'khabbay (left) haath ka thappar and it made his 'moo go doojay paasay' (Farzand Ali's words and advice) I did finally burst out laughing because it did appear that she had managed to stick his head the other way round for he promptly ran out of the room!
I covered the story and direction in detail in my overview so will not linger on that here again. I had said the acting was good – I will rephrase that. The acting was good until the last episode. I was interested enough in the play to see who Sadaf ends up with and yes the way Mukhtar was portrayed, it would have been easy to believe if Sadaf went back to him and he took her back but the awkward ending had to be almost the most horrendous last episode I have seen in a long while. I say almost because right now I can not think of another drama – please feel free to jog my memory!
Moral of the story? Quite a few.
a. If you study at IBA and someone grabs your hand, do not try to let go because you will eventually marry the guy and then he will go crazy making you pay keh haath kyun churaaya tha.
b. If you work at a bank, expect to have a huge appetite.
c. All banker events are dance parties. Ridiculous dance parties.
d. If you love someone set them free. If they love you they will come back to you – is crap! If you set someone free then – stalk them, move into the apartment opposite them, work at their office and threaten them with suicide if they do not seem interested.
e. They say actions speak louder than words. Slap, beat, dance – you'll get your point across.
I am going to go back into my comfortable 'I do not appreciate KRQ' zone again. I would say till next time but there is not going to be another KRQ discussion from me again. Poor Danny and I have been scarred for life now! What did you all think of this episode? Please do share your thoughts!
Kunwal Javid