Here comes another one in the list. 'Karachi' is an upcoming Pakistani film which is said to be released early in 2014. Now that the industry is launching hit movies one after another, the young directors and the production houses are considering this domain of entertainment a free market to generate some decent revenue.
The movie comes under the production of 'Karachi Production' and is produced by Ahtsham Khalid and Syed Afzal Ali. Agha Ali is one of the multitalented artists who know the difference in between being a good actor and being a capable director. He is lately been seen in Hum TV dramas playing lead roles. He was seen in a sitcom 'Main Hari Piya' and is currently playing an important role of 'Aamir' in drama serial 'Halki Si Khalish'.  The actor, for his love towards direction, often comes up with projects which are been directed by him and with 'Karachi', Agha Ali will be seen as an actor on screen and his direction will be sensed throughout the movie. Moreover, the story and the screenplay is too written by this young director.
The cast of the movie includes a list of veteran actors like Javed Sheikh, Ayesha Toor, Rashid Farooqi, Madiha  Iftikhar, Shahroz Sabzwari, Agha Ali, Ali Sikandar, Sadia Sheikh, Ijaz Aslam, Adnan Jaffar and Tipu Adnan.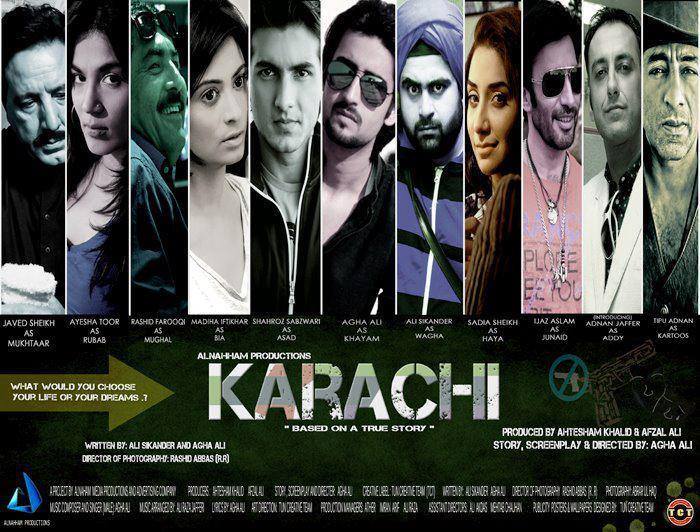 Let us now wait and watch will this movie meet the standards been set by movies like 'Waar' and  'MHSA'.
Wishes,
Nida  Zaidi