Cricketer Wahab Riaz, who have been dropped from national cricket team due to bad performance in recently concluded series versus South Africa is now facing a police case for violating one-dish rule on his wedding.
A police team raided his Garden Town, Lahore residence on Sunday and registered an FIR under section 188 of Pakistan Penal Code against him for violating a ban on more than one dishes at marriage ceremonies. In Punjab the largest province of Pakistan, there is a ban on serving more than one-dish to guests in wedding functions and parties. All gatherings and functions are also required to be concluded till 10 pm in night whether organized at home or in wedding halls. The law is commonly known as one-dish rule.
"How could police raid and register a case against my son when we were holding the marriage function inside our house," Riaz's father Sheikh Sikandar said. He said a police official heading the raiding team wanted "some money" and when his demand was not met he registered the case on the pretext of violating one dish rule.
Station House Officer Adnan Maqsood said the police raided the cricketer's house on the complaint of city district government official Muhammad Amer.
Wahab Riaz 28 year old, has made his test debut in 2010 versus England. He is married to Zainab Shahid, daughter of famous businessman of Lahore, Chauhdary Shahid..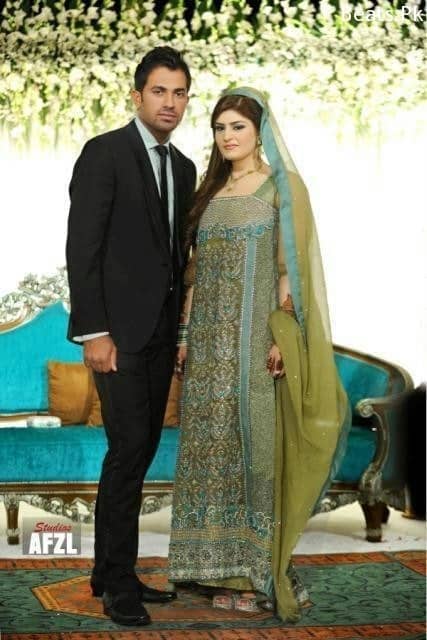 Here is the actual news excerpt from Urdu Daily Jang

Rashid Nazir Ali