Saba Qamar is one of the biggest stars of the Pakistani showbiz industry that has represented Pakistan on an international level. She has been a part of the industry for a long time and has worked her way up with determination, hard work, and consistency to be where she is. There is no denying the fact that at this stage, she is one of the icons of the Pakistani industry and has the star power to attract millions towards her. Recently, the news of Saba Qamar's marriage took the internet by storm and it became the talk of the town because considering her popularity, almost everyone who is associated with the showbiz industry got involved and wanted to know more about it. However, it all ended too soon and has people wondering whether it was genuine or just a publicity stunt.
Saba Qamar's Previous Relationships & Link-ups
Saba Qamar has never been married before. However, in a couple of interviews, she did speak about having gone through a heartbreak. Just like any other girl, Saba Qamar found it hard to move on and after she recovered and felt comfortable talking about it, she gave away very few details about what it was like dealing with the heartbreak and moving on in her life. Saba Qamar mentioned that yoga helped her a lot and became a tool with which she was able to cope up with the emotional pain and trauma. In one of the interviews when she was asked about that particular phase of her life, she became quite uncomfortable which showed that she actually was quite involved in that relationship. Saba Qamar mentioned that the person she was in love with also belonged to the industry but later got married and is quite happy in his life.
A few years back, Saba Qamar's name was also linked up with actor Hamza Ali Abbasi. The two were seen together on numerous occasions and the social media went into a frenzy when Saba Qamar commented 'I love you' on one of Hamza Ali Abbasi's pictures. Later, Saba came clean about it and stated that it was Hamza who wrote that himself using her phone when they were together and hanging out as friends. She was pretty clear about her stance that they were nothing more than good friends. However, later people witnessed the two friends having a public fall out when Hamza Ali Abbasi criticized Saba Qamar indirectly for doing an item song. Saba Qamar put up a status update calling Hamza Ali Abbasi 'Mardon Ki Meera' and that was the end of the link-up and pretty much their friendship as well.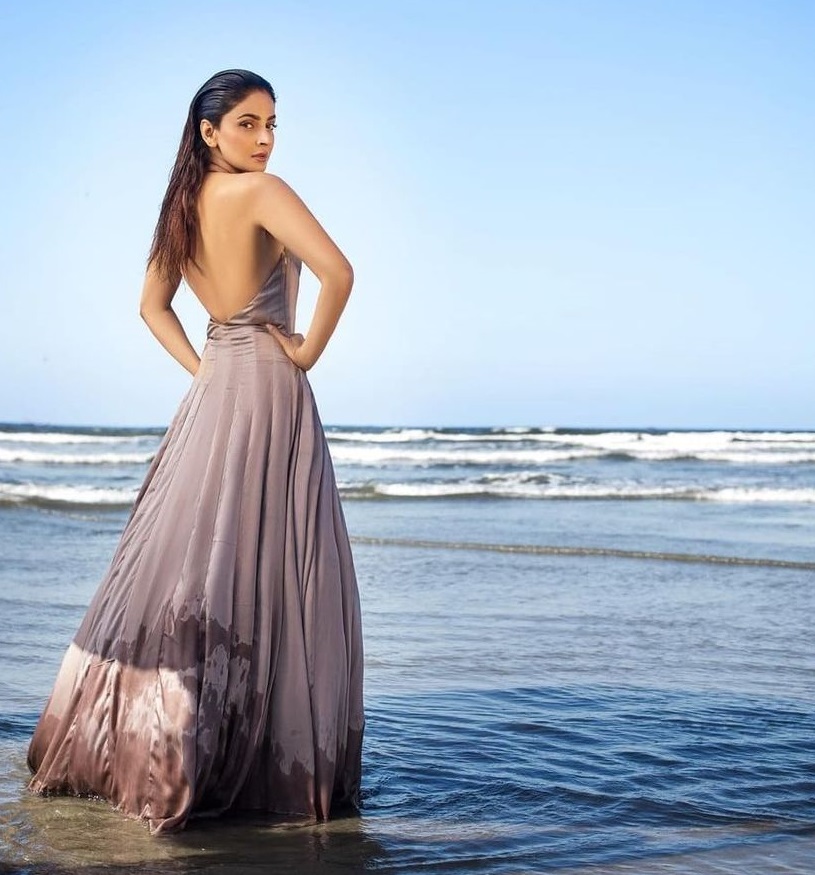 Saba Qamar & Azeem Khan
Azeem Khan's name came into the limelight when on one of Saba Qamar's recent pictures on Instagram, Azeem Khan commented 'let's get married this year, to which Saba Qamar replied 'Qubool Hai'. This comment caught a lot of attention and Saba Qamar was contacted and interviewed to get confirmation about what she said was true or not. Saba Qamar seemed quite excited and stated that she was actually ready to get married. She also stated that this seemed totally unlike her because for ages she has advocated against marriage but it was Azeem Khan who made her believe in marriage as well as the kind of love she had not experienced before. Saba Qamar was all praises for Azeem Khan stating that he made her feel special and showed her love and respect that meant a lot for her. This gave everyone's speculation a rest and now her fans started awaiting the news of her marriage.
Azeem Khan is based in Sydney, Australia, and happens to be a blogger. He had a presence on social media that he had garnered on his own but after the news of his courtship with Saba Qamar was confirmed, he gained a lot more followers on Instagram. Azeem Khan's Instagram shows that despite being in Australia, he speaks passionately about the events and happenings that take place in Pakistan. He also posted a picture of one of his bracelets and stated that he had it for 9 years but it has gone missing. The next day, the same bracelet was seen on Saba Qamar's wrist where she showed it on her Instagram. It didn't take a lot for people to notice that it was the same bracelet and probably her fiance ended up posting it to her.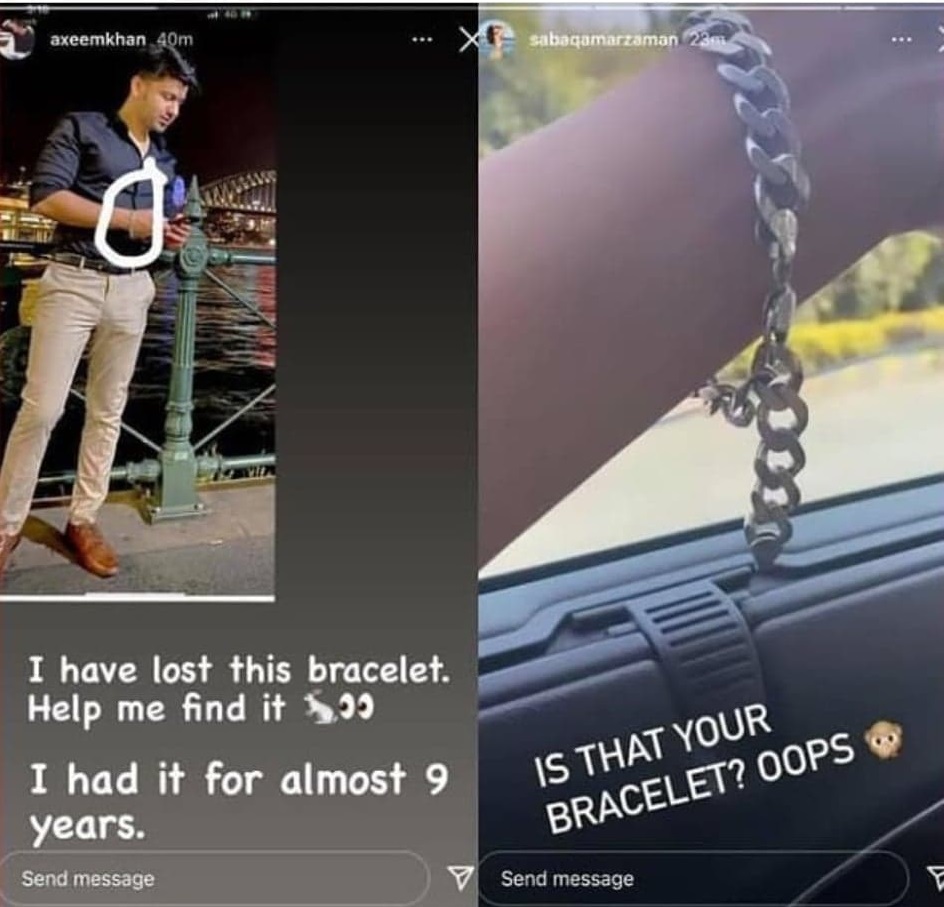 It was a done deal that this was pretty much a long-distance relationship but people were wondering how and where they both must've met because considering the Covid situation and going by the social media activity of both Azeem and Saba, it was obvious that they both were in Australia and Pakistan respectively and didn't travel anywhere in the meantime. It was also noticed by a lot of people that last year when Saba Qamar posted a video regarding women being exploited in the name of marriage, Azeem Khan also made a video, which was more of a response to the questions raised by Saba Qamar. Under that video, Saba Qamar had praised Azeem Khan and stated 'you are amazing' to which Azeem had replied 'and you're Queen'. It seems before that Saba had no idea about who Azeem was and this must've become a conversation starter for the two.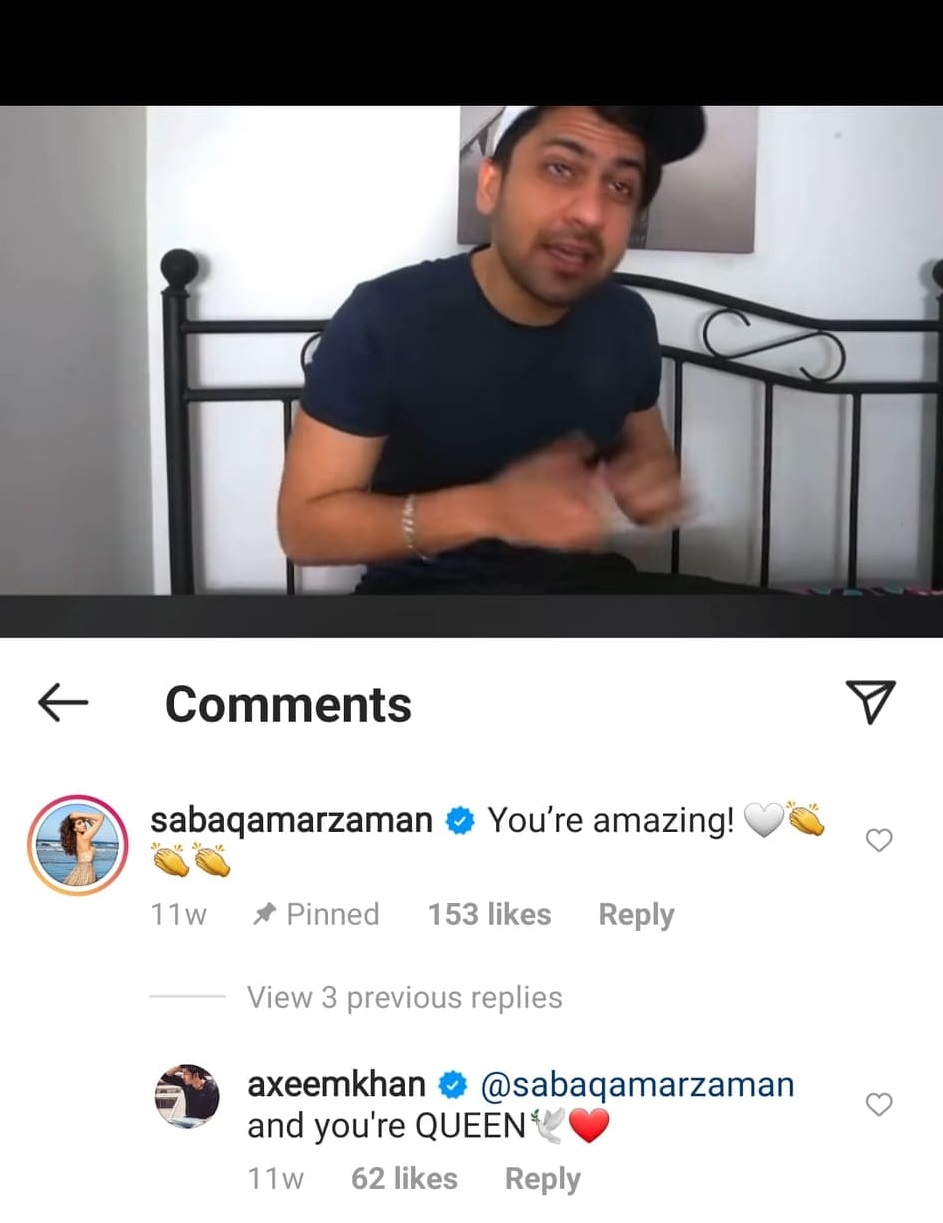 Allegations on Azeem Khan
Just when people were trying to wrap their heads around the news of Saba Qamar's marriage to Azeem Khan, an America-based Pakistani woman named Ujala came forward and wrote a public letter to Saba Qamar. Ujala stated that she faced harassment by Azeem Khan, where he acquired her posts from a closed female-only group on Facebook and put it out on his socials to come after her. She mentioned that it was Azeem Khan who was responsible for all the hate and trolling she faced by random strangers who were sending her vile messages. Ujala showed her concern and clearly mentioned that she was disappointed with Saba Qamar's choice because Azeem Khan was definitely not the right person. She also mentioned that he was responsible for harassing and cyberbullying women apart from her as well.
After this post went viral, Azeem Khan came forth with his version of the story and stated that it would be better if people who were putting allegations on him tried to come his way through a proper channel. He challenged them to get the official authorities involved and felt it was a perfect case of jealousy and slander where people couldn't see two people in love. Azeem mentioned that he and Saba were intending to bond through a sacred union such as Nikkah, therefore it was not right for people to dig up his or Saba's past because it did not matter to either of them. As per Azeem Khan, it was a false allegation which he felt had no truth to it. Under this video, Saba Qamar responded "I trust you".

Saba Qamar & Azeem Khan's Breakup
Saba Qamar took it to her Instagram to make an announcement that she had decided to call off this engagement and she and Azeem were not getting married. Saba did not give any reason behind this breakup, however, she did state that it was never too late to realize bitter realities. Azeem Khan who happens to be just as active on social media made a few reposts and took it all on him. He stated that it was his fault and he will hold himself accountable for it. Saba Qamar mentioned that this was definitely a difficult time in her life and was hopeful this shall too pass. In this public announcement, Saba did mention clearly that she and Azeem have never met and they connected over the phone.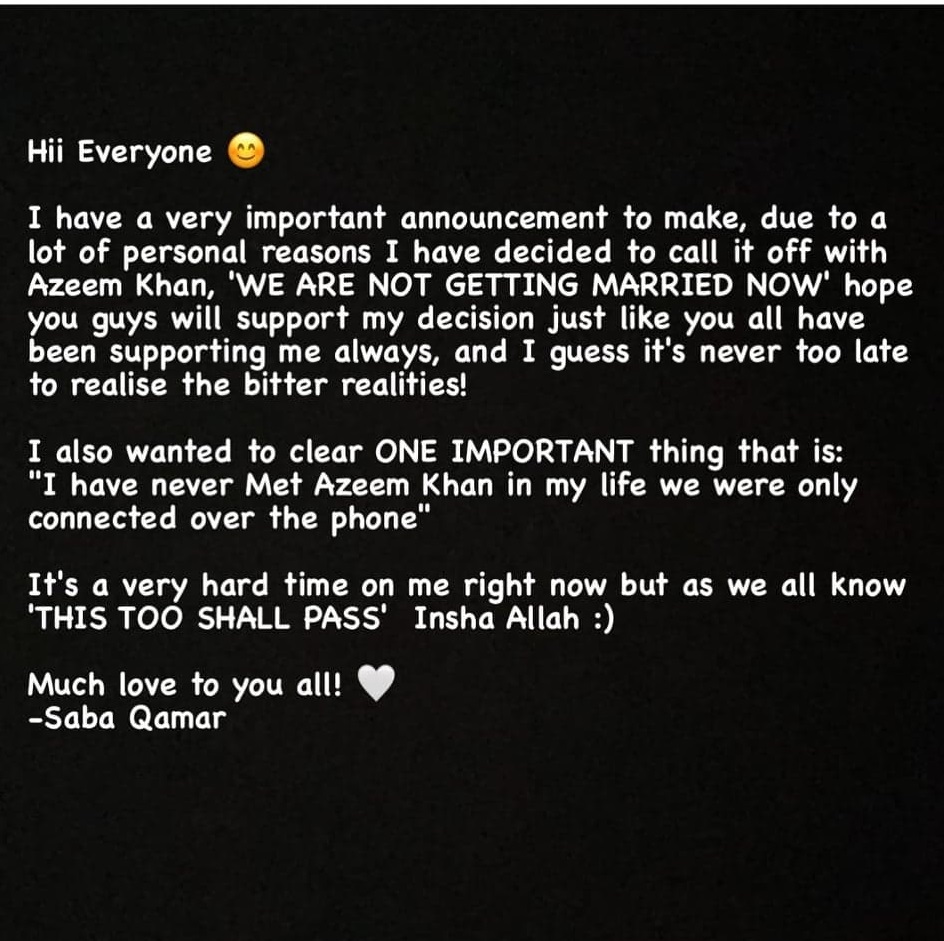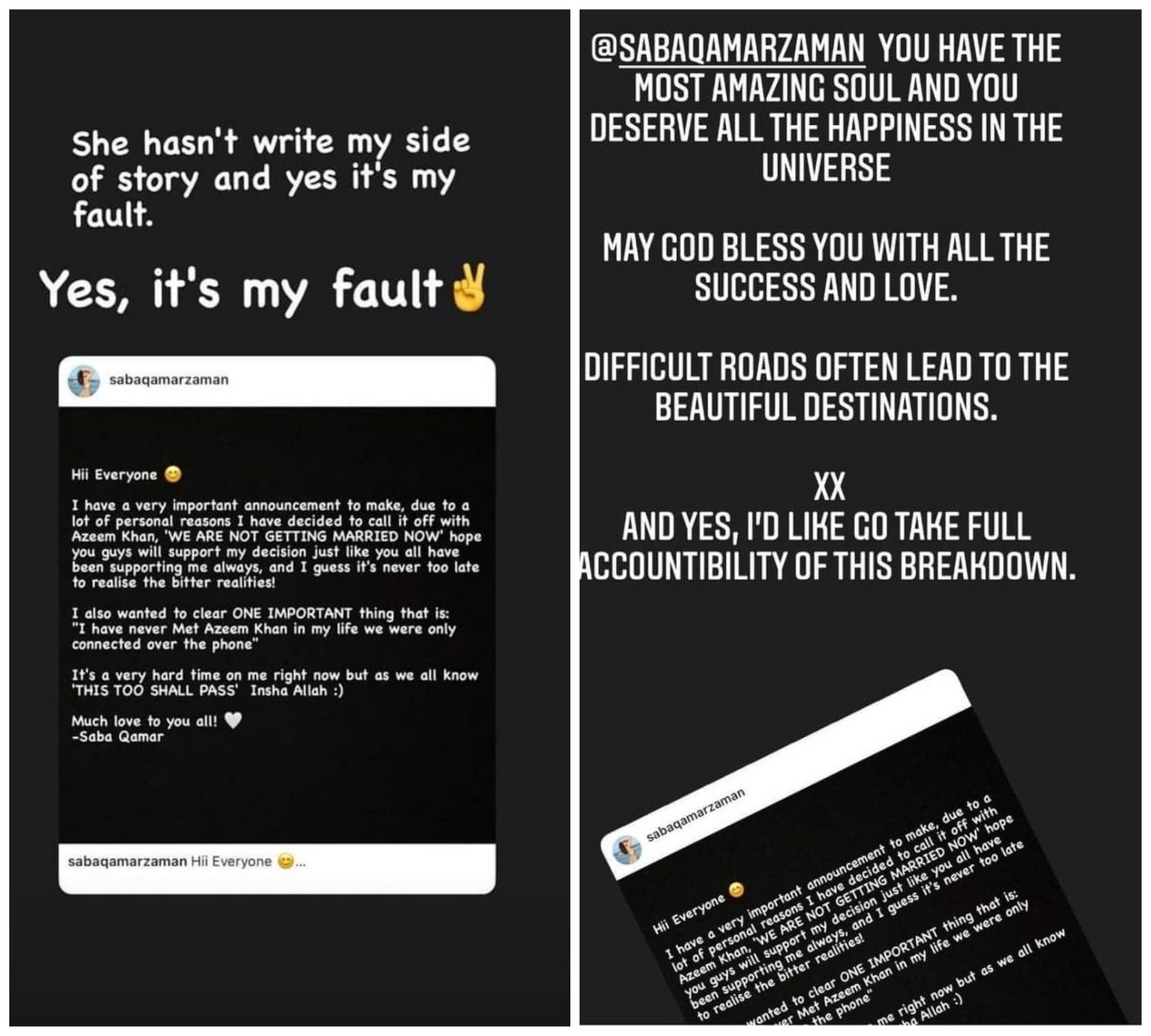 Celebrities' Reaction To The Break-Up
When Saba Qamar shared in an 'emotional' post that she and Azeem Khan were no longer together, the reaction of the celebrities was definitely not one which we see often. The instant outpour of concern and best wishes even from those celebrities who Saba Qamar doesn't really get along with, for instance, Mahira Khan raised a few eyebrows. While it is normal for the celebrities to speak up for each other, the fact that this was an 'online' romance that had just come to the limelight and the public criticism wasn't intense either, made this reaction look like it was 'staged'. Most of the people were left wondering why these celebrities were going out of their way to support Saba Qamar. Did they know what was going on behind the scenes for months? If this was something so serious how could it come to an end within hours of it becoming public? If the allegations were the reason then why did Saba show her full support for Azeem right after Ujala came forward with the allegations?
Saba Qamar's post itself looked like it was carefully worded and its timing was also rather strange. Now that Saba Qamar's latest song about heartbreak is out it all seems as if even these celebrities were in on this publicity stunt just the way celebrities supported Hania Aamir when she wanted to make a fool out of everyone with the April Fool prank. The only difference here is that while Hania Aamir revealed that this was indeed a prank, Saba Qamar will obviously not be doing any such thing!
The 'Controversial' Birthday Bash
Anyone who follows Saba Qamar on social media knows that she is not afraid of controversies at all. She has often used controversies to get attention and it would be safe to say that after playing the lead in Baaghi, she has become bolder than ever. She likes all the attention she gets which is why even her YouTube videos are full of such content which she knows will not be widely accepted by the public. It is sad but true that a star of her stature still believes that such publicity stunts are a legitimate way of grabbing 'views' and attention.
Soon after the 'break-up' Saba Qamar posted pictures of the birthday bash in which she wore the most revealing dress she could because she knows better than anyone else that this is the easiest way to get 'attention' from the Pakistani awam! Even those people who do not watch dramas would naturally talk about the actress who wore such a bold outfit.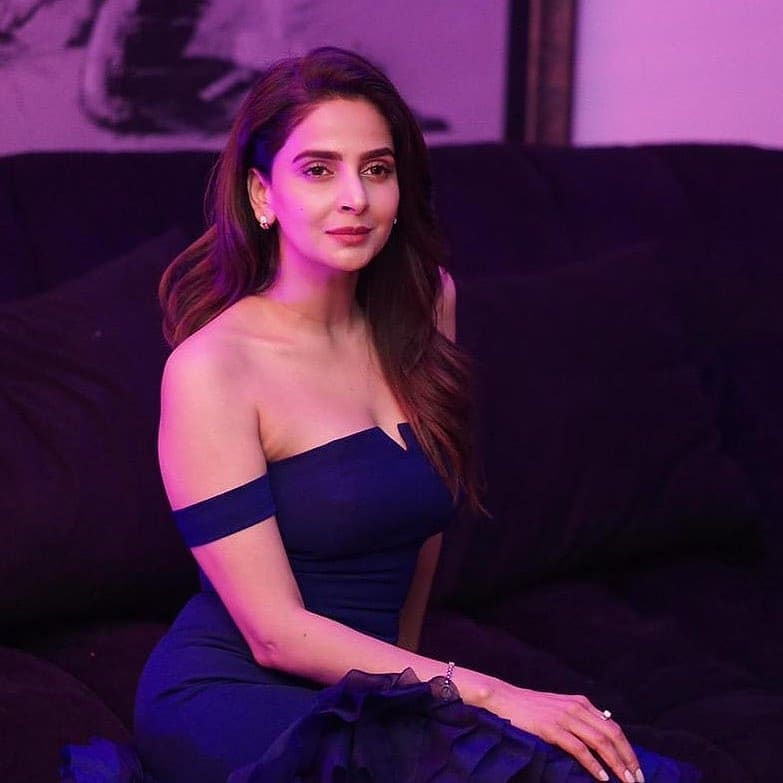 Saba Qamar was more than happy posing for the bloggers since she wanted these pictures on every page. Once again everyone was left wondering if this was her way of showing the world that she had moved on and she did not care about what anyone thought of her or was this just another attention-seeking tactic. A day after Saba's revealing pictures went viral; she announced that she was going to be posting something really special on YouTube. She made sure that she had everyone's attention by this time. She left no stone unturned to make people stand up and take notice for all the wrong reasons of course! Saba knows that the shortcut to getting immediate attention from one and all is a break-up and of course a revealing outfit. Even Indian publications covered Saba's break-up news so we would say that her plan was a success.
The Timeline
On March 22, 2021, Saba Qamar posted a picture and Azeem asked her to get married to which she replied 'Qabool Hai'. The comments under that post have been turned off.
On March 25, 2021, Saba Qamar gave an interview confirming the news of her marriage.
On March 26, 2021, America-based Pakistani woman Ujala spoke about the harassment and cyber-bullying faced by Azeem Khan.
On March 28, 2021, Azeem Khan posted a video refuting all the allegations made against him, with Saba Qamar stating that she trusted him.
On April 2, 2021, Saba Qamar posted an announcement on her Instagram that she is not getting married to Azeem Khan.
On April 3, 2021, Saba Qamar posted a teaser of her directorial song 'Chingariyan', meant to be released on her birthday.
On April 4, 2021, Saba Qamar attended her birthday bash and grabbed the attention.
On April 5, 2021, Saba Qamar's song was released and posted on her official YouTube channel. The theme of the song being love affair, breakup, and moving on.
It won't be wrong to say but these have been quite a couple of weeks in Saba Qamar and Azeem Khan's lives. The relationship where the happily-ever-after was being discussed could not even last more than two weeks after it became public.
The Song That Has Left Everyone Wondering
After doing her homework right Saba Qamar posted a video on YouTube titled 'Ek Adhuri Love Story! Chingaria'. The song is about heartbreak, surprise surprise! It has been sung by Mustafa Zahid and Saba Qamar is seen showing her intense performance in it. As was expected, Saba Qamar's fans are showing her support and love because of everything she has recently 'been through'. Even after the 'break-up' Saba Qamar is still following Azeem Khan on Instagram which is odd!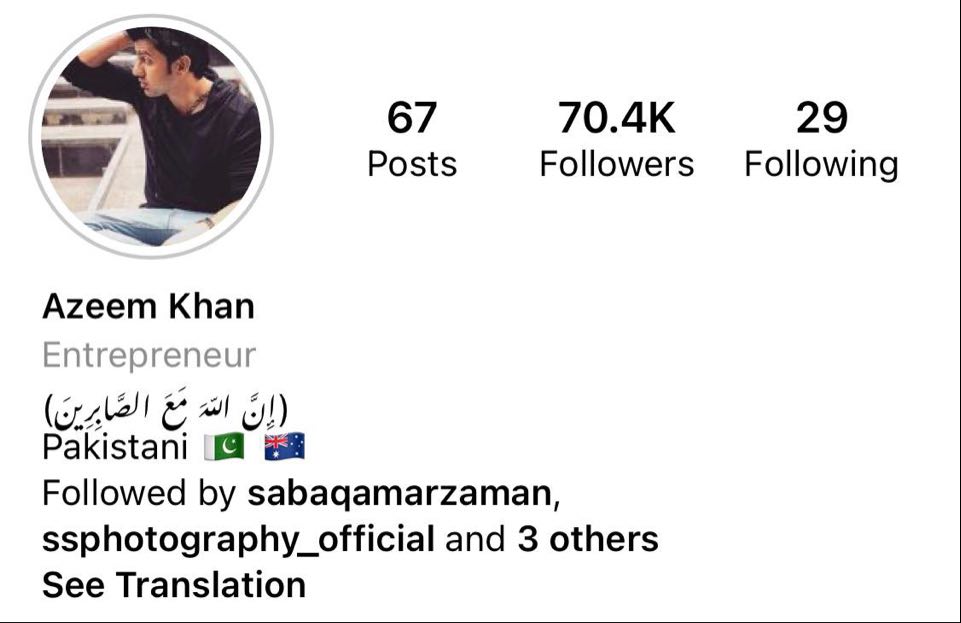 People are now being forced to draw conclusions and speculation whether it was all a publicity stunt or not because the last two weeks in the life of Saba Qamar are pointing towards exactly that and it can not be a coincidence that just when her directorial song was about to be released, she went through exactly what the theme and story of the song were about. People would've found it a bit more realistic if Saba Qamar had actually shown signs of heartbreak but even that did not happen because immediately after announcing her breakup, she went on to celebrate her birthday and made it look like none of it ever happened.
Isn't it unfortunate that an actress of Saba Qamar's caliber who has so much to her credit and who has such a massive fan following felt the need to stage all this so that her upcoming venture would get more attention than usual! Share your views.