Ramadan is just around the corner, and it is time for the 'seasonal treat' we get from familiar face on our TV screens. Let's have a brief look on what we have been doing, what we will be doing and what we should be doing this month.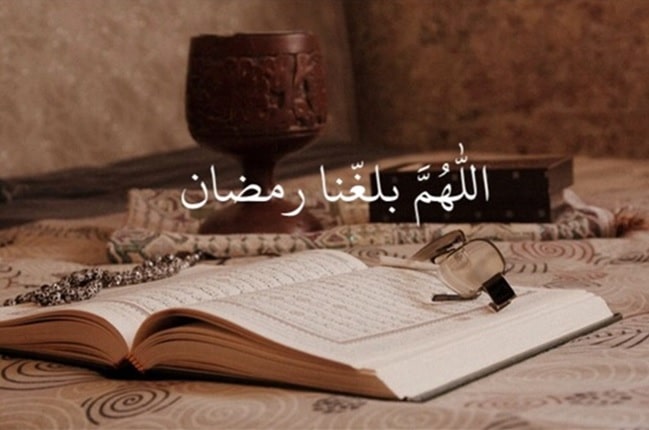 Previously in Pakistan…
Last year the Ramadan transmissions were in full swing. Be it Amir Liaquat Hussain on Express, Waseem Badami & Junaid Jamshed on ARY digital, Ahsan Khan on Hum TV, and many others, no one left any stone unturned in celebrating this Holy month. All transmissions had their highs, lows and plateaus and had their own share of limelight.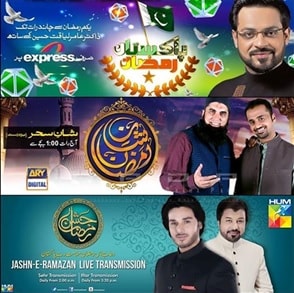 Behold! Here comes Ramadan 2015
This year's Ramadan transmissions are obscured in dark clouds. Junaid Jamshed had to leave the country because of life threats. Waseem Badami has been to Bol and back again, but I doubt he will be doing Shaan-e-Ramzan this year. We have news that Maya Khan will be hosting on TV one, while Ashsan Khan will be gracing Hum TV again.
Hmm…let's see who remains…Oh yes, how can we forget? Our very own, 'Jack of all channels', the generous, the unmatched, the intellectual, Dr. (Axact) Amir Liaquat Hussain!!! (Drums rolling). For those who do not know about his current whereabouts, he is back to Geo these days and will apparently be rocking this year too. One teeny tiny, mini miney thing is his degrees are rumoured to be fake, but who cares really? One has a right to be called a doctor if they know how to feed mangoes after all! Gosh people, you need to stop criticising him, what has he ever done to anyone? :-P
Do's and Don'ts
Alright, enough back-biting, let's come to business. Personally, I do not think anyone can watch whole of these hours-long transmissions, but they influence people anyway. So why not use it for some more good?
Say NO to Catchy Jingles
I hate it when you are at iftar dastarkhwan making last minute supplications and have the TV switched on just to see iftar countdown and suddenly you are shaken by 'light light refreshing…Qarshi Jam-e-Shireen' or other jingles. There you are cursing yourself for leaving the TV volume high and hastily finding the remote to hit the mute button. Come on producers, we know how much are ads important for you but at least don't stuff us with this unnecessary music at these crucial times? Most of us end up switching off the TV the moment iftar is declared.
Say NO to Exaggeration
I know I am up for criticism on this, but hear me out. We all love Prophet Muhammad (PBUH) more than our parents; his love is part of our Eeman. But please be careful while choosing Naats, as some have extremely exaggerated wordings that are only fit for Allah Subhana Wa'Taala. These little things can even be categorized as shirk. Obviously, neither the reciters nor the listeners have any bad intentions and only do it for the love of the Prophet (PBUH), but he (PBUH) has himself has warned us against this kind of shirk in us, his Ummah. May Allah guide us to the right path, Ameen.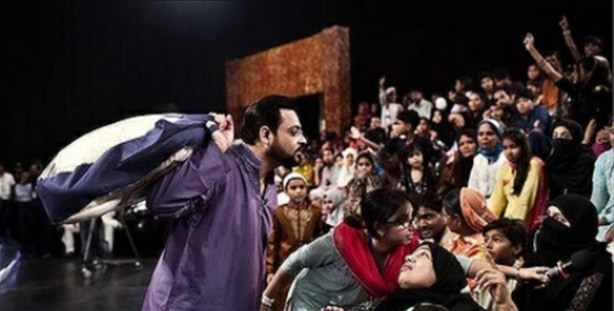 Say NO to Prize Race
Enough has already been said about this unhealthy trend of distribution of lawns, mobiles, motorcycles and what-nots. News flash (again) for the producers is, we hate to see our brothers and sisters cat-fighting over these freebies and stooping as low as they can to get them. It is disgusting to see elderly people imitating a snake or young adults gulping down fruits for such stupid reasons. Prize distribution on some genuine merit is understandable and no one feels this bad when lost.
Say YES to Modesty
We appreciate that the female hosts, guests and attendees tend to cover their heads in Ramadan transmissions, but sisters, unfortunately, doing so with a georgette/ see through dupattas doesn't do. If you cover your head, it must be properly done as described by Shariah. Some may object that the same ladies appear on other shows without hijab/ head covering so why the hypocrisy of doing so in such transmissions/ shows? Well, I think we should appreciate and promote the culture of modesty as little as it can be and should not discourage someone based on their other acts. To quote an article by Zeba Khan, entitled "Red Wine and Hojabis: A Judgement on Being Judgemental" which I read a few days ago,
"That's like seeing a recovering paraplegic take their first steps, and then shoving them to the ground saying 'You're doing it all wrong! Just stop, that's an insult to walking!"
Say YES to Quran
Man, how can I emphasize on it enough? Ramadan is the month of Quran. Reciting, learning and understanding Quran must be the three most important tasks for us this month. For this, the guys running TV can show lectures of renowned scholars like Dr. Israr Ahmed to truly delve into Quran. Also, more popular-among-the-teens scholars like Ustad Nouman Ali Khan and Dr. Zakir Naik's lectures can also be aired. After all, we can learn something or the other from everyone.
Parting Words
Here is my little wish-list for TV in Ramadan, do share your own in the comments. By the end of the day, television industry is our own too; we should be the ones to rectify ourselves but if my words have hurt anyone, I apologize in advance.
Yours Truly
Noor-us-Saad