The month of September has had been a controversial one in terms of political instability within Sindh where the disturbance was all felt, thanks to the concealed story which exists in between the political parties and the law enforcement forces. While Pakistan is still busy, finding its current position internationally due to the sudden raised Pak-India L.O.C issues, the most important province of the country is again in the hit list of people who are not ready to accept its solidity.
It was only few hours' back when the social media was all bombarded with fake news that Facebook will be shutting down in Pakistan, but a serious blow has been given to the voice over internet protocol (VoIP) services just today, that is, October 3rd, 2013.
It is time to give all your smartphone fun a pause for a while as there will be no more Whatsapp, Viber, Tango and Skype services available on your smartphones/tablets/laptops because they are under a ban of 3 months, as stated by Chief Minister Sindh Qaim Ali Shah.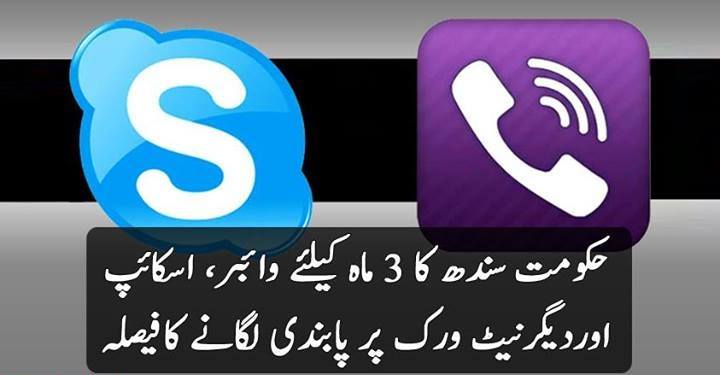 Making his point clear while talking to media about the news, Information minister Sharjeel Memon stated that as per the reports revealed by the intelligence agencies, Terrorists and criminal elements are using these networks to communicate after the targeted operation was launched. It is highly difficult to trace the communication channels been established by the VoIP softwares; hence, the service will now be blocked in Sindh for a period of 3 months.
It is to be remembered that this is nothing new for the countrymen here as it is almost more than a year that YouTube was banned in Pakistan which is, still giving a tough time to the students, technicians, workers, in general, people of different niches, differently.
It is challenging to comment about the positivity to be expected out of the decision just taken but there is one thing for sure, Pakistanis who previously found themselves connected to their loved-ones abroad will now have to spend a great deal of money in establishing communications.
Share your views please; is it a right strategy to isolate the people of this land by banning all tools and services which are utilized by users like you and me?
Blessings,
Nida Zaidi