Armeena Rana Khan may be a new comer in Pakistan but she has already made her mark abroad with her short film called 'Writhe' which was shown in Cannes Film Festival this year in May. It was a huge honor for the whole team of Writhe for their film to get selected at Cannes. It received quite a response from the Hollywood's most elite crowd. The director, Sharaz Ali was also approached by stars like the Oscar winning actress Jennifer Lawrence and James Franco (known for his work in the Spiderman franchise) and he got a chance to have a little chat with them, which was a truly wonderful experience for him.
Recently, there was a private screening held in London and those who attended the screening got to meet the cast and crew, and got an opportunity to ask questions from the whole team. Fox News and ARY UK covered the event and took exclusive interviews from the star cast. The screening turned out to be a huge success and the film was appreciated by everyone present at the screening.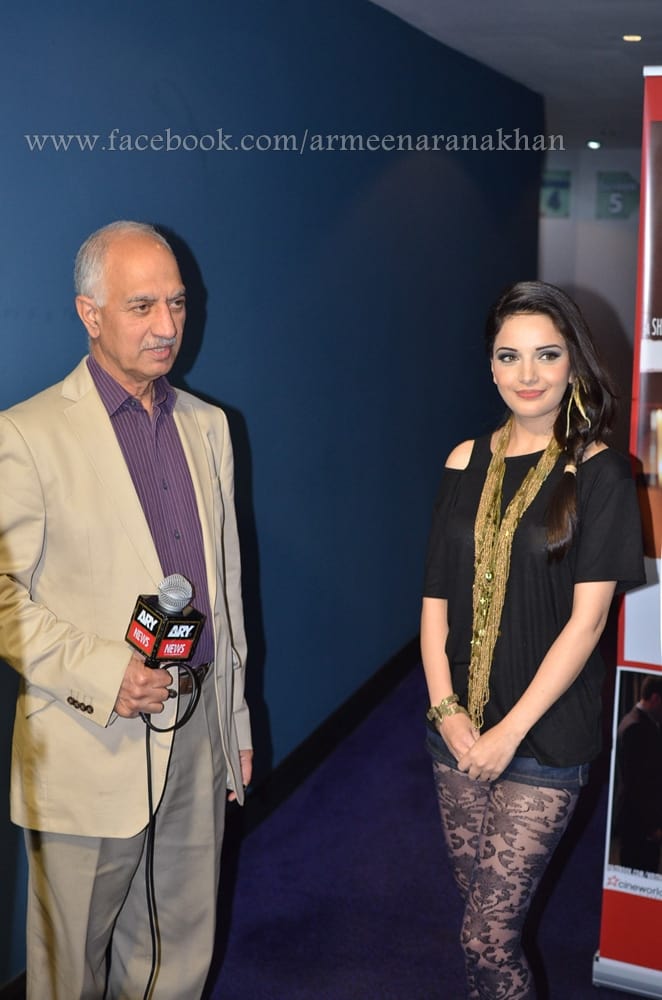 Armeena looked gorgeous in a funky yet classy attire at the screening. Here is a click of Armeena with Sharaz Ali from the screening: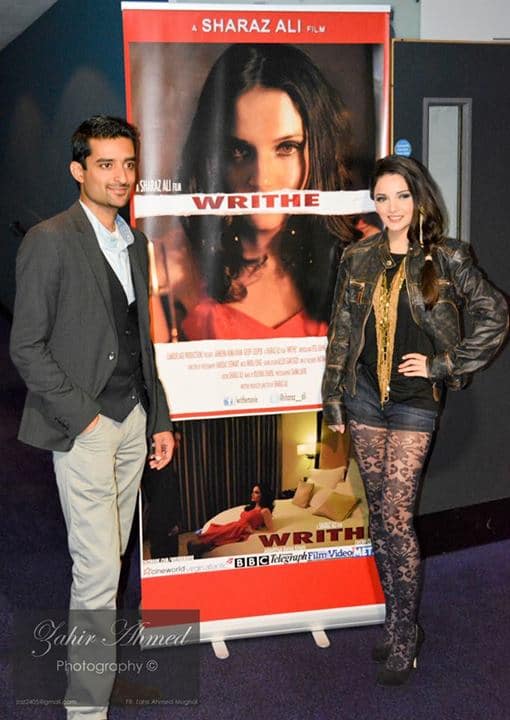 Writhe is a short film directed by Sharaz Ali and features Armeena Rana Khan and Geoff Cooper as the leads. The story revolves around a woman who is abused and mutilated by her boyfriend and this turns her into a cold and forbidding woman and we get to see a pure evil side of her. Her thirst for seeking revenge is so strong that innocent victims become her target and her thirst is only quenched by taking their lives.
And here is a screen shot from the movie: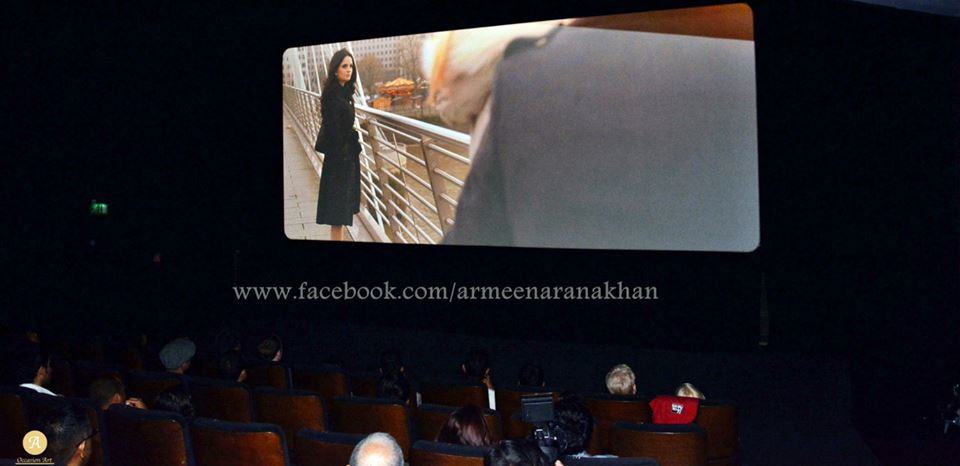 Since it is an Art film, it is unique and independent and aimed at a niche market rather than the mass audiences. Sharaz Ali once said in an interview that he entered Writhe in the Cannes Film Festival at the very last minute and did not have any high hopes but he was absolutely thrilled to find out that his film had been selected.
Armeena is a Canadian based actress who started her career with modeling and then turned to acting as a hobby but now she has made a successful career out of it. She is currently seen in Shab-e-Arzoo ka Aalam and Happily Married and there are more of her projects in the pipeline.
The unfortunate part is that the people the short film will not be officially released in Pakistan because of Writhe's different story and unique concept which may not appeal to the audiences here. The concept of art films is new to the audiences here and Writhe might not get the praise or the appreciation that it deserves. According to the director, if things work out the film might be released online.
According to the latest buzz, Armeena Rana Khan will be seen in another short film called 'Echoes through Eternity'. It will be directed by BAFTA nominated director Aneel Ahmed. This short film is due to be released in 2014. After such a huge success of her first short film, it is not surprising to know that she had been approached by big directors and is quite in demand nowadays. We hope to see her climbing higher on the ladder of success as time passes.
We wish her all the best for her future!
Mariam Shafiq