I haven't tuned into a drama starring Ayeza Khan after Tau Dil Ka Kya Hua therefore I decided to give this one a go after getting a few requests from facebook users to review it. The production house's obsession with 'khoobsurti' (goray log) stands out more than anything else throughout apart from Ayeza Khan's attempt to look really casual in a made-up look (talk about taking contradiction to a whole new level!). It is actually sad watching Ayeza Khan focus on her looks so much especially because she doesn't need it. Momal Sheikh's lack of talent reflects from every single scene and Muneeb Butt's attempts to flaunt his well-built body makes him the perfect candidate for the next YNH film!
Coming to the story, it is has been-there-seen-that (a million times) written all over it. Yaariyan is Guzarish, Maat, Woh Mera Dil Tha, Ghar Titli Ka Par and Ishq Tamasha mixed in one. The writer has taken inspiration from all these dramas yet Yaariyan doesn't even pass as a guilty pleasure, something you would watch for fun, because the characters are black and white to a boring extent and most of the performances are as fake as they get. If you want to watch goray chitay log (courtesy a very light foundation) suffering while looking their best then do tune into this show, otherwise don't!
I have been dying to vent out therefore I am going to share my thoughts about each character in this review/rant. This drama has few of the most shallow characters translated on screen in an even more one-dimensional manner by the actors involved.
Sadia (Momal Sheikh)
Bechargi ki tasweer
Sadia is the 'perfect' (perfectly annoying) sister and daughter, she is pious to the core but she gets stuck in a situation in which her character/morality is questioned (Meri Zaat Zara-e-Benishan?) and as a result her life takes a turn for the worse. Sadia's over exaggerated becharapan coupled with absolutely no real personality and Momal Sheikh's performance which literally gets on your nerves made it impossible for me to feel for her.
Zobia (Ayeza Khan)
Meesni no. 1
Zobia's character makes little sense, she is manipulative, selfish and spoiled but most of the times whatever she does isn't backed by a lot of logic. She is negative and spoiled and that's it! Ayeza Khan's over-reliance on make-up and styling makes this character look more fake than it needed to. Ayeza's dressing is really casual, sometimes the three pieces of the outfit don't even match but the overloaded foundation is never out of place. It is almost as if the leading ladies weren't allowed to tie their hair under any circumstances.
Umair (Muneeb Butt)
Ahmed from Kesa Yeh Naseeban all over again
Umair is another character which lies on the extreme. There is nothing likable about this character and Muneeb Butt's performance is a bit over the top most of the time. It is like watching him play the same character he played in Kesa Yeh Naseeban – he tries to be a good son but is a horrible husband.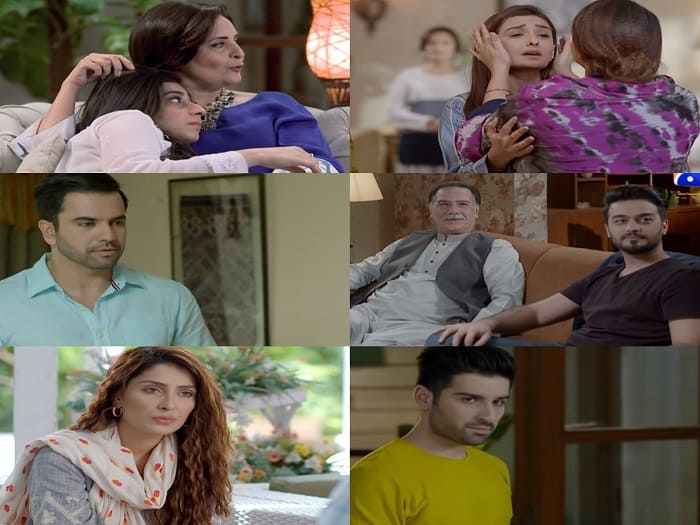 Ahmer (Junaid Khan)
Mehrab and Moonis all over again
Junaid Khan yet again plays the bechara even though he is the one who made a wrong decision. He reminds me of Mehrab, who stayed a bechara right till the end even though he did so much that was wrong. Ahmer also reminds me of Moonis from Khasara because of the way Junaid Khan has carried this character throughout.
Hamid Baig (Mehmood Aslam)
Gaiti's dad is back
Mehmood Aslam has been typecast in this drama because he is yet again playing the same character he played in Do Bol. He is the unreasonable father who forces his daughter to get married to the man she was 'caught with'. Yes! Believe it or not, it is the same scenario all over again which has been originally lifted from the play Woh Mera Dil Tha. Forced nikkah's caused by misunderstandings seem to be the latest trend in our dramas.
Aliya (Hina Bayat)
Only good thing about this drama
Aliya's character is in this drama is the only good thing about it. Although Aliya is too good to be true at times but Hina Bayat has managed to add grace to this character even with those high heels and made-up look.
Zeenat (Shagufta Ijaz)
The helpless mother
Zeenat is the helpless mother without whom all those tragedies which occurred in this drama wouldn't have happened. Shagufta Ijaz is an amazing actress, she can make even the most average of characters look good on screen therefore her performance is the only reason why her character is not the worst one in the play. Also, the fact that Zeenat knows her daughters well and gives everything a second thought makes her character relatively more nuanced.
Final Remarks
Yaariyan is one of those many dramas which are made with all the 'commercial elements' in mind. The writer took plenty of inspiration from dramas which were popular in the recent past which makes the story highly predictable. The fact that many of the actors in this drama are typecast goes to show the narrow vision of the director. The over emphasis on everyone's looks is another off-putting factor apart from the average performances which are anything but effortless. The performances on the contrary look well rehearsed and staged. The overuse of the OST just adds to the torture.
A special request to all the writers, please stop showing this forced nikkah scenario. Ever since Woh Mera Dil Tha aired, it seems like parents forcing their children into jhat pat nikkah seems to be a  favorite of all those writers who love replicating original ideas!
Are you watching Yaariyan? Do share your thoughts about it.