Ohkay so, this episode of Yakeen Ka Safar was my absolute favorite. I must say the director should be commended here for keeping things so simple on the surface but adding so many little details in almost every other scene to give it a meaning & a depth for the viewers to enjoy. When you watch Yakeen Ka Safar you feel as if you're watching a life of regular people unfold on-screen because that's how effortless & realistic the director has made everything & for that he deserves a round of applause.
Daniyal finally got a direct message from Rab Nawaz Shah & he got to know what Rab Nawaz Shah is capable of doing & what he can actually do. I liked the fact that both Gaiti & Asfand felt something off about this entire situation, like it was nice to see a connection of this sort where those who are emotionally attached to Daniyal felt some unease. I think Daniyal should be a little cautious as he must be new to the field but he is not oblivious to how corrupt these politicians can be. It is good that Daniyal has this drive to help people & he feels passionately about bringing justice to Noori but then he has to keep his eyes open as well & he has to be realistic because in the end, his safety comes first & he has to take care of himself not for his family but also for Noori as her life depends on him too. Yes, Daniyal did buy a gun but then again, that's just not enough. I so wish Usman had done something to help his son because he was the one who received Rab Nawaz Shah's call directly.
So, Noori found out that her family has moved somewhere else & Daniyal thought he could use it against Rab Nawaz Shah in order to prove that he pressurized & harassed Noori's family. I think being a lawyer, they should've shown Daniyal to be a bit more smart in a sense where he could read people's actions & intentions. Daniyal told Urooj to take care of the confidential documents related to Noori's case but then again, I am not sure how & why did he start trusting Urooj so easily? They should've shown that Daniyal had this strong sense of intuition, because of which he wasn't trusting Urooj with such important documents. Daniyal should've known that being helpless didn't mean that Urooj would be sincere to him? Like the way Urooj told him about all his problems, it definitely meant that she was in need of money so for her, all her sincerity would be with her family & the one who will pay her more will be able to get the work done from her. I wish now that Daniyal was forced to do some thinking, he also grows a little conscious around Urooj & shouldn't trust her so easily.
Now, talking about my favorite scene of this episode, it was Zubiya's confession to Khalil but I loved how Zubiya was brought to this point. My my, I found myself tearing up when Khalil broke down & gave Zubiya the comfort she was looking for. I found it so realistic how Zubiya's mother guided her in her dream & told her to apologize, those who have lost their near & dear ones would know that in a time of despair, those who have left you do come & guide you in your dreams & this is exactly what happened with Zubiya. She was avoiding her family members for nearly 2 months but just because she got some guidance, she found the courage to face her father & apologize for her mistakes.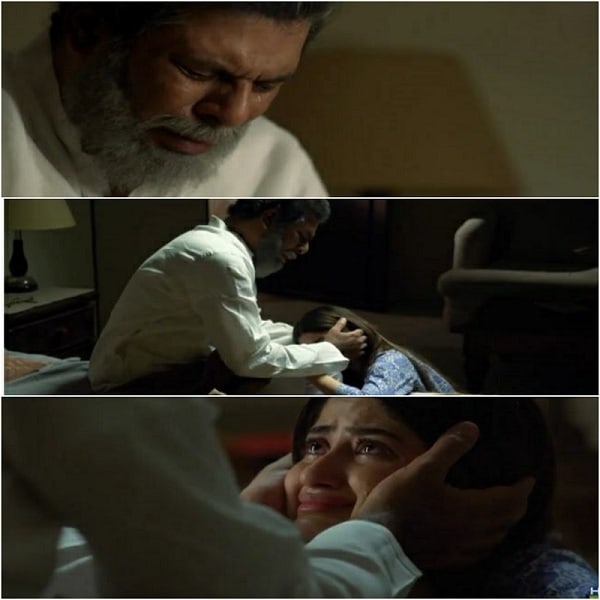 Can we say that Khalil has redeemed himself, I think yes! Not that all that he has done in the past has been forgiven & forgotten but the fact that he is now aware of his own mistakes & feels responsible does change my perspective of him. Who would've thought that a father like Khalil will take the entire responsibility of his daughter's mistakes & will end up blaming himself for what Zubiya & his entire family was going through. Khalil actually understood that this was karma's spin on him where was now paying the price for pushing his wife to death & for doubting her purity. What I loved the most was that Khalil just didn't admit his mistakes to himself but chose to share everything with Zubiya to put her aching heart to ease. It is true, just as much as Zubiya was affected by what she went through, this entire incident forced Khalil to reflect on his mistakes & he had no escape, that is why he had to accept that he was basically facing the brunt for all that he has done all his life.
I loved the fact that Khalil took a stand for Zubiya & told Rehan clearly that he intended to educate her daughter because that is what their mother wanted. Rehan should know that he doesn't stand a chance now & he has zero authority. I loved how Khalil gave a shut-up call to Sheema too, just to restore Zubiya's position in the house as even he could see that Zubiya suffered alone for such a long time & now she was begging for a chance. What I loved the most about this entire scenario was how Zubiya slept in her father's room & how Khalil chose not to disturb her, it was like he was giving her the comfort she longed for all her life & especially in this phase where she hit the rock bottom. Telling Zubiya to have breakfast at the table with the rest of the family members was also Khalil's way of telling her that she is not an outcast anymore. Also, Zubiya has spent a lot of sleepless nights but it was suggested that after such a long time she slept in so much of peace that too in her father's room that she not only lost track of time but also seemed startled that she wasn't in her room, in her own bed. Since there has been so much of focus on Zubiya's 'aala taleem', I am guessing she will enroll in MBBS & may be that's where she will cross paths with Asfand, as it was also suggested that Zubiya was a bright student, as that's what her friends were discussing that she was focused & always on-time with her assignments.
Overall, this episode was beautiful. I enjoyed Zubiya & Khalil's track a lot more & I can't wait to see how Zubiya will now pick up the pieces that too with her father's support. It is just so amazing that Khalil has now turned into a father that Zubiya never had but sadly, the one who should've seen all this is not here anymore. Zubiya had her mother's love when Khalil wasn't around & now she got her father's love when her mother is no more. Even though I felt that Zubiya's track became stagnant in last couple of episodes but I am glad they gave it a slow treatment because now the conversation that both Zubiya & Khalil had, had a lot of impact & it was absolutely heart-warming. I must say, Ehtashamuddin & Sajal Ali, they were the stars of this episode & while looking at them perform, I said to myself that no other actors could've done justice to this scene in particular the way these two did. Mind blowing! Please share your thoughts about this episode of Yakeen Ka Safar.
Keep Supporting,
Cheers,
Zahra Mirza.