Ohkay so, this was one of the most important episodes of Ye Dil Mera in terms of story & exposing of the truth. Each & every moment of this episode was engaging & gripping. All the reactions were realistically portrayed & some of the scenes were very emotional. The director definitely deserves points for giving all the characters equal treatment & enough screen time so that the viewers could understand what they were going through. It is safe to say that Ye Dil Mera has come to such a stage where every single episode is promising & has so much to offer.
The Shock of Their Lives
Ana decided to find out about some of the secrets that Amaan was keeping from her. Ana knew something was quite wrong & the way Amaan behaved with her, he had to have a solid reason to do so. Ana decided to do her part & what she stumbled upon was something she never in a million years had imagined. Ana saw the pictures of her & Meer Farooq Zaman. Just when Ana was trying to wrap her head around what was happening & why Amaan would do such a thing, she also got to see the wooden plaques commemorating Amaan's family. That entire scene was done really well, especially when Amaan walked in & lit the candles. This was Amaan's moment to let it all out & he did. He had to tell Ana that it was Meer Farooq Zaman; her father who had murdered his entire family.
Meer Farooq grew suspicious & knew he could find some clues. Yes, they had to take the story forward now that is why they showed that it didn't ever occur to Meer Farooq or Ali Baksh to check Sahira's phone before. It was now when they both grew a little impatient & desperate that they decided to look for answers & what they got to know was shocking for them. Sahira was in touch with Amaan & it didn't take a second for Ali Baksh to tell Meer Farooq about all that he ever felt or suspected about Amaan. Meer Farooq's dejected body language was enough to show that even he knew he was in hot waters & no matter what he'll have to face his fears especially with Ana being in the picture.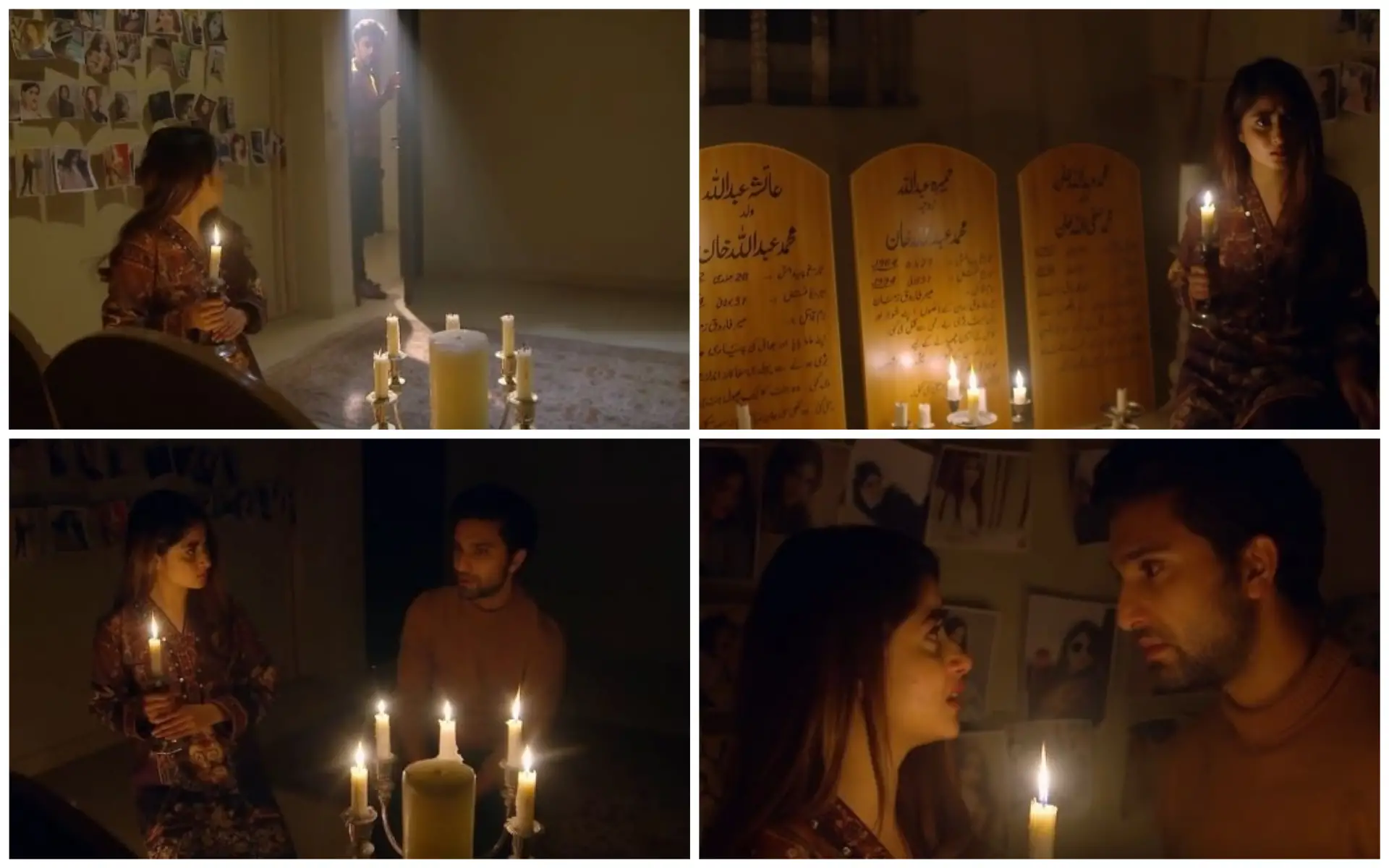 Meer Farooq decided to see Amaan & Ana, he thought just like all the people he has intimidated & harmed, Amaan will be the same too but what Meer Farooq witnessed was enough to shake him to the core. Amaan not only threatened him but showed him that he was not afraid of him at all. The confidence & faith that Amaan displayed in himself was what that actually rattled Meer Farooq because this was something that he wasn't expecting at all. Ana chose to stay back & not go to her father's place. All the things that Meer Farooq said to Ali Baksh after he came back from Amaan's place were interesting. It was good to see him scattered & spaced out. It showed that this was the first time Meer Farooq was actually dealing with a situation which he didn't have control of & this is what was making him nervous. Amaan has stepped on Meer Farooq's Achilles Heel & even he knew it. Meer Farooq has always done everything to protect Ana & to fabricate such an image of himself in front of her which made her believe that he was the ideal father a girl could dream of. Now when Meer Farooq sensed the danger & knew that Ana was close to finding out the truth about her father, he couldn't handle it well.