Ohkay so, the production of MD Productions, writing of Mustafa Afridi & direction of Siraj ul Haq; Ye Raha Dil commenced tonight on Hum TV & I must say this drama had such an amazing start, so much so that I am excited & looking forward to the next episode already. This episode delivered what they promised, it was comic & I am sure as the story will progress it will have some romance too. I have always felt that our drama-makers didn't do really well in the genre of rom-com but I think my opinion is about to be changed & the credit for that will definitely go to Mustafa Afridi. In the past, we have already seen what Mustafa Afridi is capable of in terms in writing so I am sure he has something amazing in store for us this time around too. The episode introduced the characters & their tracks pretty well & I had such a great time watching the first episode of Yeh Raha Dil.
The drama began with a very dramatic scene where the hero Zaki (Ahmed Ali) is seen convincing his parents Haroon Baig & Azra to allow him to get married to the girl of his dreams. Zaki being the only son of Haroon & Azra knows that he has a lot of edge & he knows exactly how to pull the strings that will assure him of getting what he wants. All Zaki had to do was to drench himself in the rain & pull off a little bit of drama to melt the heart of his mother & then rest was history because he knew that if he will have his mother on his side, she will eventually end up convincing Zaki's father too.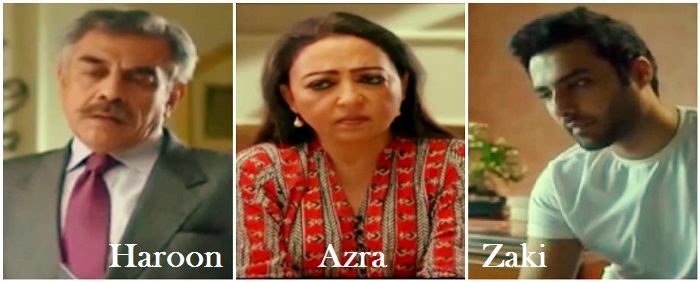 Another character that got introduced was of Hayat (Yumna Zaidi), an orphan & a writer by profession who is full of life. Hayat puts up a facade of being happy-go-lucky, whereas deep inside, she is just a very emotional & childlike sort of a girl who feels lonely because she doesn't have her parents in her life anymore. Hayat is someone who knows how to bring herself out of any messy situation because she is present-minded & spontaneous. Hayat has a go-getter sort of an attitude & she is someone who would do anything for her friends. One trait of hers that I feel might land her into a trouble would be her ability to trust people easily. Hayat's best friend Salman helps her & always goes out of the way but looks like he himself is hiding a lot of things from Hayat & is probably involved in some shady business.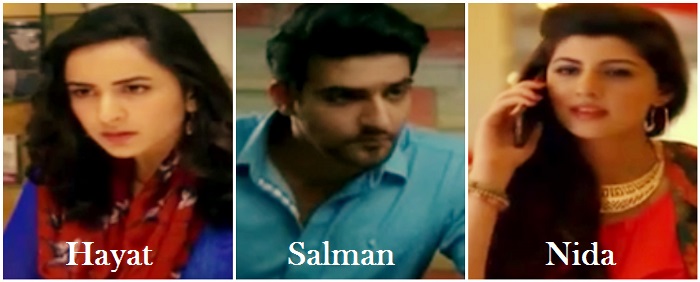 The third & the last character that got introduced was of Zaki's love-interest Nida (Anam Ahmed), who is a model by profession & loves Zaki a lot. Nida is blunt & straight forward but she is innocent as well. Zaki's father finds the choice of her career a little objectionable & that is why he believes that Zaki & Nida won't be able to lead a happy life but just after Azra tries to make him understand that he shouldn't judge Nida because of the kind of work she does, Haroon tells her to arrange a meeting with Nida & her family to see how things roll.
Zaki, Nida & Hayat share a little moment where Hayat damages Zaki's car but like a confident & sweet-talker that she is, she gets away from that entire situation by fooling Zaki & Nida easily. Nida is someone who believes in rules whereas for Hayat, there are no rules & the rules are meant to be broken as far as they benefit her. The entire interaction of the three characters was the highlight of the episode for me, it was quite amusing to see Hayat trying to make herself look like a bigger & better person whereas she was guilty & she knew it. Hayat's second half of the day involved fooling a policeman & a bank employee who only wanted to confiscate Salman's car but Hayat successfully saved her best friend's car too because she believed in him & thought that those guys were conning her. After an eventful day & right before her birthday, Hayat got a news that she least expected, which was regarding the novel that she wanted to get published but looks like the editor couldn't convince the publishers & that brings her morale down. She wishes herself happy birthday while still being teary eyed because that's when the reality daunts her that she is alone & has no one by her side, which was quite an emotional sight.
Overall, I thoroughly enjoyed watching the very first episode of Yeh Raha Dil. I loved all the main characters & what I loved the most was how different their personalities were. It is given that in a Mustafa Afridi drama the dialogues will be amazing but I never knew that every other conversation will be filled with such witty dialogues which will make me laugh out loud. I must say, in order to convey such wit & humor, the actors need to have an amazing comic timing & I feel there is no other actress like Yumna Zaidi who could've fitted the role of Hayat so well, Ahmed Ali & Anam Ahmed also supported Yumna Zaidi quite well in those scenes too. It looks like Yumna Zaidi is always in her comfort zone when it comes to playing the bubbly & happy-go-lucky characters like these, so she shone in the very first episode. Ahmed Ali was great too in the limited scenes that he got, but I must say, last but definitely not the least, after watching Kathputli, I assumed that Anam Ahmed would still be a little weak in terms of acting but she changed my opinion in the very first scene of hers & what an impressive improvement I must say. If I compare her acting in the entire drama of Kathputli & in the very first episode of Yeh Raha Dil, I will say she did an impressive job this time around, like she seemed far more comfortable in front of the camera & her dialogue delivery was effortless too. Now with three strong performers & amazing characters, I am definitely looking forward to what's in store for us. The OST was nice, the production value seemed decent & the direction was great too. Mustafa Afridi's dialogues & Yumna Zaidi as Hayat – definitely were the two strong points of this episode for me. I can't wait to see the next episode already. Please share your thoughts about the very first episode of Yeh Raha Dil.
Keep Supporting,
Cheers,
Zahra Mirza.