The lady, who knows how to cash every possible move she can actually make in the showbiz industry, is enjoying the peak of limelight these days. Yes, we mean Mathira here. From her late night live hosting on a B-class channel to her controversial dance in the movie 'Main Hoon Shahid Afridi', Mathira's career seems to be a journey with no ends. While her reputation still holds a confused state among viewers, Mathira has always proven that she is daring enough to pass big statements whenever she is questioned over a matter. It seemed no big deal for this controversy queen to call Shahid Afridi a mentally retarded man previously, and adding more stars in her debatable statement list, she has recently said that it is wrong to judge a woman from her clothes.
Defending today's fashion in a talk show on SAMAA TV on October 18th, 2013, Mathira countered all statements of Mufti Abdul-Qavi who spoke on the fact that fashion industry in Pakistan is spreading vulgarity and indecency in the society. Mathira was blunt enough to say that it is truly inappropriate to judge a woman's character on the basis of her clothing. She said that a woman wearing a top or jeans, or even a mini skirt can be a sober one.  It was an awkward moment when she said:
"Dusray log karein tou theek hai, apnay log karein tou La-haul Wala!"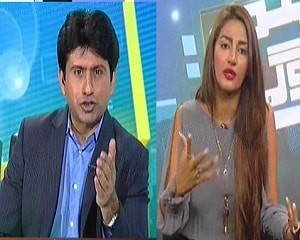 She further added (actually confirmed) that she is a Muslim and being a Muslim her life is all for her Allah and His Prophet (p.b.u.h), but it holds no sense to mix these facts with the fashion of today as the fashion designers are doing really well and are not crossing the social, ethical or religious boundaries.
Watch video here:
This is not the first time we have seen such a debate on a forum, in fact, few months ago it was Veena Malik who was invited in this show and something very similar was seen on screen, which for sure, was an embarrassment.
Please share your views about it,
Wishes
Nida Zaidi