Another guest of Samina Peerzada had bad experience on her show.
The web series with our very own polite Pakistani actress Samina Peerzada. Instead of a TV show, she is having her show on world wide web. Samina Peerzada's latest series was created by Peerzada in collaboration with Muhammad Adnan Butt of Walnut Studios. With over 160,000 subscribers, and over 400,000 views on its most popular uploads, the channel is dedicated to broadcasting the show Rewind by Samina Peerzada. Each episode features a Pakistani celebrity where they share their journeys, struggles and success stories. Every season has different title. Season 1 is Rewind while as, season 2 is Speak you heart.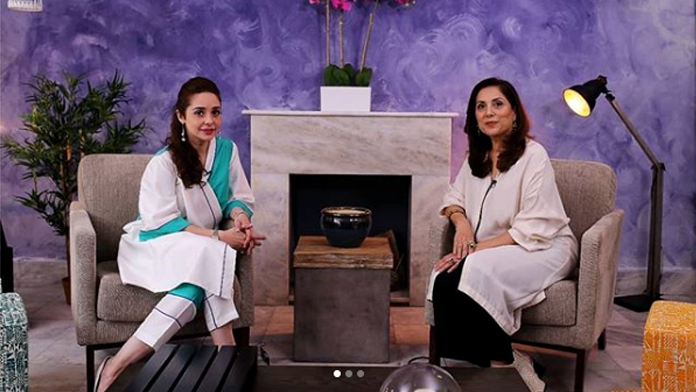 The show is not your average Pakistani show. She asks serious questions which brings out the best of the guest. We also get to hear  painful stories of the people from industry. The unseen side of celebrities is revealed in this show.
Samina has hosted many guests. From singers to stand-up comedians to directors. The guests so far are:
Ahsan Khan, Mahira Khan, Adnan Siddiqui, Wahab Riaz, Sana Mir, Asim Azhar, Ali Azmat, Aima Baig, Hadiqa Kiani, Ushna Shah, Nabila, Bilal Abbas Khan and many more.
Recently, Zainab Qayoom was invited as a guest. She shared her experience and she was not feeling all comfortable with questions. When Samina asked her about her father's death exeperience and how she felt about it. Zainab felt pretty weird and she tweeted:
aap kay vaalid ki death hui toh kaisa feel kiya? royee? legit question she asked me on heart to heart with simi garewal oops with samina peerzada #Qasmay 🙄

— Zainab Qayoom~ZQ (@zainaconda) August 22, 2019
This is not the first time someone had said something negative about this show but previously, there was huge wave of memes on this show. As Pakistanis are already famous for their meme game, they left no chance of making everyone laugh. Here are some famous meme:
Nobody

Literally Nobody

Samina peerzada: "Kabhi bhagte huay saans charhi hai"? pic.twitter.com/87JidNACo5

— ہما (@Huma45507103) May 12, 2019
Nobody
Samina peerzada: Kabhi mohaly walon ki bell baja k bagy toh hongy? pic.twitter.com/rhKn31waPQ

— Umer Shafiq (@Ohh_kii) May 11, 2019
No one
Samina peerzada: kabhi bachpan mai naak mai ungli dal k mauh mai dali hai? 😪 pic.twitter.com/vumTilTAol

— BILBATORI💕 Allu ka BD 28 aug💫 chuzi ka 3sep❤ (@azkaayy) May 12, 2019
Nobody :

Samina Peerzada : Kabhi i-phone ke charger se Samsung ka phone charge kiya hai ? pic.twitter.com/GzLVU2HByg

— Saniya Sayed (@Ssaniya25) May 12, 2019
Nobody:
Samina Peerzada: khud ko seeshe mein dekh kr hansi tu ati ho gi. pic.twitter.com/boPGnmpZEw

— Zubair (@Memerror_404) May 13, 2019
Nobody:

Samina Peerzada:Kabhi sehri main iftaari ki hai? pic.twitter.com/FDMvKQabuA

— Mr Umair🇵🇰🇮🇹 (@Mr_Umiii) May 13, 2019
No one
Literally no one
Samina Peerzada: kabhi bachpan main hichkii lagi hai ? pic.twitter.com/chsLj1eR0G

— Barfeee (@NotYourBudhi) May 14, 2019
Nobody:

Samina Peerzada: Kabhi Shampoo ki bottle me pani dal k use kia hai? pic.twitter.com/1fIykcoZLZ

— Pagalpan on height (@iiampagli) May 13, 2019
The show has mix reviews. But this show gives right amount of entertainment. She isn't just experimenting on a new digital medium but also offering more than just a causal chat with a celebrity.