Zinda Bhaag has already garnered a lot of attention by getting selected for the Oscars for the Foreign Film Category. After bagging four awards at the International South Asian Film Festival in Canada this year, it finally released in Pakistan on 21st September, 2013.
If one is expecting Zinda Bhaag to be a mainstream movie with the typical mirch masala then you are definitely in for a surprise. It contains laughter and romance, but most importantly it depicts a mindset commonly found in our society. This movie has proved that the Pakistani Film Industry does not need to go with the flow and feature item songs or renowned cast to gain attention.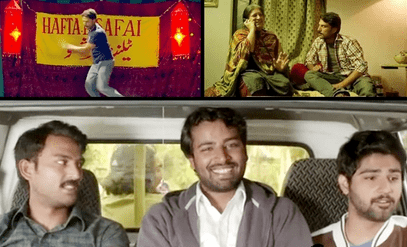 The story revolves around three individuals – Khaldi (Khurram Patras), Chitta (Salman Ahmed) and Tambi (Zohaib) who reside in a typical lower-middle class mohalla in Lahore. As many other youngster in our country, they also aspire to leave their desi mohalla, and take any route to reach foreign lands where according to them 'Their dreams will come true and all life problems will be solved'. Like many Pakistanis, the trio is under the misguided perception that once they reach a foreign place, life will be a piece of cake!
Here the dunky system comes in; which is a Lahori term for crossing the borders illegally. The trio makes their journey to a foreign land through this system, and what happens next is what the story is all about.
The first half of the movie concentrates on the life of the three individuals in the mohalla which is hilarious and unique in its execution. Since the film is 80% in Punjabi, one will get to hear some colorful and blunt Punjabi vocabulary that will make us all roll in our seats. (Especially those who are familiar with the language!) When the producer Mazhar Moin was asked the reason for Punjabi being used instead of Urdu, he stated "Making it in Urdu would have not kept the movie authentic to its setting."
While the first half will make you clutch your stomach, the second half will make the environment a big more charged, and leave you with sadness as the leads realize the harsh truth that all that glitter is not gold.  As the story progresses, it takes a 360 degree turn from the vibrancy of youth and love, to the dark realities of life. The story penned down by Meenu Gaur and Farjad Nabi will make you laugh in the beginning, but with each passing scene it will also make you realize how serious the story actually is.
Meenu and Farjad's strong direction have made the newcomers stand out, and give their best in all their scenes. For those who do not know, the three main leads were actually auditioned from a typical mohalla in Lahore and casted in the movie! The cinematography has managed to capture the essence of Lahore and the director did not shy away from showing the true culture as there were many scenes that hinted at the various habits and characteristics of Lahoris. Even the sets captured the kitschy, loud and garish soul of Punjab.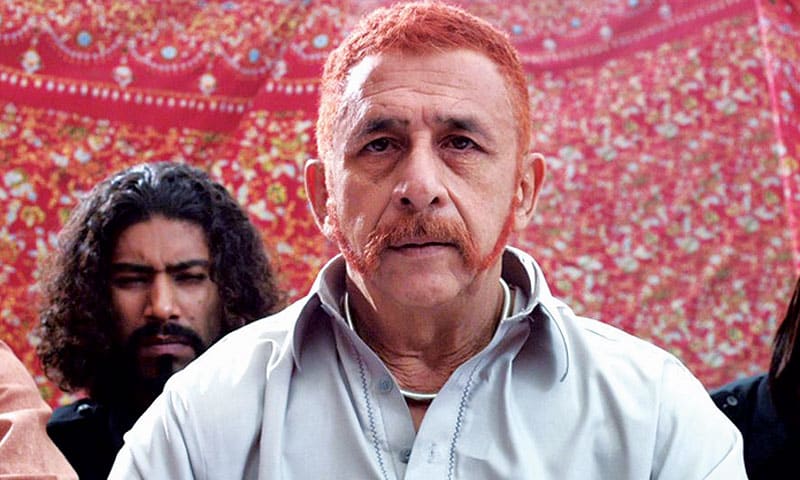 Now coming to the highlight of the movie; Naseeruddin Shah has performed exceptionally well as Pehlvan who happens to be the don of the mohalla. His interesting character keeps you hooked as he loves to narrate dramatic stories with a moral lesson in the end. The role of Pehlvan was written by keeping Naseeruddin Shah in mind, and the script was mailed to him because the makers had no other way to contact him. The makers were in for a surprise when Naseeruddin Shah contacted them himself, and gave a nod for the movie.
Amna Ilyas who plays Khaldi's love interest, Rubina, has managed to give a very decent performance. Rubina did not look like a typical Lahori Kudi from any angle though; she seemed more like a girl from the urban areas. She was also seen conversing in Urdu instead of Punjabi which really does not make sense since her character also belonged to the same mohalla as the male leads.
Sahir Ali Bagga's soundtrack in this movie is definitely worth looking forward too. There are some slow tracks, along with some upbeat catchy ones that will make you sing along. Pani Da Bulbula is one track that will stay in your mind because it manages to get stuck on your tongue for a long time after hearing it.  Pata Yaar Da by Rahat Fateh Ali Khan and Paar Channa De by Arif Lahor are the two must-listen tracks in the album. Kurri Yes Ae, Munda Set Ae (sung by Amanat Ali and Iqra) is another kitschy track along the lines of Paani Da Bulbula; its video will definitely make you laugh with its surreal background and colorful costumes and not to forget the 'cool' moves by the couple. They really tried hard to make the couple look HOT, but it turned out to be a huge disaster! The track Saari Saari Raat will be loved by the slow song lovers; Dekhenge is another upbeat song which will be liked by many. Taareyan is the only track which does not have anything special to offer.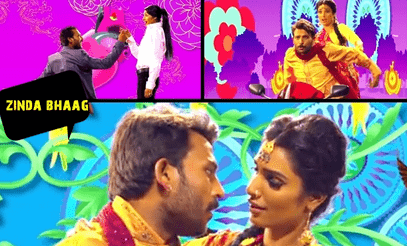 Zinda Bhaag definitely deserves a round of applause as it is an excellent effort by the makers. Sometimes it is refreshing to watch a movie with a bit of light heartedness; instead of the heavy duty movies that highlight serious social issues in our society. Zinda Bhaag also has a lesson in the end which will make you wonder where our society is heading!
Do give this movie a try, but do not go to the cinema expecting a masterpiece. Zinda Bhaag also has a few flaws here and there which need to be overlooked.
Mariam Shafiq