There are about hundreds of people who are been killed in Pakistan daily, becoming a victim of political instability and a complete absence of law enforcement. It is far easy to become a terrorist than to be a doctor or engineer here in Pakistan, thanks to the readily available cheap weapons, and make money by killing people, snatching their mobile belongings and kidnapping people for ransom.
It was previously Hasan Ahmed who was kidnapped for ransom, Sajjal Ali, who was threatened to pay a certain amount to the mafias, and it is now Pakistani stage actress Aarzoo who is brutally killed in Multan.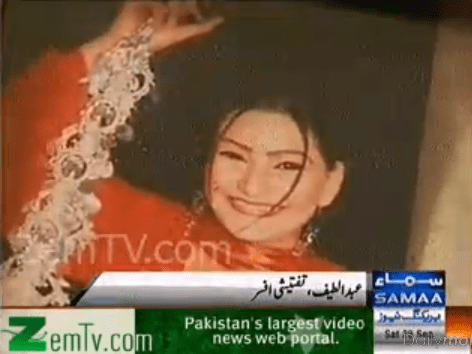 As per the news, the actress got shot on Saturday night, that is, September 29th when she returned from her stage. The family suspects Ahsaan, the man she was living with, for the murder though the actual story is yet not revealed. It is again nothing new to see this side of our stage actresses who do not believe in the boundaries that are been drawn by the religion this country follows, neither do they care about the society they live in.
The victim's post mortem was held at Nishtar Hospital, Multan, which stated that Aarzoo Khan was twice shot.
See news here:
Aarzoo Khan was well-known by the stage lovers and enjoyed fame for her live acting and dance. She started her career while, still being in her early age.  
May the demised soul rest in peace,
Blessings,
Nida Zaidi