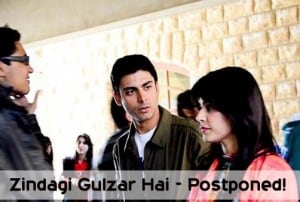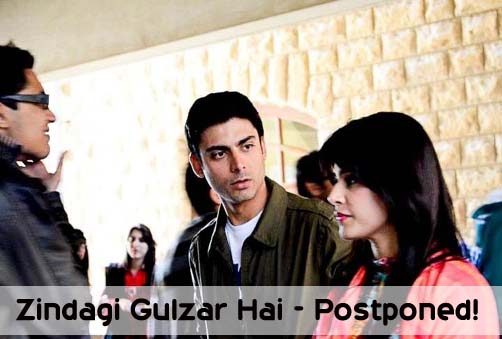 What a sad sad sad news and I need not mention just how upset I am after hearing it! Zindagi Gulzar Hai has been postponed till 30th November because of the strike by the cable operators. The Hum TV team must feel that all the viewers may not be able to watch this show because of the strike and they would obviously want to reach maximum people. My cable TV is working fine though (I hope I don't sound selfish!), I was all set to watch this show today, and found myself literally counting every hour. There are so many people who watch dramas online any way *sigh*.
The excitement with which I was looking forward to this show cannot possibly be put into words and I know for a fact that I was not the only one counting weeks, days and minutes. The show may not be going on air today but I must write about it, so that all of us get a chance to share with each other how we feel about this upcoming serial. Were you looking forward to this first installment, the same way I was? What were the reasons for it?
Zindagi Gulzar Hai was the first novel written by Umera Ahmed, a writer "whose script is a winner every time and every channel wants it", and when I say that I am quoting Momina Duraid (The producer of this drama). Momina Duraid also mentioned that Umera Ahmed basically wrote this novel in order to test her writing skills, to find out whether she really had what it took to be a writer. Later, when she sent her story to a digest, so that they might consider publishing it,it got a very positive response and there was no looking back after that. The drama has been directed by Sultana Siddiqui, a very gifted director, who gave up directing a long time back but it was only on the insistence of Umera Ahmed that she decided to direct this drama. So, this drama would also mark the comeback of one of the most talented directors in our industry. Fawad Khan failed to impress many of us with his character in Ashk and I have complete faith that Zaroon will make us forget all about Rohail, if not Asher! In fact I absolutely loved Zaroon and Kashaf both in the promos…the love and the enmity both have been captured very nicely. The Zindagi Gulzar Hai show and promos aroused even more curiosity and anticipation just seemed to grow with every passing day. The entire team looked like one big happy family in the launch show and I absolutely love the concept behind the story. The title of the play itself is simply beautiful "Zindagi Gulzar Hai"…yes life is a beautiful thing or as they say it is a beautiful struggle; it should be rejoiced and celebrated, every step of the way. I have not read the novel but have very high expectations from the play.
We have seen Hina Bayat play the mother so many times, first in Mata-e-Jaan, then In Shehr-e-Zaat and nowadays in Aik Naye Cinderella but the promos suggest that her character is going to be different from what she has done previously. She would be playing a mother and a wife whose priorities in life are completely different from those of the characters she played earlier. Javed Sheikh and Behroze Sabzwari both are all time favorites. The good news is that Samina Peerzada is not playing the Naani this time but the mother. Honestly speaking it is absolute pleasure watching her on-screen every time.
My favorite scene from all the promos I have seen so far has to be the confrontation in the library, where Kashaf shouts at Zaroon. What I liked about this particular scene was Sanam Saeed's acting. In just those few seconds or so she managed to give away a lot about her character; a girl who is trying to be very strong but is in fact all broken up from inside (because she goes outside and cries).
So, how did you like the promos? And how do you feel about the show and how disappointed are you that it has been postponed?
Fatima Awan.