What we see is what we believe, but did you know that the script of your favorite drama serial 'Zindagi Gulzar hai' is somewhat pretty different than what is shown on screen? If you have read the novel, you might be getting what I am talking about. It was only yesterday that I started reading Umera Ahmed's 'Zindagi Gulzar Hai' and amazingly, I am done with the entire novel just in a single night.
This novel has a privilege of being the first novel of the writer which she wrote just to improve her writing, without even knowing that a writer lives within her. The novel is based on a different theme where there is no narrator and the story moves on in a direct form. It is Kashaf's diary and Zaroon's too (and not a laptop), that reveals the story. The story starts with Kashaf's part where she enters her college.
Highlighting the differences that have twisted the story further, it was amusing to find that according to the novel, Kashaf's father, Murtaza never married twice and had two sons and four daughters from his first wife, that is, Kashaf's mother. On the other side, even Sara is not the only sibling Zaroon has, in fact, he has a brother too. Although these changes are minute enough to be neglected because when it comes to picturing a novel as a drama, some extra characters are always cut down. This is common when we see a product from Umera Ahmed's and Momal Production's collaboration. I have also read other novels like 'Humsafar' and 'Shehr-e-Zaat' and such changes are as normal as can be. Even Ashar of Humsafar had three sisters which never have to happen in the drama.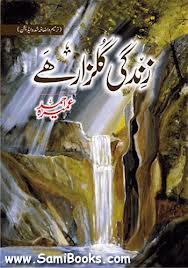 The Novel revolves around Kashaf's miseries and the hard work she does to reach to a designation as big as a CSP officer. Even Zaroon's character is dissimilar to what is shown on screen. Now that they will be married in the next episode, the story will have a twist and Zaroon's other side would be seen if it goes according to the script. The two of them start landing up in fights, where Zaroon suspects Kashaf for not loving him but her brother-in-law, (husband of her sister Asma, who doesn't exists in the drama). They both also had two sons and the story goes 9 years ahead when Zaroon again meets Asmara. However, according to the OST shown, the drama doesn't hold any symbol of story taking this turn.
Keeping all other differences hidden for now, I would really recommend this novel as a read up. It is always interesting to relate what we read with what we see. 'Zindagi Gulzar Hai' is surely one of the most special novels been written by Umera Ahmed, though I still couldn't compare the essence of her magnificent novel 'Peer-e-Kamil' with this one.
Share your views about the novel, and also mention the changes if I missed any.
Best Wishes
Nida Zaidi