Writer: Amna Mufti
Director: Ahmed Kamran
Produced by: Moomal Entertainment
Schedule: Every Friday at 8pm on HUM
The first two episodes of Zun Mureed laid down solid foundations for whatever is going to happen in the upcoming weeks. The introduction to the characters was detailed as well as clear and both these episodes were fast paced. In both these episodes, the writer and the director's approach was focused and all the scenes were well-put-together. Although I had my reservations about Nadia Khan since her performance in Aisi Hei Tanhai leaves a lot to be desired but so far her acting has been up to the mark. Omair Rana, Hina Bayat, Shamim Hilali, Aisha Gul, Kashif Mehmood and Khalid Anum always perform well therefore it didn't come as a surprise at all that they fit perfectly in the roles assigned to them. The performances were natural, the direction was on point and the editing was perfect. I have to admit that the only reason I tuned into this show was because it promised to cover the issue of domestic abuse from a legal perspective and also because it has been written by Amna Mufti which guarantees that the script will be well-researched and meaningful.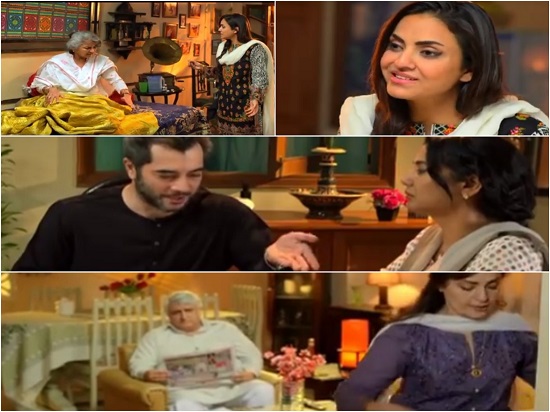 The first scene of the opening episode was one of my favorite scenes from both these episodes since it covered a great deal. This scene showed how Tabbasum (Nadia Khan) was struggling alone while her husband Sajjad (Omair Rana) and Bi Jaan's (Shamim Hilali) son focused entirely on the cricket match. This scene clearly suggested that Bi Jaan was Tabbasum's responsibility alone although Mariam Apa (Hina Bayat), Bi Jaan's daughter, claimed to love her mother more than anyone else but there were a lot of times when she wasn't half as patient as Tabbasum with her mother. The thing I liked about the characters the most was that they were nuanced, while Tabbasum was shown as someone who had a good heart and was dedicated but there were plenty of times when she was shown struggling with her situation. The scenes covering her character were realistic and showed how difficult it was for her to cope with everything yet she didn't complain because she felt it was her duty to work and to look after the house. Also, while there were times when it seemed like Sajjad couldn't care less how Tabbasum was coping there were also plenty of scenes in which he acknowledged and appreciated her efforts. The reference to Tabbasum's share in her late parents assets however suggested that Sajjad is the kind of man who wouldn't mind living off his wife's money.
Bi Jaan is an educated woman yet she has a typical mindset. Even after everything Tabbasum did for Bi Jaan, she didn't get any acknowledgement, something which was shown creatively through the scene in which Bi Jaan writes Mariam and Sajjad's name alone. Also, just like any other controlling mother in law, Bi Jaan cannot see her son spending quality time with his wife and terms him as zun mureed, even though her own son in law was shown doing exactly what his wife expected from him.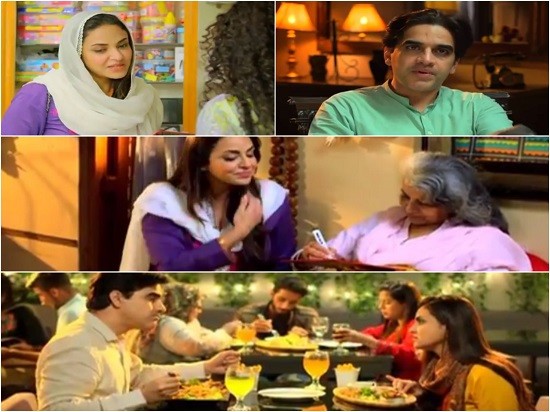 The first episode in particular also showed how Fari, Tabbasum's sister, was treated by her bhabhi and how things were in their brother's (Khalid Mehmood) house. The news about Women Protection Bill got different kind of reactions from both these houses and Tabbasum in particular kept on asserting that such laws were made for violent men in low income households. She couldn't imagine at this point that her husband would some day turn into such a man.
Overall, these two episodes were engaging and executed flawlessly. Although these episodes didn't have anything brand new to offer but they weren't clichéd either. I felt an instant connection with all the characters because of the way they were introduced. The script has the kind of clarity that doesn't leave any questions in your mind and the director has given this script the right kind of treatment.
How many of you watched these two episodes? Don't forget to share your thoughts about them.