This was another phenomenal and one of my most favorite episodes of Zun Mureed. This drama deserves tons of appreciation and never disappoints. Every single scene in this episode had a powerful and positive message. I especially loved the part about wife jokes since these jokes are usually taken lightly but can be quite offensive. Some of the most popular sitcoms on our television channels thrive on such jokes and hardly anyone objects on the kind of humor they are promoting. Tabbasum's conversation with Anila was the highlight of this episode. Tabbasum's character has been beautifully etched-out. Tabbasum's vulnerabilities, her strengths and her positivity make her one of the most nuanced female characters of her kind. She is a strong woman who knows her weaknesses but always manages to overcome them with the help of Fari and now Sidra. Fari's character is also extremely likeable. Tonight, for the first time it seemed like Anila actually understood what Tabbasum had gone through and perhaps she no longer saw her as the "enemy"! Anila once again tried to emotionally blackmail Tabbasum because she was afraid that Tabbasum will ask for her share next but the reply she got left her flabbergasted. Her husband's comment about the kind of affect Tabbasum's "lecture" had on her was amusing!!
Everything Tabbasum said about the house and the role Anila had played in making that house a home was on point too. It was something which was completely in line with her character. I am glad that before she said all this, the writer made it very clear that Tabbasum had the right to ask for her share but she chose not to. She did so not because she was under pressure or scared that her brother might get upset but she did it because she did not want to repeat what had happened to her. Although I really hope that now that Anila's character goes through a much-needed change but the preview of the next episode did not suggest that.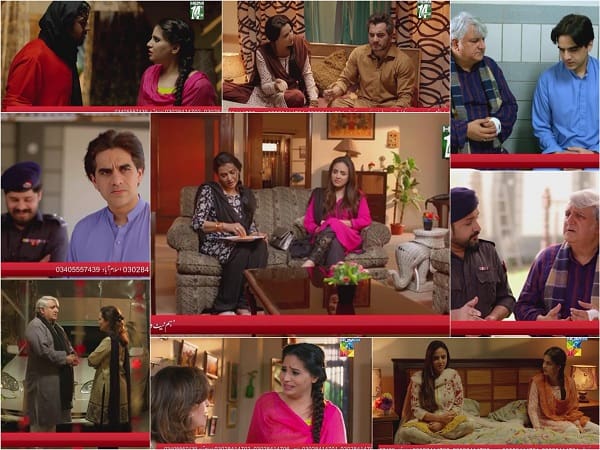 Even after everything that happened in Sajjad's house he continued to be stubborn. He still isn't convinced that he "needs" Tabbasum in his life because accepting that would mean that Tabbasum is irreplaceable and his inflated male ego wouldn't allow him to recognize that fact. Abid revealed a part of his past to him which was not know till now but it did not change the way Sajjad thinks. As the story progresses, it seems like he might eventually realize that he cannot deal with everything on his own. But will Tabbasum be willing to take him back? So far the writer has made this thing really clear that Tabbasum isn't taking a stand because she has a bruised ego but she is doing so because she feels that is the right thing to do therefore if Sajjad truly is sorry then it would not be wrong if Tabbasum is willing to be flexible.
This episode was picture perfect, the performances were on point and there wasn't a single scene which was out of place or context. Even after all these weeks Zun Mureed continues to hold my interest and keeps on giving me pleasant surprises. Looking forward to what the next episode has in store.