This latest episode showed the aftermath of Tabbasum's decision to use the bill which was meant to protect women like her to shelter herself from a husband who she thought might kill her. Tabbasum's interpretation of this entire situation made perfect sense since the circumstances were such that she had reason to believe that Sajjad might harm her even more than he already had. Her body language also suggested that the injury she got as a result of their fight was quite serious although it wasn't taken seriously at all by anyone. The way Tabbasum's character has been written suggests that she is a strong woman who would do whatever it takes to contribute to her marriage and in return all she wants is respect from her husband but Nadia Khan's performance keeps you wondering! Somehow, she makes Tabbasum look like a bechari even in situations where she takes some really bold decisions. Nadia Khan is a complete misfit in this role since she hasn't been able to bring out the best in her character.
Tonight, while everyone else was either busy worrying about Sajjad or family's honour, Tabbasum's sister was the only one who was worried about her.The entire scenario was covered realistically with the exception of the fact that Tabbasum thought that her husband would let her stay in the house even after everything that happened. Although Sajjad was the one at fault and Tabbasum wasn't going to let anyone convince her otherwise but especially because of the way this news was covered by the media she shouldn't have expected everyone to support her. This episode however flawlessly depicted that it wasn't practical for a woman to seek protection under the law in a society where it is alright for a man to hit a woman but it isn't okay when a woman protests as a result. There were some developments which didn't quite work for me but the reactions from the family members were covered really well.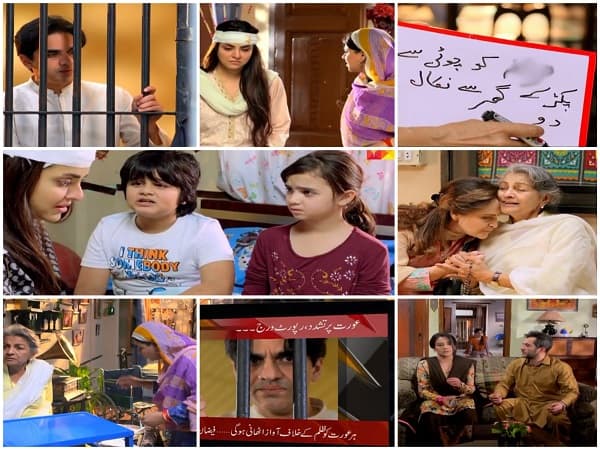 It was amusing watching Maryam tell Tabbasum that she would have supported her, had Tabbasum reached out for her instead of complaining to the police. This was a blatant lie which was meant to make Tabbasum feel bad about what she had done. Tabbasum knew she couldn't reach out to anyone which is why she ended up taking this step. This entire scenario also shows how people like Maryam and Tabbasum's bhabhi cannot handle the fact that two people are happily married but will be the first ones to judge if something goes wrong! Both these women contributed to the problems between Sajjad and Tabbasum which escalated into something far bigger than they had expected it to. I am very sure Maryam won't be able to handle her mother or run that house on her own for too long. Maryam's husband was the only person who tried to handle the situation but even he indirectly blamed Tabbasum when he said that working women are strong headed. The way he read what Bi Jaan wrote showed that he was shocked at the role she was playing in this entire situation but at the same time, he did whatever he could to add fuel to the fire.
Bi Jaan's character isn't even remotely likeable but it is really interesting because her reactions to different situations right from the first episode show the mentality of all those people who get pleasure out of watching other people suffer. This episode also showed the irresponsibility with which media covers such issues. The news channels are so desperate to cover any news which gets attention that they don't think twice before invading other people's privacy and they completely forget what repercussions their actions could have.
While all the other actors were absolutely brilliant in this episode, Nadia Khan's performance continues to be the weakest link in this play. There are plenty of actresses in our industry who could have nailed this role and made it easier for the viewers to understand the character.
How many of you watched tonight's episode? Do share your thoughts about it.