Enjoying delicious food while sitting outdoors in a perfect ambiance is all one wants during the chilly season. Here is a list of 10 outdoor restaurants you should visit this winter
Loft 29 (Barki Road)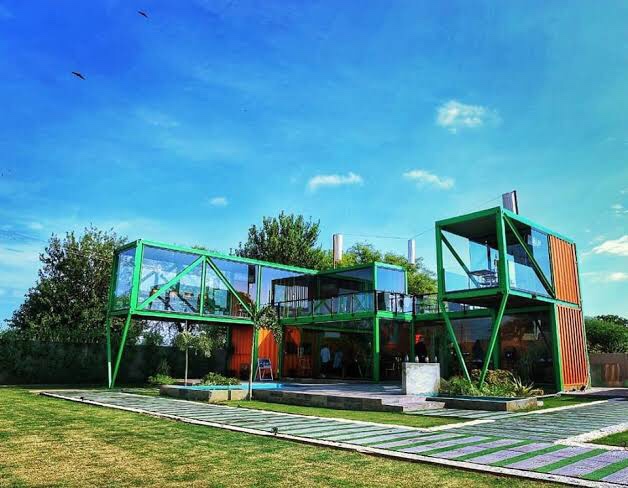 One of the citys most popular spots kn both summers and winters even though it is located far off on Burki Road. Having a peculiar ambiance in the form of containers, the eatery is both popular for indoor and outdoor seating. The place serves continental and Pakistani cuisine.
Dervish – The Food Souq (Barki Road)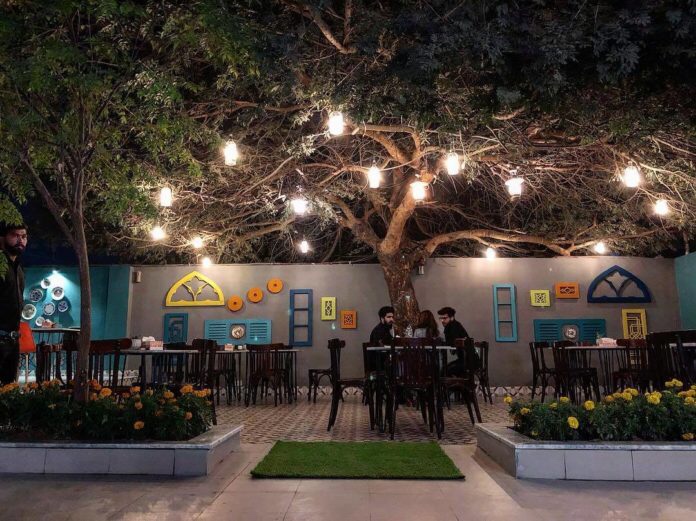 Located on Barki Road on a strip of land which has quickly become known as the Food Street of the area. Dervish – The Food Souq serves a Pakistani and Chinese cuisines which you can enjoy while sitting outdoors while a bonfire lights for warmth. While it is usually packed in winters, be sure to reserve a spot for yourself especially on Thursdays because that's when they hold a drum circle which further enlivens the ambiance.
Spice of East (Bankers Society, Ring Road)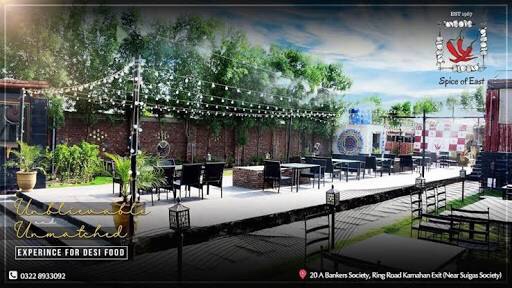 A hip and happening outdoor spot serving one of the best matka chais. Other than chai, their Pakistani food items are quite popular especially their Khadda gosht which needs to be pre ordered.
Bistro 201 (Mall Road)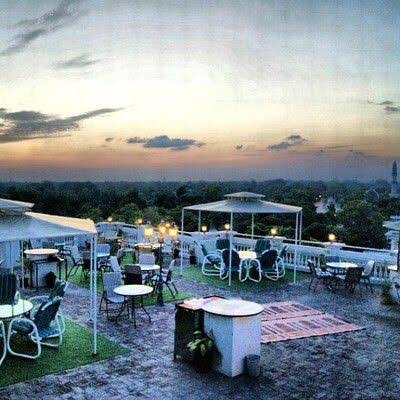 This outdoor, rooftop restaurant situated on Mall road overlooks most of the city of Lahore. The place serves some of the best steaks which one can't ever have enough of. If you're not a steak person, you can always enjoy their Pakistani cuisine in this chilly weather.
The Monal Restaurant (Liberty)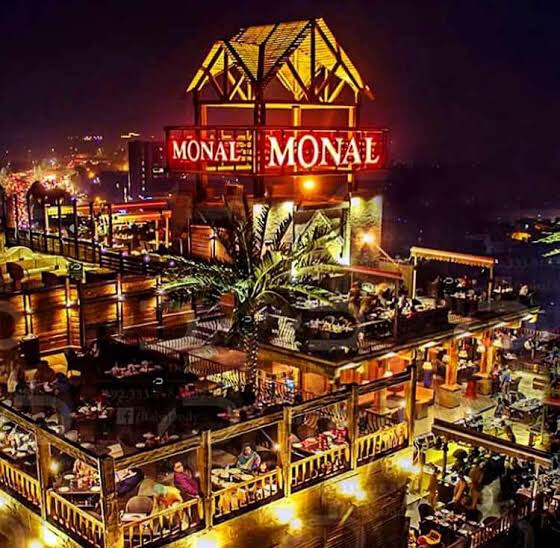 The Monal Restaurant made it's way from Islamabad to Lahore and is located overlooking the Liberty roundabout. It is widely popular as an outdoor rooftop eatery serving Pakistani, Continental and Chinese cuisine. As it is not a new restaurant and has been tried and tested, it is a sure shot hit among people especially their buffet which is raved about.
The Haveli (Fort Road, Food Street)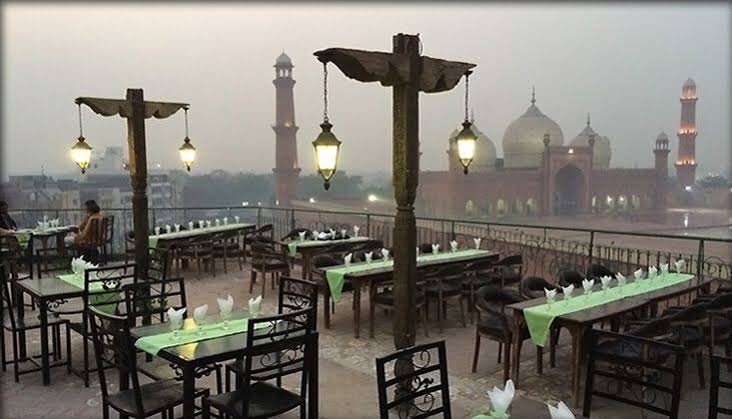 Haveli restaurant is located on food street Lahore and boasts of some lip smacking Pakistani food. The restaurant overlooks the majestic Badshahi Mosque and is packed especially in winters due to it's winter ambiance, live music and delicious food.
Andaaz Restaurant (Fort Road, Food Street)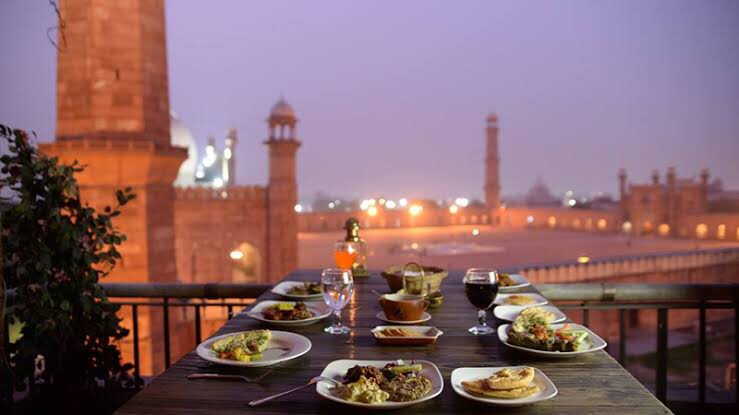 Another rooftop eatery which boasts of delicious Pakistani cuisine is Andaaz Restaurant. The restaurant serves up some great halwa puri, kebabs, handi and what not which you can enjoy with scenic views of the Badshahi Mosque.
Cuckoo's Den (Fort Road, Food Street)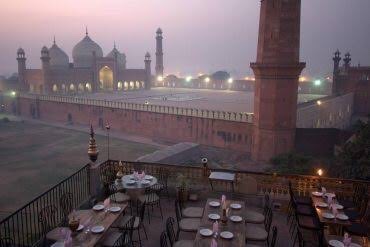 The oldest on the block of Fort Road, Cuckoo's Den serves up some delicious handis, kebabs, tikkas and what not with views of the Badshahi Mosque.
Spice Bazaar (Gulberg)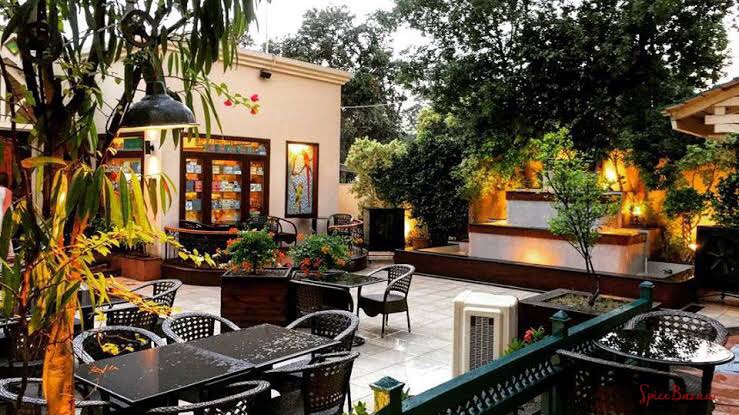 With an outdoor seating right in the middle (almost like a courtyard) Spice Bazaar is a hit with the masses for serving delicious Pakistani cuisine. The restaurant is popular for their desi brunch, lunch and especially dinner. Being located in centrally in Gulberg also comes as a huge plus point for the place.
Sarak Pe Karak (Model Town)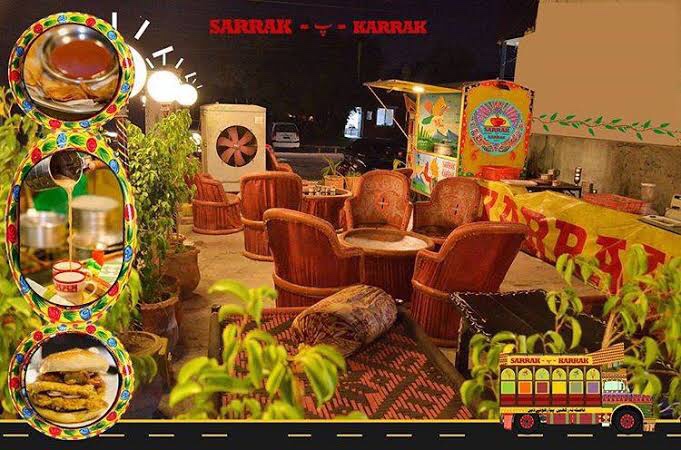 A usual spot for the Model Town, Faisal Town and adjoining area residents, Sarak Pe Karak is the youth's favorite place to chill. It's an upscale dhaba which serves the best chai out there along with delicious burgers with a hip ambiance. The place also lets you play ludo while relishing on some of their best selling food items.