For some reason, Tonite With HSY took a brief hiatus and it returned on air this Saturday with the jodi of Jaanum– Saba Qamar and Bhai Jaan- Adnan Siddiqui. What is it about being on the hot seat with HSY that compels everyone to switch to English? I'm pretty sure the viewers are more than happy to have their favorites converse in Urdu- it is an Urdu program after-all! Saba was dressed in an outfit by HSY- finally! Although I have to say, it probably wasn't the best outfit he's designed. Toning it down a few notches may just strike the balance we're hoping for.
Saba was candid and confident- she's done well for herself over the past decade or so. From a simple Syed girl from Gujranwaala, her journey to stardom has been phenomenal. She's currently one of the most sought after actresses but she knows when to say no- Gannd nahin karna parha kaam ke liye… Kaam koi bura nahin hota; buraayi apkey apney andar hai! Aapkey demaagh, aapkey dil mein hai… Ironically, for someone who started with such strong words, her statement Sharam ke pardey ek baar utrein toh phir sharam kahan reh jaati hai felt a tad out of place. Saba brought up her age- actor ka age se koi taalluq nahin hota and clarified that she was born in 1984 which makes her 30- yeh aur baat hai ke Meera ji mujhse bhi choti hain… She admitted she's suffered a few heartbreaks but Yoga has helped calm her down and keep her grounded. HSY brought up Hamza Ali Abbassi and Saba openly acknowledged that they are just friends and gave her side of the story to the controversial facebook post. According to her version, Hamza was playing around on her iPad and he posted that status himself.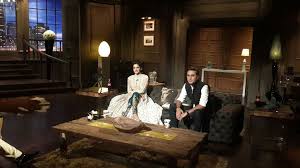 Next up was Bhai Jaan– Adnan Siddiqui. Mr. Abhi Toh Mein Jawaan Houn spoke about his obsession with fitness, sticking to a conventional style which suits him irrespective of fashion trends and his jawaani. HSY added that he was in awe of him since his modeling days. Adnan Siddiqui has been around showbiz for over two decades. But to be honest, except for Uroosa and the recent Mere Humdum Mere Dost, I've never really been amazed by his performance. I think he may have had a role to play in being underrated- opting for every random project and doing repetitive roles hasn't done much for him. Adnan has worked alongside Angelina Jolie in A Mighty Heart but was overshadowed by his co-stars. On his reasons for refusing a role in Waar, Adnan added that he has stayed away from Pakistani Films and when and if he decides to make his entry, he wants to come with a bang. He added that he's in the same age group as the Khans of Bollywood and it's highly unlikely that he will land an A class role- however he would be willing to work in a negative role- or a role like those given to Irfan Khan. Saba added that she will only work with the A league of actors in Bollywood- be it the Khans or Ranbir Kapoor. Both of them seemed genuinely fond of Bollywood actors and movies- Saba listsed Tabu as one of her favorites while Adnan Siddiqui spoke highly of Irfan Khan.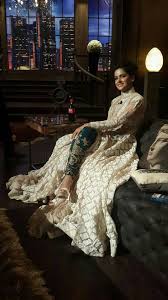 Both Saba and Adnan had amazing chemistry since they were on the same wavelength. The age difference didn't seem to effect them until Saba announced that she calls him Bhai Jaan. Bhai ka toh pata nahin, magar aaj kal yeh inkey jaanam zaroor hain! Then it was time for the competition *YAWN*. Love or Don't Love was once again fishing for controversy. Adnan mentioned that Saba Qamar doesn't like Fahad Mustafa- I wonder if Fahad will react once he finds out. When Hamza Abbasi's pic popped up, Saba Qamar didn't respond- she blamed it on being swayed by Adnan's gestures. Ajnabee Kaun Ho Tum was won by Saba who guessed the caller Junaid Khan but Adnan couldn't guess Maria Wasti who did a pretty good job of changing her voice. In the final round, HSY insisted that they role play while asking each other the questions- Saba Qamar was playing Meera Ji and Adnan Siddiqui was Pervaiz Musharraf. Saba Qamar is a natural at mimicry but Adnan didn't do too bad either. I've said it before and I'll say it again, the choice of guests makes the show work. HSY's inputs are far and few- he doesn't really steer any conversations but he is getting a little more in his element and seems to be improving. For me, Adnan Siddiqui has already performed the role of his lifetime as Haider Masood. I honestly wish he would pull back and rethink his career choices- but as he said, there is no right or wrong decision in life; you just have to take one. Unfortunately for the viewers, he takes one too many of them!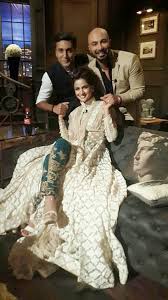 So, what are your thoughts? Does anyone know why the show was off-air these past few week? Did you enjoy the episode?
Yours in watching,
Kanwal Murtaza