Aabro – Episode 21!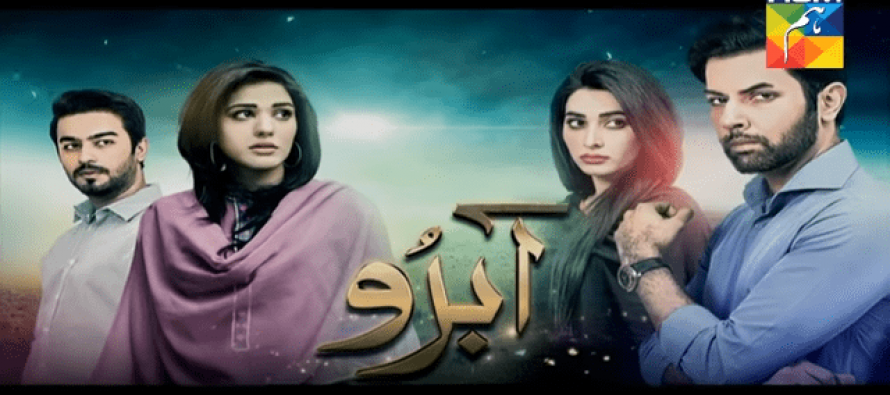 Ohkay so, this episode of Aabro was good but I wish I could say that about the note at which it ended. I really am amused at myself that I thought may be this drama will prove something by showing how a girl chooses to empower herself against all odds but guess what, the writers are so fixated with SHADI that they decided to choose it as an ultimate solution to all the problems that Ali & Aabro have faced till date, leaving me thoroughly disappointed. Wah, what a logic I must say!
Ahmed has confessed his feelings to Afsheen & this is for the first time that I was happy about Fauzia eavesdropping on them because she could hear it herself that it was Ahmed who was confessing his love & the one who was saying NO was Afsheen. Ahmed took a stand for Afsheen by fighting the guy who was harassing her & that thing definitely created a havoc in their family. It is quite amusing that in stead of patting on Ahmed's back for having such morals & values that he decided to protect his family member & a girl at that, who happens to be the family's izzat most of the times, he was being rebuked for his action & things blew out of proportion when everyone found out that it was Afsheen who Ahmed fought for.
For once I want to see a mother or a grandmother holding the guy responsible for his actions & not covering them up by putting a blame on a girl who has nothing to do with how the guys feels about her in the first place. I really can not comprehend that how can Zubaida & Fauzia be so blind to not see how Afsheen has been raised & what sort of a girl she herself is. She has always been a bookworm & getting a guy's attention is the last thing on her mind, so why can't Zubaida & Fauzia question Ahmed & not put a blame on Afsheen for luring him once? If Fauzia & Zubaida think they can read people's intentions so well, then why aren't they worried about Aima whose only motive in life is to have a boyfriend at the age of 14 I believe, lol!
I must say Farah Shah must be getting a lot of hate for Zubaida's character, which definitely is her success as an actor & I honestly hate Zubaida, so kudos to Farah Shah for playing this character flawlessly. So, talking about Zubaida now, I must say I am impressed at her manipulative skills, where she turned everything against Aabro & Afsheen & used it to brain-feed Ali. Placing a slap on Afsheen's cheek was one mistake but the bigger mistake that he committed was questioning Aabro for failing as a mother when it comes to Afsheen's upbringing because if there's someone who knows what Aabro's plans are for Afsheen & how conscious she is when it comes to her, it is Ali. Ali has seen how strict Aabro has been so what was he trying to imply by questioning Aabro? Did he really think that Aabro was perfectly fine with the fact that some random guy was harassing & following their daughter? Before even speaking about it & acting so irrationally, Ali should've thought things through that Afsheen was a victim here & all the things that Zubaida said were only because she hates his wife & daughter to the core.
I liked the way both the grandchildren of Zubaida waged a war against her & gave her a much needed reality check but it would've made even more impact if it had an affect on her but she being dheet definitely tells that nothing that Afsheen or Ali said made her realize how wrong she has been. Zubaida blames Aabro for ruining the peace & harmony of this household whereas if she looks in the mirror & asks this question once again, the answer will be in her favor telling her that she's the one who has ruined everyone's life. I must say I am amazed at her rigidity & consistency where she still has failed to acknowledge the fact that her son Ali was just as guilty as Aabro was for eloping but very conveniently, Aabro is still the culprit & Ali is not, similarly, Afsheen is the culprit now & Ahmed is not!
Oh well, let's talk about the ending of the episode with a heavy-heart but before saying anything, I did like the fact that Aabro spoke to Afsheen like she was her friend & confided in her after a very very long time but then came the curve-ball & destroyed everything for me. Aabro thinks Afsheen can redeem the 'aabro' of this family by curbing her desire of educating herself & making a sacrifice by getting married so that she can prove to Zubaida that she is not like Aabro??? HAIN!!! Where did this come from & why did the writer give this angle to Afsheen's track? Like excuse me??? Even if Afsheen gets married, she will go to someone else's house, so how will Zubaida see & experience how Afsheen has been raised & how well she is treating her sartaj & in-laws? If Zubaida wanted, she would've changed her opinion years ago when she saw what a well-mannered, decent & perfect little girl Afsheen was but when she chose to overlook it, how will Afsheen's marriage change ANYTHING? Also, if this is what the writer was saving for the last, then why was there so much emphasis on Afsheen's education in the first place, when the writer only had her marriage in her mind? Like education is meant to be sacrificed for the sake of marriage just to prove to the world especially the Cruella Daadi that her mother taught her daughter how all the household chores are performed? Seriously??? Just before the beginning of this scene when I saw Afsheen sitting on a bed, crying at what her family was going through & how her father was treating her, I really was thinking that may be this will prove to be the turning point in Afsheen's life where she will focus harder on her studies so that she can get a decent job & help her parents & prove to everyone else that her parents had some bigger & different dreams for her (like Rafia had for Kashaf) but the moment the conversation ended, it literally ruined everything for me & the preview left me sighing in disbelief when I saw Afsheen in a chamkeela dupatta & serving chai in front of her tez tarrar saas-to-be. Ufff the irony! Seriously writers, I assume that you guys are educated yourself, so why are you making a 19 y/o get married in your drama, when all she wants in her life is to educate herself? How does her marriage change ANYTHING & hearing those words from a mother like Aabro who only wanted her daughter to focus on her education left me in a great deal of shock! I am so so disappointed that I can't explain!
Anyways, the confession of Ahmed was something that I found quite sweet & the way he stood by Afsheen's side was also nice. Other than that, the note at which this episode ended & the preview of the next episode has left me in a great shock that I don't think I'll be able to snap out of it anytime soon. If they really wanted to reach the 24 (or more) episode mark, then they could've showed how successful Afsheen became on the basis of her education but may be her shadi & through her an increase in Pakistan's abaadi was the plan that writer had in her mind!!! Please share your thoughts about this shocker of an episode of Aabro.
Keep Supporting,
Cheers,
Zahra Mirza.

Zahra Mirza
The one who starts her reviews with 'Ohkay so'. ;)
---