Chalain jee, ladies & gentlemen please grab some pillows & quilts & be ready to sleep because this drama will act as a lullaby to you all because saaf si baat hai yahan andon, parathon aur raiton se aggay baat nahi janay wali. I am wondering if they had to show nashtay mai khanay ki 101 cheezain, why did they go to USA for it? This could've been shot in Pakistan too.
I am totally on Sofia's team this time. Whatever she said about Bumble Bee was right & I wish she gets a bit more harsh about her whenever she speaks to Beta Bee about Bumble Bee because Awazaar needs to understand that now he can't make Sofia respect his Bumble Bee, as he himself gave her an edge of disrespecting her by getting married to her, keeping his mother's wishes aside. Very conveniently Awazaar uttered to Sofia that Bumble Bee means the world to him & she is his priority, which really didn't strike a chord because I've got a news for you Awazaar, you've spent 4 years fooling Bee Jaan, so please don't say she means everything to you. This episode seemed pretty haphazard where they kept on switching from one dining table to the other followed by some forced VT's of American places to assure us that they shot this drama in America & not in Dhok Hassu! Bee Jaan came & Bee Jaan went, but who benefitted from it? No one!
Just when Bee Jaan departed, I thought Awazaar; who by the way could afford two mansions in USA, would keep Haya in a dingy apartment, but the way he brought her with him in his house was totally uncalled for. I thought by now he must've massaged his spine with a lot of Deep Heat so that he could strengthen it to confess in front of Sofia about his & Haya's marriage but trust me, seeing them play ankh micholi rigth under Sofia's nose wasn't appeasing at all. What has this drama come to? Eeekh!!! All that nazron ka milna, nazron ka churana, mobile ka bhool jana aur thakki hui muskurahatain dena…Euuuu!!!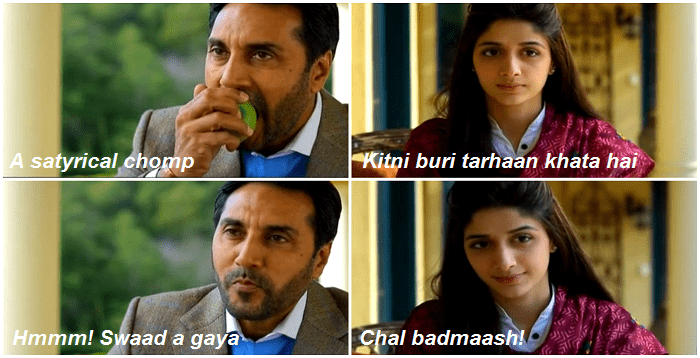 Just because Haya helped Awazar in fooling his Bholi Bumble Bee, he thinks he can't live without her as ush ne ish ka booottt saath diya hai nawwww. I mean sorry but how mean can he be & isn't he tired of telling lies 24/7? Bari himmat ki baat hai bhai, sach mai waisay! While watching Sofia literally feed him with her hands made me think, this is the reason why he has become such a spoiled brat. I actually want to ask writer what made her conceive of such a useless character where she thought so high of him that every single lady in his orbit ended up revolving around him? He ain't such a catch either FYI!
Finally, just because Haya got to spend time with Awazaar & she helped him with his hoax, she now thinks that she has conquered Awazaar & that is why while pouring her heart out in her diary she was like 'Awazaar mujhse bohat mohabbat karte hain Bee Jaan, isi liye wo abb mujhe dekh dekh k saib khatay hain'. I mean but sorry as if Sofia kam thi na jo abb ye bhi a gai hai patti ke pyaar ka pahara parhne!
To be honest, as ridiculous as this episode was, I had such a good laugh because my imagination rolled & made it look like I was watching a sit-com. Hence, for me it was a good episode. The ending scene of the drama looked like an advert of Statelife Insurance, which goes like:

& oh about what they showed in the preview, I think Sofia must be expecting a child that's why she'd faint & that will once again slow down the urge of Awazaar to confess his love for his Baby Biwi, hence, another justification of the name of the drama: Slowly Slowly. Share your thoughts on this hilarious episode. :)
Keep Supporting,
Cheers,
Zahra Mirza.