Tauba Tauba! Don't you hate it when a 45 y/o conniving man stammers to prove he's innocent? Don't you hate it when a person who's supposed to die (Bumble Bee) lives because only God knows which chakki ka atta she ate? Don't you hate it when you have to watch Aahista Aahista, Aahista Aahista?
*Sigh* apni taraf se becharon ne bara hi koi twist dala tha, which actually made no sense at all. Haya was swinging on her Sartaaj's shoulder when she & Awazaar got busted. That point was ohkay, but what didn't make sense was that even after Sofia caught them red-handed, she said all the things she wasn't supposed to say but forgot to utter one single word & that was WHY? WHY was Haya clinging onto Awazaar like that? WHY did Awazaar let Haya get so close to him? During that confrontation I thought this would be the time when Awazaar will spill the beans but oh boy! I must ask Bumble Bee ne isay kya kha k paida kiya tha? Itna dheet admi? My Goodness!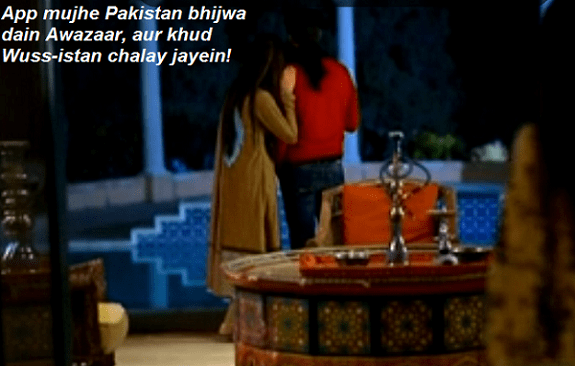 I thought after finding out the flick between Haya & Awazaar, Sofia will pretty much understand what was going on but still someone who has been so literate & in her right state of mind couldn't reckon the fact that Haya could be Awazaar's wife of all the things. Amidst the havoc, Sofia was more worried ke Awazaar ke nashtay ke anday thanday na ho jayein. Give me a break!
I think this slap should've been enough for Haya to wake up from her deep slumber that even shows the signs on her face now but I don't think she got the point still? If Awazaar had loved her as much as he claimed, he would've swooped in the cat fight & told Sofia about Haya's status but just because he lisps, wo apni baat samjha na saka. Even when Nowsherwaan Uncle asked him, he returned without even answering.
The only time I felt bad actually for Awazaar was when he burnt the toasts. I mean, isn't it so sad that he is deprived of hearing the POP sound of an automatic toaster? :/ It's like music to ears when one's preparing the breakfast but I think just because Awazaar was born in the 1950's, that manual toaster belongs to that era, hence it requires one's complete attention otherwise you'll see your brown bread turning black, acting more like a mirror to you so that you could face your kalay kartoot. :/ I actually feel so bad that I'd request all the readers to observe a minute of silence please! *pop* woot woot, my bread's ready!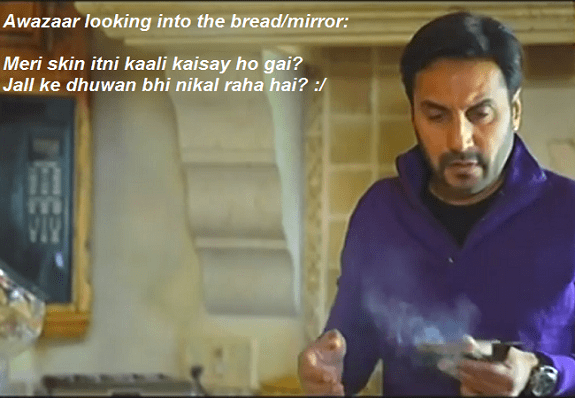 Haya went to Nowsherwaan uncle's place, but after that she vanished like a Casper. Kahan gai kisi ko kuch pata nahi? But Sofia took it as an opportunity to clear off Haya's belongings, as if she had so much? All this while I thought Awazaar was living in a mansion but seems like they didn't even have a space to accommodate Haya's letters.
Sofia overheard Awazaar talking to Bumble Bee on the phone & still she was in a denial or let's say had no mind whatsoever to connect the dots to understand what was going on behind her back? In the initial episodes when Awazaar goes to Pakistan, we heard them both talk to each other about Haya where Sofia even asked Awazaar that Haya was his baby cousin or so & for this reason I just don't understand what took Sofia so long to realize that Haya was no one else but Awazaar's cousin & possibly his wife?
Looks like seriously is drama mai Awazaar ka koi kaam hai hi nahi because the ladies do everything & take things in their hands & for this reason Sofia decided to break the ice & let Bumble Bee know about herself. The things Bumble Bee said to Sofia showed that Bumble Bee was under the influence of sedation inflicted by the sleeping pills she takes.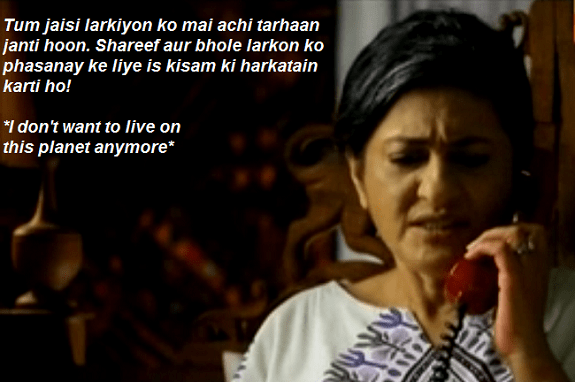 Finally, Sofia has found out that her Awazaar is not so innocent & she shouldn't fall prey to his lisping methods to measure his innocence. The preview of the next episode to be honest looked engaging though. LOL! Itna kuch hone k baad shayad waqay hi mai they want to show us something. I honestly believe that they all sighted a mood for a vacation & when they landed there, they decided to make a drama to kill the boredom. Seriously, I wish this drama ends soon & not at all Aahista Aahista!
Keep Supporting,
Cheers,
Zahra Mirza.