What luck! Never knew on such a bright sunny day & after such a good night's sleep, I'd have to tune to this moronically depressing episode. You really know you have no sympathy for the characters when you end up smiling at a death scene. Chalo! One's down & there was a chance of getting to two but seems like Bumble Bee transferred her luck to Haya & she was alive.

Looks like everyone in this drama was blaming everyone else for their mistakes. Awazaar blamed Sofia for making that 'jaanleva, jaanlevaaa, teri har ada sitam hai, oh jaanleva' phone call to Bumble Bee. Shireen Apa blamed Awazaar for getting married to Haya whereas she was the one who played the role of being a rishte karanay wali aunty & got them both hitched. Looks like no one in this drama is capable of standing by the mistakes they've done & find it really easy to blame others for things they have to go through as a consequence of their own doing. Awazaar actually accepted that he was responsible for hurting Bee Jaan but seems like he didn't mean what he said because we later saw him calling Sofia 'mujrim', 'tang dil' & the epic 'zehreeli', who dass-ed Bee Jaan because of which she died. Haha! I really don't understand that what did Sofia do to hear it all? All she did was to introduce herself as Mrs. Awazaar to Bumble Bee that too at a point where she was carrying Baby Awazaar, so how does it make her a culprit?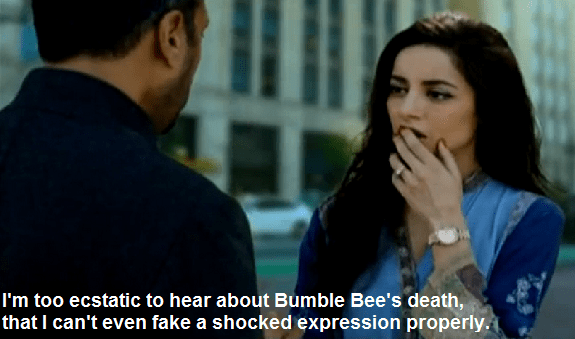 I really don't think getting married on your own is such a big sin where someone can cast your out for it? I must say Bumble Bee's timing was really cool, she woke up & said things she wanted to & then opted for a long sleep. Followed by Shireen Apa's reaction to Awazaar's marriage. I am guessing Bumble Bee never really got a chance to know exactly that Sofia was an Indian-Christian, so what made her so upset? She has loved Awazaar to a blinding point so at least she should've given him a benefit of  doubt to explain himself because when you first hear her name, Sofia sounds pretty Pakistani to me, right? Looks like Bumble Bee, being a lazy-bee, was in a hurry to wrap up her role so that she could rest, hence she made such a hasty decision. LOL!
This episode in particular had so many flaws & faults that it clearly showed the disinterest of the creative team behind this drama. Seems like aahista aahista they got over the junoon of making Aahista Aahista & starting making such silly mistakes. For starters, which airport's parking lot looks like a parking of the construction site? Shireen Apa was sitting exactly in the same position when Safeer Bhai started calling Awazaar thinking he must've reached by now. FYI, Safeer Bhai, Awazaar took a flight to USA & not to Dhok Hassu. & the ultimate bad editing of the bad background in one of the scenes which could've been shot at a proper Amreekan location so why the need of an edited backdrop?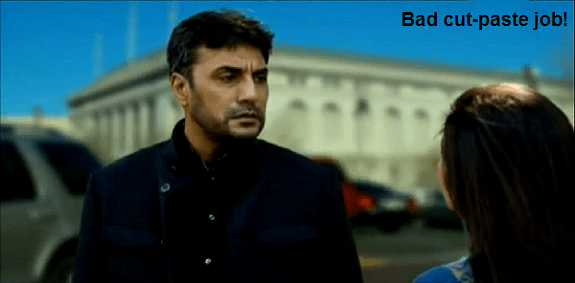 The only thing that could've bound Sofia & Awazaar was Baby Awazaar but now when the baby's gone, I doubted their relation having a chance & I was proven right in the preview of next episode that Sofia might file for a divorce & the timing will once again support Awazaar as he'll stumble upon Haya. I think next episode might be the last, I mean I really hope it is, but now when I come to think of it, what message did the drama writer try to give? May be it was more like a lesson to teach to all those Non-Pakistani ladies who might fall for Pakistani men, showing them that no matter how much time & love you'd invest in your relationship, a Pakistani man would only be loyal to a Pakistani woman & her parathas? Is that what she was trying to tell? I am actually shocked to see the production team wasting such a huge amount of money at such a pathetic story & they actually had the guts to turn this hideous script into a drama, LOL! I wish it ends soon, as abb to hasi bhi nahi aati.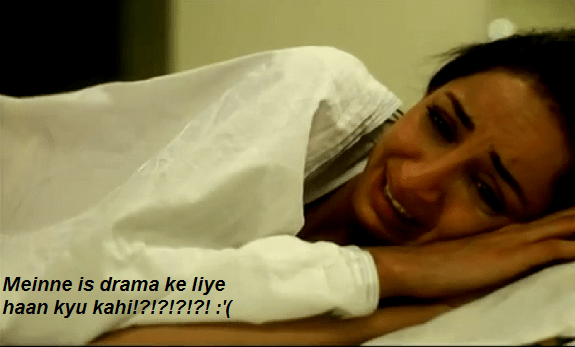 Share your thoughts on this hideosity please. :)
Keep Supporting,
Cheers,
Zahra Mirza.