Tonight's episode of Aakhir Kab Tak focused more on Noor and Safia. Noor continues to impress and entertain at the same time. Unlike the previous few episodes, Fajar's track is quickly headed in an unpleasant direction. Most of the tracks in this drama continue to be refreshing and are getting even more interesting with every passing episode. Dramas such as this one give viewers hope that the writers can still pen down characters and scenarios which are not run-of-the-mill. Radain Shah's script continues to be convincing even though some of the negative characters are not 'brand new'! Tonight things moved forward with a steady pace and all the developments were logical. Nasir's meeting with Noor's chacha was the highlight of this episode; Noor's dialogues were powerful and meaningful. Ushna Shah has owned this role right from the get-go. Adeel Hussein's expressions when they left the venue were priceless.
Giving Reality Checks
Tonight's episode opened with Safia recalling everything she had gone through and making a promise to herself that she was no longer going to tolerate the insults she had been putting up with all her married life. It is always pleasing watching such a change in a character in the middle of the story as opposed to seeing one in the last few episodes. Although Safia put up with years of abuse without saying a word, she is done with giving justifications for her abusers and is ready to start over. This particular scene, just like so many others tonight, was penned down and translated on screen powerfully! The writer has shown through this character and its journey that once someone decides to stand up for themselves, no one can stand against them.
I also loved everything she said to her husband. For the first time, she gave him a much-needed reality check. At the same time, she made him realize that unlike him she was not going to take advantage of his present condition. Safia has gone from being a complete coward to being completely fearless; I am waiting to find out how this change in her personality impacts the lives of her daughters. The way she questioned Noor when she came back home suggested that not much has changed in that department. Javeria Abbasi's performance was on point throughout.
Fajar and Saim
Fajar and Saim deserve a special mention because of the intelligent manner in which the writer is taking their track forward. Through the scene and conversation in the car, the writer showed that Fajar had finally started expressing herself. Not only that, she shared details about the kind of problems she has been facing in her house which once again went to show that she trusted Saim just as much as he trusted her. Saim's dialogue about trusting Fajar suggested that he is the kind of man who will not question or judge his wife even when he finds out about the assault. I really hope that he does not disappoint me. I loved Srha Asghar's expressions in this particular scene. The way she shows her admiration for this man through her facial expressions is pure genius! Her performance makes it even easier to relate to and feel for this character.
The overprotective and insecure mother turning into an unbearable mother-in-law part of this track is definitely not my favorite! This character had potential and it didn't have to be taken to such an extreme. Rehana's meeting with Fajar's mother-in-law was quite unexpected. The writer laid the foundations for this meeting in the beginning of the episode therefore her motive was quite clear!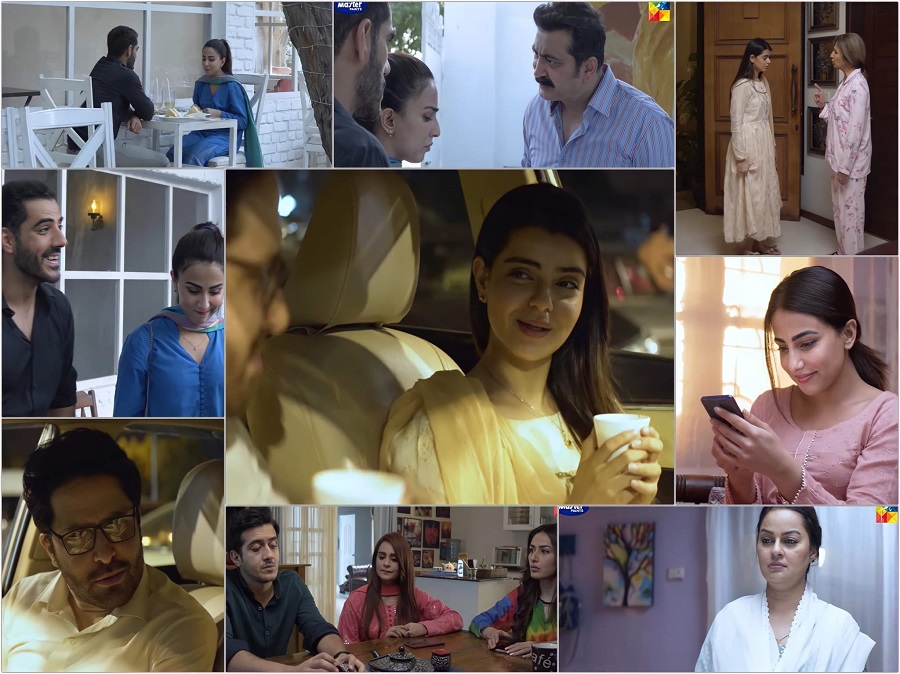 Noor and Nasir
Noor and Nasir's track is extremely cute and meaningful as well! The way these two finally met for lunch and the chance meeting with the chacha were some of the best scenes tonight. Nasir's conversation with his mother was used to convey to the viewers the reason why he fell in love with Noor. It is always good to see a man in a Pakistani drama that is not afraid to fall in love and spend the rest of his life with a woman like Noor. Most men would be intimated by her but Nasir finds this part of her personality attractive. He is turning out to be an even more interesting character than I imagined he would be! Watching Noor give his chacha a piece of her mind with the utmost confidence was the best part of this episode. Noor's character never fails to impress; I love how it is written and acted out. Adeel Hussain and Ushna Shah's on-screen chemistry makes their scenes an absolute treat to watch! Nasir's character is intriguing as well.
Final Remarks
Aakhir Kab Tak is turning out to be a well-written, meaningful and entertaining drama. I really hope that it continues to break stereotypes even though the preview of the next episode wasn't too promising; I still have hope that the writer will once again resolve this situation just as quickly as all the others, so far. The actors and the director deserve tons of credit for doing complete justice to a beautifully penned-down script.
Did you watch tonight's episode of Aakhir Kab Tak? Do share your thoughts about it.