Tonight's episode of Aakhir Kab Tak changed the course of all the main tracks. This was another episode with meaningful conversations but there were also some scenes that could have been chopped down. The misunderstanding between Fajar and Saim was thankfully not prolonged. Saim's character however came across as highly confused and gullible in this particular episode. Even though this particular development in Saim and Fajar's track was clichéd, after watching this episode I felt as if it did have a message. Noor finally accepted Nasir with all his flaws and also vowed to help him in becoming a better person. Fajar also mustered up the courage to share her true feelings with her husband.
Adeel Hussein is brilliant as Nasir even though this could easily have been an extremely annoying character! His antics are always amusing just like the daadi who isn't the least bit likable but always fun to watch on screen! There is still room for character development which makes Aakhir Kab Tak a drama that keeps me engaged even after 20 weeks. All the actors involved have performed exceptionally well, except for Haroon Shahid. I feel he isn't just stuck playing similar roles repeatedly but he also tends to underplay his characters every time. Apart from that, his performances lack variation. His characters are most often extremely likable and 'harmless' therefore he gets away with giving such performances. I absolutely love Saim's character even after he fell for those lies but the performance could have been far more impactful. It is truly refreshing watching a drama that covers so many different women's journeys and which shows how women can help each other grow. There are negative female characters as well but they are not being given as much screen time as the characters which are flawed yet trying their best.
Noor and Nasir
Tonight's episode opened with Nasir 'rescuing' Noor and winning her over. Even though this was the first romantic scene between these two, it was more than just that. Everything Noor said about how hard women have to fight to earn respect and acceptance from men who work under them, resonated with me. This is definitely not the case in every work environment but most often women do not get the kind of instant approval that men get. I am impressed with the writer's keen observation and the way he has picked up even the most minor difficulties women face solely because of their gender and highlighted them through different characters. From a housewife such as Safia who was not accepted as a member of the family, she was married into to Noor who could not get the acceptance she truly deserved; each one of these women represents different struggles which women fight on daily basis. They are intelligent and strong women who have survived everything and most importantly they learned to be each other's support through their experiences.
After this latest incident, Noor started trusting Nasir more than she did before. She is now sure that even with all his flaws, he will always be by her side. It won't be wrong to say that the way this character has been written and executed; the viewers feel the same way about Nasir. This was a major breakthrough for Nasir who had given up hope. Noor and Nasir complement each other, if Nasir is helping Noor learn the ways of the world, Noor will help him become a better person. Ushna Shah and Adeel Hussein look great together. I would love to see them working together in another project.
Nasir showed that he was completely capable of reasoning out with someone as well when he talked to Saim. Even though he forced that conversation on him, it turned out to be a fruitful one. The fact that there wasn't an instant change in Nasir made this entire scenario more realistic.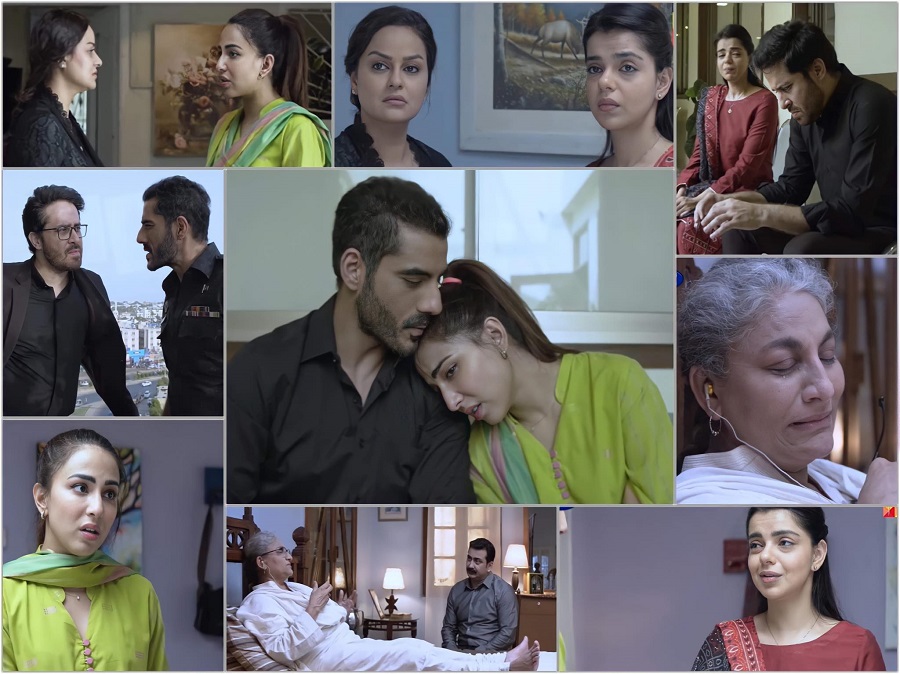 Fajar and Saim
Nilofer continues to be the typical sazishi, insecure mother-in-law who is now resorting to the cheapest tactics in order to pressurize Saim into giving Fajar a divorce. Even though Saim was confused since he fell for some of the lies, the reply he gave the rishta auntie said a great deal about his actual thoughts and feelings for Fajar. I felt that through this track the writer showed that communication is the key. The main reason why Saim doubted Fajar was because they were no longer communicating like before. Once he decided to sit down to chat with her, he was sure that Fajar was not lying. This was another major breakthrough because for the first time Fajar expressed herself freely in front of Saim, it was definitely a big step forward for someone like her.
Fajar's character has been penned down beautifully. She represents all those young girls who are not given a chance to express themselves. Her track shows how this lack of expression and unnecessary limitations affect not just a person's personality but also their relationships. Fajar is still hiding a major tragedy of her life from Saim. I just hope that it is tackled in such a manner that it does not create more problems for Fajar. Srha Asghar has portrayed this character faultlessly on screen right from the get-go. She continues to impress as we witness gradual transitions in the character.
Final Remarks
Farida Begum (daadi) also got the reality check we had all been waiting for! Even now she had expectations from her good-for-nothing son who told her off without giving any consideration to her feelings. This was the first time that she genuinely cried because otherwise, she has always shed tears to get attention! Tonight's episode kept me hooked. I am still waiting for Saim's sister to speak up! The preview of the next episode was misleading in some ways because it suggested that Saim will sign the divorce papers. Safia will speak up once again and I am very interested in finding out what the writer has in store for us this time around. Aakhir Kab Tak continues to be a well-written, meaningful drama with actors giving their characters the best.
Did you watch this latest episode of Aakhir Kab Tak? Please share your thoughts about it.