This was yet another impressive episode of Aakhir Kab Tak. The biggest strength of this drama lies in its realistic, meaningful, and well-thought-out script. The writer has in an engaging and subtle manner shown the obstacles all the leading characters have managed to overcome as the story progresses forward every week. The pace of the drama couldn't have been better. Fajar and Noor both changed their perceptions about marriage and men in this episode. This change has been shown logically and gradually, which makes it easier to relate to as well as wholesome. Every track is gradually headed towards an interesting ending. Aakhir Kab Tak also highlights the role of parents in children's lives and how their parenting style shapes up a child's personality. For most of these characters, the past 10 weeks in particular have been a learning experience in so many ways. We definitely need more meaningful dramas such as this one which entertains and educate at the same time.
Unlearning
Noor, Fajar, and Safia's journeys have shown in the aptest manner possible how important it is to 'unlearn' certain things in order to bring about a positive change. Noor and Fajar both grew up watching their mother being disrespected and looked down upon. Therefore, both of them naturally learned that marriage was not the 'happy ending'! While Fajar was scared of men in general after her teacher whom she respected and trusted violated her, Noor was never keen on getting married because she was scared of the outcome. She did not believe that marriage was a happy union because of the kind of life she witnessed her mother living over the years. Men such as Saim and Nasir, changed their perspective altogether and tonight the way their tracks moved forward went to show that these two young girls were ready to unlearn everything they had learned till now. This was such a beautiful way of showing how changing one's perspective can be a long but fruitful process.
Fajar decided to start her married life all over again in a completely different manner, this time around. This was the kind of change that most of the viewers were looking forward to watching. I felt genuinely happy for this girl because she has come so far. There was a time when Fajar was simply incapable of showing her most basic emotions and now she has wholeheartedly accepted this relationship. Although the changes in her personality were quite apparent, I was not expecting to see such a major shift. This was definitely a pleasant surprise. Saim has worked hard to change her perspective and gain her trust. I just hope that her track does not take a sad turn now.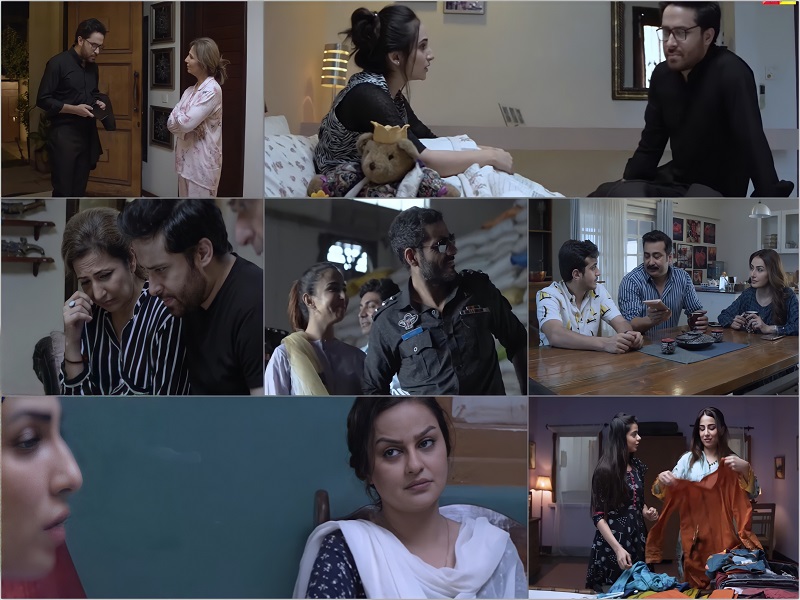 In this episode, Noor asked Nasir for the kind of favor she did not really agree with at first. She has learned a few things from this man and Nasir is in a way in the process of unlearning as well! He taught her how to use pressure and force where needed. She taught him how to earn an honest living. These two make such an unconventional on-screen couple. Adeel Hussein and Ushna Shah's performances coupled with their on-screen chemistry make them one of the best on-screen couples right now. Ushna Shah portrayed Noor's excitement and sense of disbelief so well! She is finally ready to get married even though she never planned to do so. I loved Safia and Noor's scene tonight in the living room; it was heartwarming to see how close they were now. We have all witnessed Safia unlearning everything she was conditioned to believe over the years. Her transformation has changed everything around her. It is always so good to see her giving logical replies and speaking her mind. Farida Begum continues to be rigid but she is gradually seeing things differently as well even though these changes are not being shown outwardly just yet.
Role of Parenting
Aakhir Kab Tak has in many ways shown how parents influence their children's lives as well as their beliefs and personality. Noor and Fajar's personalities were completely shaped up due to their upbringing. Bissam is the product of bad parenting. His mother in particular always defended him even when she knew that he was at fault. She was constantly shown making 'excuses' for him. He got away with everything because he was never taught to take responsibility and was never held accountable for his actions. Both these households and how the kids were raised basically show how important it is for parents to keep a balance. The personalities of these characters were largely shaped up because of the way they were brought up and that is such a good way of highlighting the importance of a balanced upbringing.
Final Remarks
Aakhir Kab Tak continues to be a refreshing drama serial that provides meaningful entertainment. Apart from Saim's mother's track, which was stretched, everything else has been on point. There are so many different characters that make this drama even more interesting. It does not bank on negative characters; it is good to see positive male role models in particular. Tonight's episode was a big step forward; I am eagerly looking forward to an ending that I am sure will not disappoint.
Did you watch tonight's episode of Aakhir Kab Tak? Share your thoughts about it.