Tonight's episode of Aangan once again covered Chammi's frustrations, anger and defiance, Jamil's attempts to win Alia over, Azhar's arrest and it also introduced Najma's character after all these years. The visuals in this episode were stunning as usual, Ahad Raza Mir's chemistry with his co-stars and Sajal Aly's energetic performance were few good things about this episode. Other than that, this is surely not the kind of drama you take very seriously since no matter how hard you try, it is extremely difficult to stay interested in the story; this drama has not been engaging or entertaining enough.
Latest Developments
This episode opened with Chammi pushing her luck yet again. The beating she got and the reaction from everyone when she continued to be defiant showed that no one took her seriously. The only character I found myself rooting for tonight was Chammi. She is clearly the victim here yet she is always treated like a nuisance. Even Najma had the nerve to call her jahil although she was meeting her after a long time. Najma's character turned out to be just as twisted and negative as most of the characters in this play. She did not mention her dead mother even once which was definitely odd but she judged everyone because she was highly educated.
So far, everyone in this Aangan is judged based on how educated they are yet no one has ever been shown making an effort to ensure that the children in this household get proper education. I am still wondering how Najma managed to get this far. The way Azhar's character has been translated on screen makes it look like he was supposed to be a graceful character who tried his best to do justice yet whatever we have seen so far suggests otherwise. He dedicated his entire life to politics because for him getting freedom from the British is the ultimate goal. His family never came first or even second but he did keep his mother and Chammi with him even though he couldn't provide for them properly.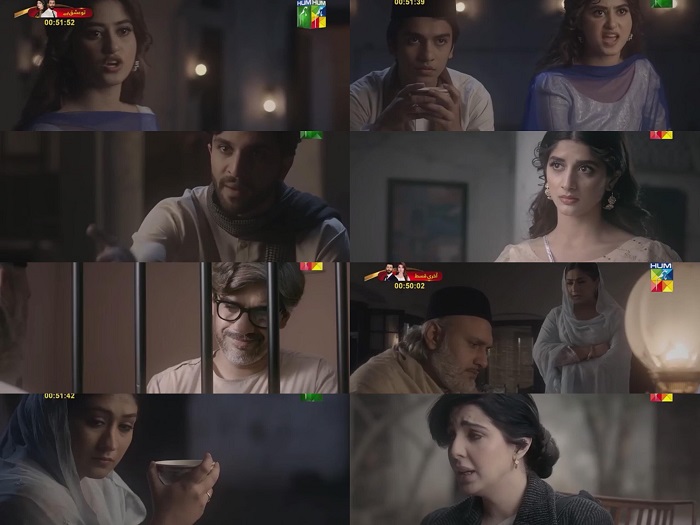 Jamil and Chammi
Jamil and Chammi's scenes added nothing new to the story except that Chammi finally told everyone that she paid for Jamil's studies and that she had been sending letters to someone. I am wondering why this scene was given so much importance and why is Chammi's defiant behavior being shown repeatedly. Alia continued to reject Jamil's advances. Alia's dialogues about love and why she is scared of it are getting highly repetitive. Najma took up the task of educating Chammi and it seemed like she was going to use Chammi's deprivations for her own advantage. By the end of this episode Azhar too was arrested therefore now Jamil is probably going to be in charge. Jamil's feelings for his father and his inclination towards Muslim League has already been well-established therefore once he is in control, he will have absolutely no regard for the rules and boundaries set by his father.
Overall Impression
I am still trying to figure out if this drama has an actual purpose, it neither entertains nor does it educate. Sajal Aly's confidence and vibrant performance coupled with her on-screen chemistry with Ahad Raza Mir could have made their track so appealing but sadly this track so far doesn't have enough to offer. Their scenes together are unbearably monotonous and Jamil's character isn't the least bit likable. I would love to see them together in a quality project in the future.
Do share your thoughts about this episode of Aangan.