Tonight's episode of Aangan covered a period of nine months yet not much changed. The story is going around in circles and every single track has been stretched to the limit. Whether it is Alia's mother's selfishness, Jamil Bhaiya's love for Chammi and Alia, Chammi's love for Jamil, Alia's love for Jamil, Azhar's love for Congress and Bua's love for Malik Muzaffar's zamana – everything has done-to-death written all over it. The interactions between all the characters are more or less the same in every single episode even if something grand happens, there is little or no difference in the characters and their interactions.
Same Old
Alia's mother's plans tonight were the most annoying part of this episode since in all these years she has learned absolutely nothing. First she took her husband for granted and now she is taking the people who gave her shelter for granted. Watching this woman complain about every little thing and being extremely thankless has definitely not been entertaining especially because it is pointless. Alia sounds like a pretty reasonable girl when she interacts with all the other characters but when it comes to Jamil, she stops making sense altogether. Had Alia not fallen in love with this man, her character would have been far better. She is shown constantly lying to herself and others.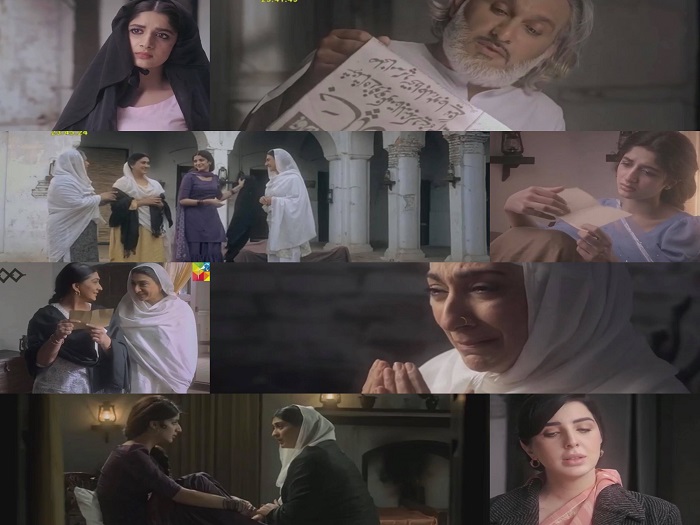 Alia got the education she needed in order to have a decent career instead of doing what her mother wanted. This part was most certainly pleasing but the way she ran to greet Jamil and later on flirted with him wasn't the least bit likable. I am generally not a fan of such romance where girls are running after men, flirting with them yet they are too scared of admitting their feelings. It is especially annoying when this is also accompanied by unnecessary/inappropriate physical contact, like the way Jamil twists her arm every now and then. There is nothing appealing about a man 'hurting' a woman in this manner yet we are watching this happen more and more in our dramas. In drama serial Anaa, Altamash constantly does that whenever Ezza doesn't give him the attention or response he wants and Jamil bhaiya is the same.
Chammi and Alia
Chammi came to meet Alia finally and even though she was deeply hurt inside, she pretended to be the same old playful and carefree Chammi with a sense of humor. Alia could sense that Chammi was trying to hide something. Chammi's story suggested that she is still waiting for Jamil to rescue her. Her life is clearly miserable but her daughter has given it some meaning. Just like every other episode, Chammi was the only character I felt for although her love for Jamil too can be annoying at times. Her entire life story is truly tragic yet she refuses to play the victim. Sajal Aly's portrayal is always picture perfect. Her confidence and the way she adds more life to this character makes it easy for me to like Chammi even with all her flaws. The Kareeman Bua, Chammi and Alia scene on the rooftop was the only scene tonight which truly worked for me. However, in this scene there was a minor issue with the audio.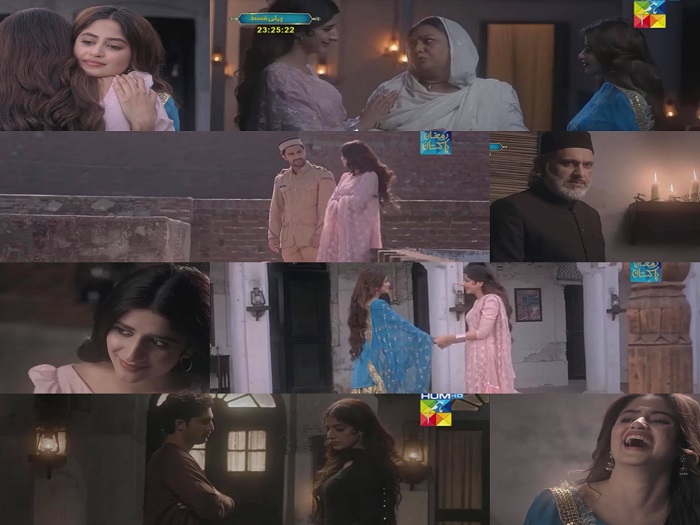 Overall Impression
The few seconds in this episode in which Alia's mother was actually happy because there was finally a good news was the only real change otherwise all the other tracks continue to be grim, depressing as well as pointless. The scenes continue to be repetitive and the story lacks direction or meaning. Mawra Hocane has give an outstanding performance throughout even though Alia's character has been hypocritical and annoying at times. Sajal Aly is another actress who makes her presence felt and makes you feel for her. Other than that Aangan continues to be the ultimate snooze-fest.
Do share your thoughts about tonight's episode of Aangan.