Aangan continues to move forward at a slow pace and most of the times it seems like it is headed nowhere. Tonight's episode was relatively better since there were some political discussions which were easy to connect to since they had some purpose and direction. Few of the developments and the preview of the next episode also suggested that the drama is headed towards an ending, hopefully sometime soon. It is definitely not the kind of drama which gives you a lot to discuss since there has been very little character development in all these weeks. The dialogues too are most often disappointing, tonight Jamil's dialogue when he sat on Alia's bed was once such dialogue.
Politics and Romance
All the political conversations tonight hinted that the British were going to leave soon therefore the two opposing parties which wanted completely different things from the British were fighting more fiercely than ever. Some of these dialogues also showed just how naive Jamil was, thinking that the partition was going to be a peaceful affair. This was yet another aspect Alia and Jamil did not agree on. Jamil and Alia's scenes were repetitive and had nothing new to offer except for the fact that Jamil finally told Alia that he would leave her alone. He also seemed genuinely concerned for her when Alia cried. Najma decided to get married and even though her obsession with MA Angrezi is just plain annoying but watching her make a decision like that with such confidence was actually a good development in a play filled with timid females unless this marriage too has a tragic ending! It was also good to see Alia telling Jamil that it was perfectly alright for a woman to take such decisions for herself. Somehow this time around she wasn't scared that this might be another one of those marriages which would result in a suicide! So far, there have been no happy marriages in this drama therefore it won't be surprising if this one too has a sad ending.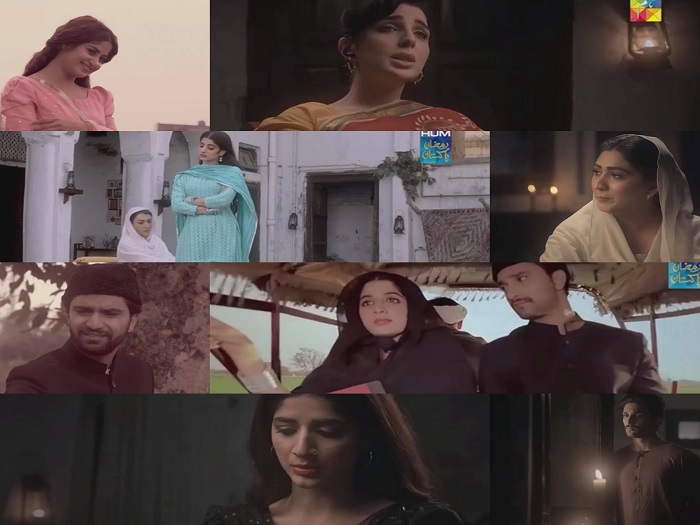 The financial state of the household went from bad to worse and just like every other episode this was highlighted by showing Bua complain about food (this time atta). Surely, the writer could have been more creative regarding this aspect of storytelling. Jamil twisting Alia's arm is another scenario which is repeated every time they meet. I am still wondering why there has been so much focus on this arm twisting bit especially because tonight the way Alia looked at her arm after Jamil left was given special attention.
Chammi is still in love with Jamil and she continues to be the only character I genuinely feel for. Sajal and Ahad's flashback scenes once again showed Chammi's love for Jamil. The scene which was shown in the initial promos was finally shown tonight and this time around the comparison between Chammi life then and now clearly showed that she was not the same person any more. Even though Chammi's life was always tough but she always had hope that some day Jamil will 'rescue' her. The few scenes in the previous episode showed just how terrible her married life was therefore there is a good reason why she never moved on. The scenes in the past few episodes showing Chammi ignoring Jamil altogether make even less sense now after what was shown tonight.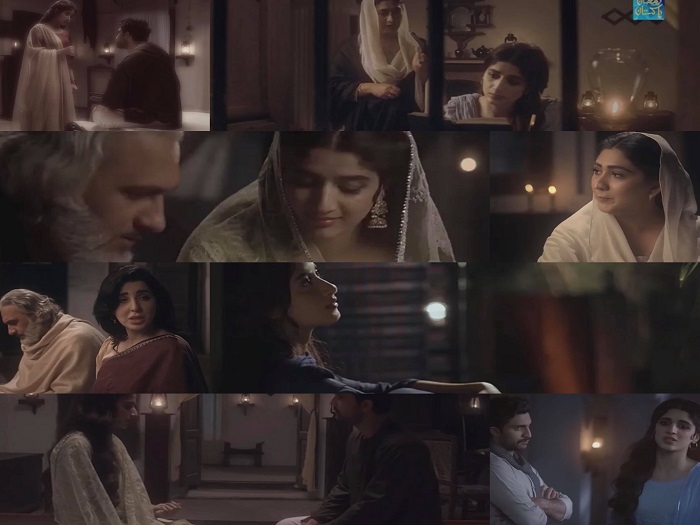 Overall Impression
Sajal Aly, Mawra Hocane and Ahad Raza Mir definitely should be seen together in another drama. As for Aangan, it never offers anything grand therefore any episode with a little bit of spark is better than others and this was one such episode which had a few good scenes. Overall however, there were many scenes and happenings which were highly repetitive. Waiting to see how the partition is covered since few of the dialogues tonight in this regard were rather misleading.
Do share your thoughts about this episode of Aangan.