Finally! We are getting to watch few decent episodes of Aangan as it is headed towards an ending. Tonight's episode was well written and even though for the most part I had a really difficult time staying awake while watching this drama, this recent episode had my undivided attention. With the exception of the last scene which was a complete let-down, this episode had some emotional moments and the latest developments were quite interesting as well.
Character Development
Tonight's episode showed how the past experiences of all the characters had shaped up their present personalities. Jamil's scenes suggested that he was more mature and serious now. His father's death had changed him even more than before. The scene in the graveyard was emotional and well-executed. Ahad Raza Mir nailed all his scenes yet again and made it easy to understand Jamil's state of mind. Jamil is withdrawn and thinking about more serious issues like taking responsibilities and running the house. I especially liked Alia and her mother's conversation when Alia told her that Azhar had been murdered. Whatever Alia said basically summed up how Azhar never got the respect he deserved when he was alive and now that he was dead, the 'compensation' was more of an insult. In the previous episode, Jamil too refused to take the money. Through some of the scenes the writer also showed how the partition was not the 'happy ending' most Muslims were eagerly looking forward to. The partition made it difficult for families which had lived together for years to communicate with each other. Alia and her mother didn't have the option of going and meeting Jamil and his family because of the partition.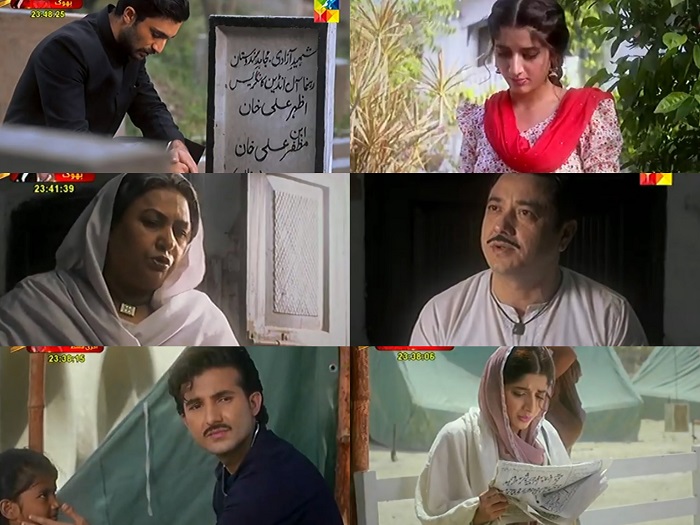 Chammi, Alia & Israr
Azhar and Alia always shared a special bond and it was good to see that Alia's reaction to the news of his death was covered well. The way she gets scared and hallucinates goes well with everything she has been through. The fact that in her 'dream' Israr was the one who brought Azhar's body to her was another pleasing and emotional aspect of this development. Alia and Jamil's love story it seems has finally ended since they are no longer shown thinking about each other and they are busy worrying about other things. I was hoping that Ahsan and Alia will end up together but the way this episode ended, it seems like they are not meant to be. It remains to be seen whether this was another one of those misunderstandings caused by Alia's over-judgmental nature or an ending to what seemed like the perfect love story. Shehroze Sabzwari has been quite likable in this role but in the last scene tonight, his acting was over the top and he looked like a hero from the 80s films because of his performance. Mawra Hocane has done really well especially given the fact that Alia's character got quite annoying in the middle. The last scene however was yet again another one of those scenes which makes you wonder why the director added these filmy touches to a script which did not need such a treatment.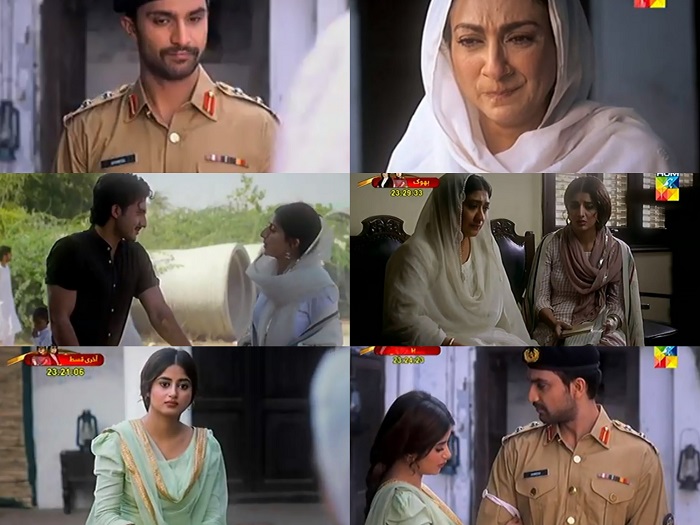 Chammi did not get a lot of screen time tonight but her scenes clearly showed that she too had accepted her fate and was no longer the fun, bubbly girl who always had a smile on her face no matter what. Her comment about taking over after Bua passed away was yet another reminder of where she saw herself in the next few years. She was no longer hopeful that Jamil will rescue her. Sajal Aly is an exceptional actor with a definite screen presence and I am still hoping that Chammi will have an unexpected happy ending.
The scene covering Israr's exit made me really angry, Bua deserves the worst possible ending for treating Israr like that. Loved Hassan Noman's performance tonight and felt for Israr – he got nothing but hate all these years yet he never complained.
Final Remarks
Tonight's episode was much better than many of the previous episodes and it basically went to show that with such an exceptional cast, it was actually quite easy to make a drama which would have resonated with the viewers. I hope that the last few episodes will be just as good as this one. The timeline continues to be confusing since Chammi's daughter looked older and it also seemed like it wasn't the same child. Also, the scenes in the car today didn't look real, the wheels weren't even moving! The preview of the next episode showed Alia and Safdar meeting after so many years. Waiting to hear what Safdar has to say!
Do share your thoughts about tonight's episode of Aangan.