Aap Ke Liye – Episode 01!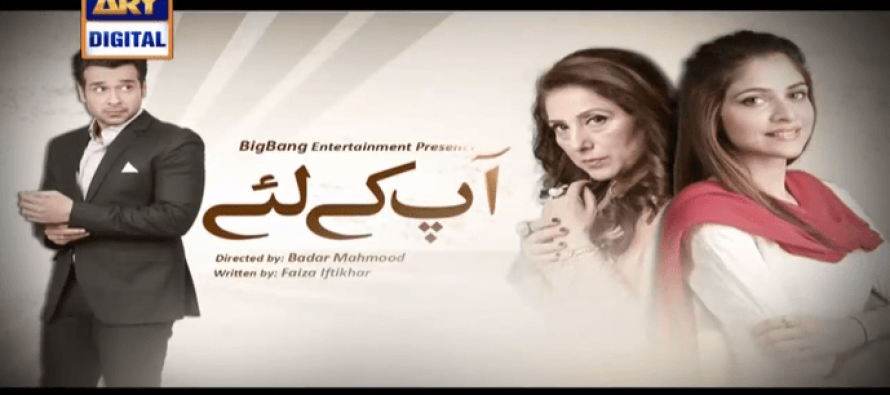 Ohkay so, the production of Big Bang Entertainment, the direction of Baber Mehmood & the writing of Faiza Iftikhar; App Ke Liye hit our screens tonight & I must say, it was quite a decent introductory episode of a highly anticipated drama. The first thing that grabbed my attention towards this project was the name of Faiza Iftikhar & then the pairing of Faysal Qureshi & Arij Fatima, so I am hoping that the writer & the main leads succeed in keeping our interest intact in the drama till it lasts, so let's keep our hopes high.
The very first episode introduced us to the two families that consists of the main characters. The first family is of Shaheer (Faysal Qureshi), who lives with his sisters Nishat Apa (Sameera Peerzada) & Areesha (Ghana Ali). Looks like after the demise of their parents, Nishat along with her husband Imdaad Hussain (Waseem Abbas) shifted to Shaheer's place because Areesha was quite young, so Nishat has been living with her siblings ever since. Shaheer lives a very robotic life & has worked hard to give his family a comfort of luxurious living. Shaheer is a man of principles & that is why, he has made it clear that the things that matter to him the most are his principles, values & rules. Nishat loves her brother & takes care of her younger sister but seems like Areesha doesn't enjoy the restrictions that Shaheer has set for her.
The second family consists of Waheed (Saifi Hassan), his wife (Salma Hassan), their daughter Nimrah & Waheed's sister Washma (Arij Fatima). Washma is an independent girl who is quite opinionated & has a strong personality but she is quite laid back & casual when it comes to her responsibilities. Washma is a talker more than a doer & just because she knows she is a good-talker, she thinks she can persuade her way out of her duties easily. Washma's sister in law doesn't hold a high opinion of her because she gets ticked off by her laid-back attitude, however, she has gotten Washma engaged to her one & only brother Asralan (Asad Siddique) 3 years ago, in a hope that she will finally be able to get a upper-hand at her husband Waheed & his sister Washma.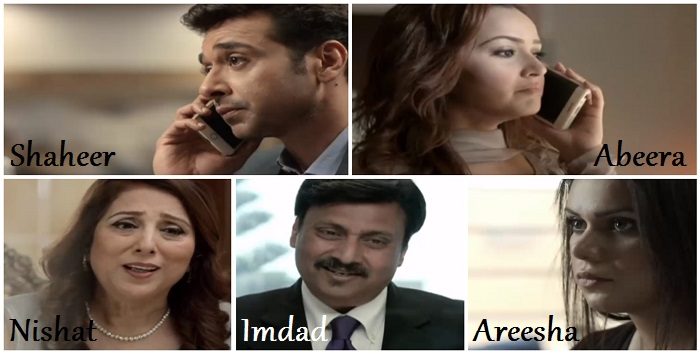 Washma works at Shaheer's office as his personal secretary. Washma might have a totally different approach in her personal life but when it comes to her professional life, she takes her responsibilities seriously & that is why, she has left quite an impact on a rigid & stern businessman like Shaheer. Washma has an endearing personality & she doesn't mind putting it to good use & when it comes to Shaheer, he is focused, driven & mature. They both have an opposite personality types but somehow, they both work well together & that is why, so far Washma hasn't given Shaheer anything to complain about.
Things get difficult for Washma when Areesha shows up to meet Shaheer & just because Washma takes her job seriously, she doesn't allow Areesha to proceed unaware of the fact that Areesha happens to be Shaheer's younger sister. Imdaad tries to use the tiff between Washma & Areesha to convince her that only he could save her but Washma knows what she hasn't done anything wrong, therefore she doesn't care much about what Imdaad says. I liked the fact that even though Washma has a non-serious attitude in certain things, she does have an instinct to know that Imdaad tries to make advances at her & very wisely, she doesn't let him succeed in his mission. Imdaad tries to bring Washma down by making a complain against her & sadly, Shaheer believes Imdaad's version more than Washma's because he assumes that she must've decided to go out with her fiancé despite not getting the permission to do so.
Arsalan doesn't seem too thrilled with the idea of getting married to Washma this year as his sister suggested because he is interested in someone else. I guess just because Waheed is financing his education, Arsalan finds it hard to tell Washma the truth & may be that is why he will rely on Washma to do the talking in front of her brother & make it all about herself that she is the one who doesn't want to get married to Arsalan, because he & his girlfriend spoke about getting a help from Washma as they know she is far more gutsy & straight forward. Even though I know that Washma will bounce back from this break-up but it seemed nice how she was at a happy place in this relation & like any other girl discussed her future plans with her fiancé, it made her character look genuine & realistic.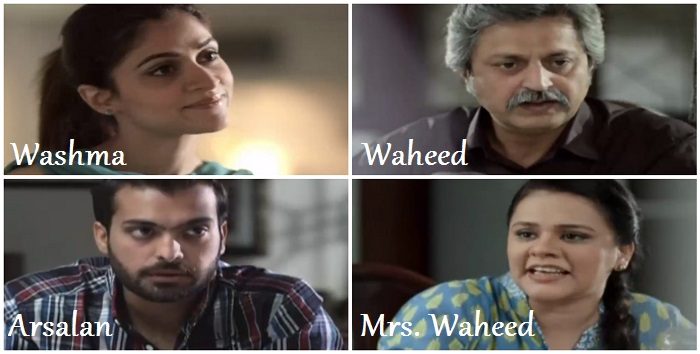 Shaheer is at a brink of getting divorced from his wife Abeera (Faryal Mehmood) & looks like their marriage only lasted for 3 months & after that it was Abeera who decided to call it quits & demanded divorce. Shaheer believes in punishing her by not giving her what she was demanding but after Nishat convinces him, he decides to divorce Abeera finally. Looks like Nishat has her brother wrapped around her finger & she makes the most of the fact that her brother trusts her blindly & respects her a tad bit too much, but may be Shaheer will find out that what Nishat does or says is mostly not in his best interest.
Overall, the first episode was pretty decent. All the actors did a great job especially Arij Fatima & Faysal Qureshi. When it comes to Faysal Qureshi, it is a done deal that he can pull off any sort of character but I must say, Arij Fatima took the crown in this episode. She is a natural actor & I loved how effortlessly she portrayed the character of Washma on-screen. I especially loved the cold-shoulder she extended towards the over-friendly Mr. Imdaad, it was like she could read his mind & knew exactly how to tackle him. I actually really liked how the character of Washma has been written, where at times she can be labeled as an immature girl but then she is quite smart for her own good as she can pull herself out from any trouble. As much as I am impressed with the main leads, I wish I could say that about Samina Peerzada & Ghana Ali, considering they're also playing an important role in this drama. Honestly speaking, I actually forgot that Samina Peerzada was going to play a part in this drama so when I saw her on the title cover, I was actually excited to see what she'll have to offer, only to find out that her character & the treatment that it got was quite OTT, OTT to an extent where she didn't seem realistic & being an actor with such an experience, I wish she had toned down the overall personality of Nishat's character a couple of notches because seriously, curls & diamonds, silver silk dress with black smokey eye & all that jazz on a breakfast table didn't really sit well with me & most certainly didn't make her character look realistic, also may I add that her dialogue delivery seemed a little too fake too. Ghana Ali was good in bits & bobs, like she picked up the right attitude of a spoiled young sister but at times even she took it a bit too far. I hope as the episodes progress, these two actresses regress in terms of acting & styling because that would look realistic. Salma Hassan was good but she didn't offer anything new because as far as I remember, these are the only kind of roles that I have seen her play since I can't even remember. Anyways, I am glad that the protagonists, their characters & their acting is enough of a motivation for me to tune to this play next week. Please share your thoughts about the very first episode of App Ke Liye. :)
Keep Supporting,
Cheers,
Zahra Mirza.
Zahra Mirza
The one who starts her reviews with 'Ohkay so'. ;)
---