Aap Ke Liye Episode 11 12 13 Review – Typical Story!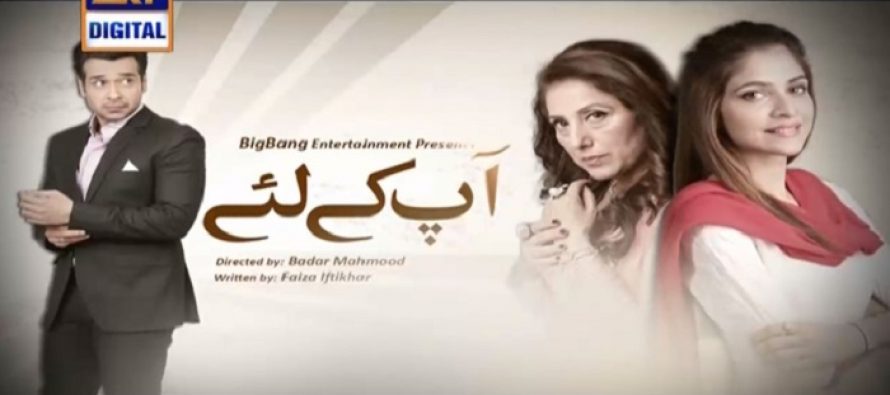 Ohkay so, I got to watch 3 episodes back to back because I had no idea that they aired Aap Ke Liye twice last week & just when I was excited that I will get enough content to watch, I was actually a bit disappointed at the pace at which the things moved forward. What's amusing is the the 11th & the 12th episode literally had nothing to offer, whereas some progress was made in the 13th episode, so I am glad they aired the episode # 11 & 12 in a week, because it eliminated the number of slow episodes that were & are remaining!
Washma is just being herself even after her marriage, which is a good thing but then at times I find her immaturity a little too forced. She knows that Nishat doesn't like her, then there was no reason for Washma to go & act all cute in front of Nishat's friends. I know Washma is someone who doesn't filter what she says but then participating in someone's gathering does not suit a carefree girl like her. Nishat has made it quite obvious on Washma that she can't stand her but I like the fact that Washma doesn't seem to care.
Honestly speaking, after seeing the amazing characters like Anmol & Washma that Faiza Iftikhar penned down, I was a little disappointed in seeing a character like Dilruba being a part of her project. I think we are past that stage where throwing in such old school ideas will make things work. Dilruba's confession that she can attract any man towards her in a jiffy was off-putting & cringe worthy because firstly, I don't see the need of such a character in this script, secondly I don't really understand why a woman is being demeaned like that. It has been quite obvious that this drama will have a very typical plot, but to see it being reduced to this level of typicality does leave a bad taste in mouth. Nishat planted Dilruba to create some tension between Washma & Shaheer but then again, Nishat should've known better because of all the girls in the world, Dilruba is not the one who can grab Shaheer's attention since she is not classy, poised or elegant & most importantly definitely not the kind of a girl that Shaheer would even want to associate with.
Nishat & Imdaad's scenes are too long, boring & forced. I definitely accept that some women like to keep themselves dolled up but sorry, no one speaks in such an artificial way. I wish Samina Peerzada, with so much of experience up her sleeve had made Nishat's character a little believable because it depends a lot on the actor as to what sort of a treatment they want to give to the character that has been assigned to them.
Washma & Shaheer's scenes were good to watch. They both have started to develop an understanding for each other & even though they are polar opposites, things are looking pretty good because Washma shows Shaheer such an approach & perspective that he was never aware of & Shaheer teaches Washma importance of so many little things that she has overlooked all her life, so I like how they both balance each other out & even though they have nothing in common, they aren't hesitant in exploring each other. Washma has started to grow concerned about Shaheer & that is something that is convincing him that he didn't make a wrong decision. I like how Washma tells him to take a stand for her in the matters concerning Nishat, but at the same time, she tells him to be considerate towards Areesha's feelings as she can relate to what she must be going through as Washma has first hand experienced what it feels like when your brother gives importance to his wife over you. I enjoyed watching all such moments where Shaheer was skeptical & resistant but chose to go with the flow & enjoy things Washma's way, as it showed that he is giving this marriage a chance despite telling Nishat that this marriage doesn't mean anything to him.
I think Shaheer's ex-wife was only made a part of the drama so that the editor could get a chance to play the OST in the background because she has been a done & dusted character even when the drama began, so I don't see an importance of her character nor do I look forward to what she has to offer & I will also add that the loud OST in her crying scenes does not evoke any sympathy for her.
Looks like Nishat has already waged a war against Washma & she is ready to let Washma know what she can do to someone she hates. I am sure her visit to Omar's house was only to reject him but she must've changed her mind only to score some brownie points in front of Areesha. Nishat doesn't want to upset her sister as she needs some support & one more family member in her team to shoo Washma away. Washma created a scene because she eavesdropped on Nishat where she was telling how she will reject Omar, but now when Nishat will do the opposite, Washma will be blamed for lying about Nishat Apa. Areesha is someone who can be persuaded easily as she doesn't have a mind of her own that is why she immediately grew suspicious of Nishat's intentions when she heard everything that Washma was saying but Shaheer on the other hand respects Nishat completely & trusts her blindly, so I am sure he won't let her off the hook.
The preview of the next episode already suggested that Shaheer & Washma are going to hit the rock bottom & their new formed relationship will suffer & Nishat will continue to add fuel to the fire because she will find out that Shaheer was supporting her & was mad at Washma for how she accused his sister. Overall, these three episodes weren't interesting & this has become one of those plays that can be tuned to while you're busy with something, more like a background noise that you might want at times. Even though the characters of Nishat & Imdad are annoying, I am kind of disappointed at the way Samina Peerzada & Waseem Abbas handled these characters. I never really imagined that I will get to see Waseem Abbas in a 'silky satiny' beige shirt & then those overdone expressions. I feel that Samina Peerzada has gotten way more coverage than required because the moment she comes on screen, that's the time when I know I don't have to pay heed to those scenes as she has nothing meaningful to say. Arij Fatima & Faysal Qureshi have been quite impressive & their characters are perfectly written too. The director & the cameraman once again gave me a headache by the continuous movement of the camera, I so wish they don't opt for this technique ever again in their future projects, it seriously is a headache provoker. Anyways, please share your thoughts about these episodes of Aap Ke Liye.
Keep Supporting,
Cheers,
Zahra Mirza.
Zahra Mirza
The one who starts her reviews with 'Ohkay so'. ;)
---