Every episode of Aitraz has more than its fair share of clichés but this episode was so full of Arsalan's mother's conniving ways that I found it difficult to keep myself alert even after having a cup of tea during the interval. This episode laid the foundations for what is coming ahead – a big change in Arsalan's attitude towards Komal – but I still feel that the scenes and dialogues were way too repetitive. It is sad to see someone like Shamim Hilali being wasted playing a role which any other actress could've played. She is usually seen playing characters which are challenging but this one has absolutely nothing new to offer.
Watching Arsalan trying to please his mother, Arsalan's Khala playing the very typical Khala-saas who adds fuel to the fire and the bechari bahu finally taking the fall was nothing more than a snooze-fest! Arsalan knows that there isn't much that he can do to change his mother's attitude and the lecture from his Khala also made him feel guilty therefore blaming Komal for everything that happened seemed like the easy thing to do! The main "twist" in this episode had to be the most unconvincing development in this drama so far. Komal has been shown as a very sensible girl till now who is also very emotional when it comes to her family. Firstly, she went against her nature and told Arsalan's Khala something she shouldn't have shared with her because she has been shown as a very private person. Also, Arsalan warned her that his Khala was not their well-wisher already so why did she think she would be side with her. This was the first time Komal was meeting this woman but somehow she thought she could trust her and that too regarding something that concerned her sister! Later on Komal was willing to apologize and forget everything although she is the same person who gets so emotional about family values that she is willing to let go of everything. She didn't get married to the love of her life because she wanted him to do what his mother asked him to but she would continue living with someone who did not really care what his mother thought about Komal's parents.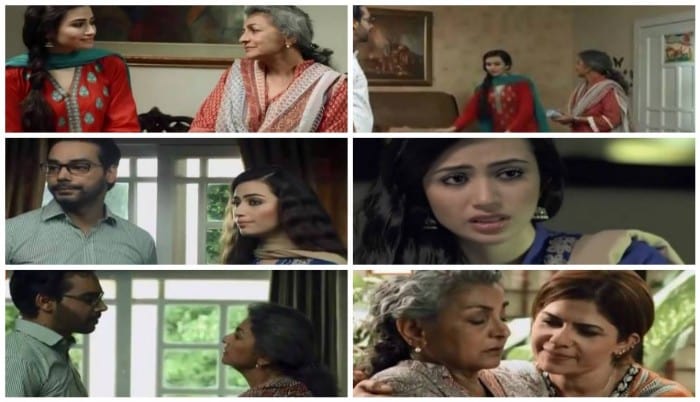 I am very disappointed with this episode because of many reasons. The top most reason has to be the boring and done-to-death conversations between two women who really need to get a life and secondly Komal's character was a huge led down in tonight's episode. She is turning out to be one of those becharis we see on screen all the time. I regret wishing that we should be shown more of the present than the past because ever since the director has started focusing on the present Wajdan's character has disappeared from the drama.
Anyone who hasn't watched this episode yet can save themselves the trouble of watching it because it had absolutely nothing to offer. Watch the last ten minutes of this episode if you're really curious to find out what happened!!
Fatima Awan