When I finally turned on the TV at 8 pm, I saw the promo of Muqaddas with no "Last episode" announcement. I was super-excited to watch the last episode today, but sadly, the website was wrong. I am just glad I opened the TV an hour earlier and didn't face utter disappointment. Khair, wrong announcements have been done in the past so rather than being sad, I watched the episode and as usual it was interesting. Being the optimist I am, I think it's good that they wrap the drama over a few more episodes. We all want a satisfactory ending, don't we?
"Woh pagal horaha hai". Ruhi is a smart woman. She knows that something is up. Of all the people in the house, she was the only one to realize that Aatir was lying about Kabir, and that something else is going on. In the initial episodes, I used to doubt Ruhi for being the kidnapper, and this character was intriguing. Somewhere in the middle of the show she turned into the typical evil mother-in-law. Now that her sane side is surfacing again, I am glad! She is still evil, but now she is actually contributing to the story instead of just threatening Muqaddas.
Maryam told Sarmad the entire story but did not tell him about her son, Aatir. I found that weird. When Sarmad finally told her the name of his friend who he always talks about, that was when she understood. I still want to know why she never met Aatir.It was one thing if she could not meet him when he was a child, but now that he is a grown up man, I wonder why she never tried to find him. How does a mother contain her love for her son for so many years?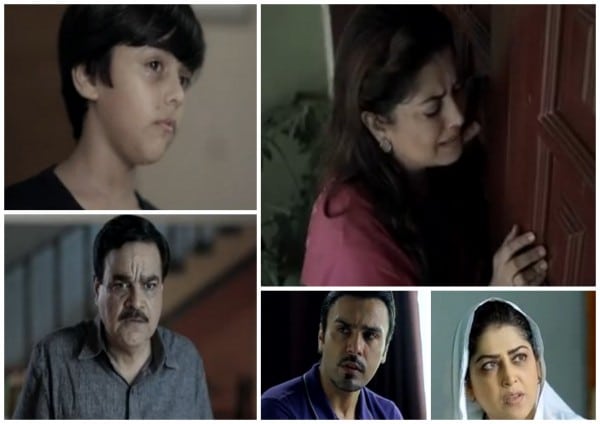 Jehanzeb's end was sudden, but the most logical way to start wrapping up the show. Jehanzeb was too ashamed of what he did to Maryam to ever confess to his sin in front of Muqaddas. He knew he had to save his daughter from Aatir, and he had to let Ahmad Ali know the truth. The letter has to be the biggest twist of the drama. It was the best way to tell the truth to both, Muqaddas and Ahmed. Aatir got what he wanted. He drove Jehanzeb to his death. It's true that Jehanzeb deserved to be punished for what he did. He ruined Maryam's marriage, and when she came to his house for help he did not even open the door. He never bothered to tell the truth to Ahmad. However, he spent his entire life searching for Maryam, in order to ask her for forgiveness. That makes him a little bit better than Aatir. At least he tried to find her out of guilt, unlike Aatir who just fights his guilt pangs.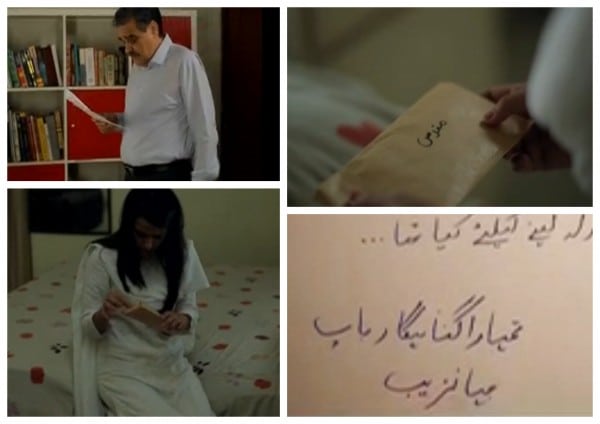 "Mujhe tou ye samajh nahi araha ke koi itna sangdil kese hosakta hai." Well, you and me both Tehreem! I might have had my doubts on Aatir, but when I finally got to know that he was the kidnapper, I was shocked. The way this character manipulated a girl into loving him, married her, kidnapped her that very night, assaulted her while unconscious and then had her returned back to the house_only to live a miserable life_and acted as her well-wisher, was inhumane. I was glad that when Muqaddas found out the truth, she had her siblings by her side to comfort her. Her world did shatter, but at least her family and best friend were there with her. I expected to Muqaddas to scream and shout and ask how could the love of her life do this to her, but she just sat there.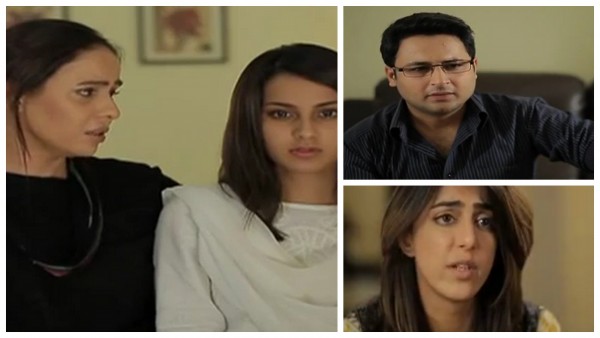 Maryam's phone call came at the right time as well, but I was surprised how she got Muqaddas's number. I wish they had taken care of this loophole. Nonetheless, whatever Muqaddas said to Maryam was right on point. Agar aap zinda theen, tou marne ka dhong kyun rachati rahin? Apne bete ko kyun nahi bataya ke aap zinda hain? That is the question we all want the answer to, and judging by how calm Maryam was, I am sure she will give the answer to Muqaddas and us!
What did you guys think of the episode?
Areeba Mohsen