This episode just like the last one was a waste of time. Yes! we get the point – Arsalan's mother wasted her precious time getting all that education she got from convent and some prestigious college as well therefore she thinks it is wise to share her woes with her maid. She is as insecure as mother-in-laws get in Pakistani dramas and her son's sole purpose in life is to please his mother which seems like an impossible task at the moment. The bechari bahu gets full marks for playing the qurbani ki bakri with a smile on her face which makes me wonder what happened to the girl who seemed very sensible and had a lot of self-respect too before she got married. Arsalan and his naye naveli dulhan treated Arsalan's mother like a 5 year old all through tonight's episode, not that I blame them because her tantrums and attention needed tactics would make anyone question her mental age but somehow I found Komal's holier-than-thou attitude towards the whole situation very repulsive.
I understand why Komal is so bent-on keeping Arsalan's mother happy. She lost her own family therefore she wouldn't want to be responsible for severing Arsalan's ties with his mother but the problem was the constant repetition and not to mention the fact that watching these saas-bahu rothna manana scenes isn't actually entertaining! Since the last episode it is almost as if we are watching the same scenes over and over again. In the last episode Komal's honeymoon was cancelled and there was a big argument between her and Arsalan because she trusted his Khala with something personal but I guess our sidhi sadhi Komal does not believe in learning from her mistakes. She trusted Arsalan's mother although she knows only too well that she is not her well-wisher. Any other girl with a little common sense would've made up some other lie or there is always the option of excusing ones self!!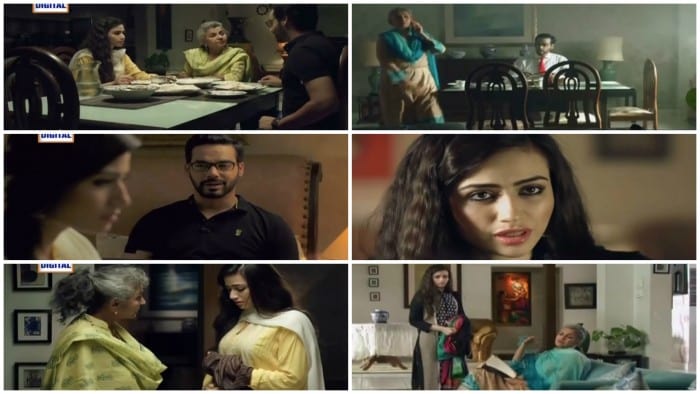 The only thing that continuously changed all through tonight's episodes were Komal's hairstyles. Her hairstyle changed four times in the first eleven minutes of the play!! When the play becomes this repetitive you can't help but notice things which would otherwise go unnoticed. Komal's hairstyle changed while she went from one room to the other. Watching Arsalan and Komal plan how to win ami over was not the least bit exciting. The writer and the director obviously want the viewers to understand that our sidhi sadhi heroine is trying her best to save her home but it is not going to happen. I am sorry but I feel like they are trying too hard to make Komal look like the victim, I would've liked it better if she was not turned into a bechari character.
It is definitely time for the drama to pick up pace otherwise the viewers will have absolutely no reason to watch it. Right now I am waiting to see Wajdaan and Sania Saeed's character therefore I am going to watch the next episode as well but if the drama continues to be this repetitive and boring then it will be an utter disappointment. I started watching this drama only because the last drama written by Samira Fazal, Alvida, was interesting right till the end, I trusted Imran Abbas' choice and I wanted to see what Sania Saeed's character had to offer but for the moment I don't see much hope for this drama serial and it looks like the director wants to spell everything out for us which is not always good!!
Am I the only one who did not feel for Komal one bit?? Do share your thoughts about tonight's episode.
Fatima Awan