Aye mere dil kahin aur chal, dard hi dard hai yeh safar….. What better way to sum up how this episode made me feel then to take aide from these lines from the OST itself!! Aitraz started off on a very decent note; it was intriguing and made you look forward to more but ever since Komal and Arsalan got married this drama has taken some very done-to-death turns. I found Arsalan's mother's obsession with keeping his son away from his wife twisted to say the least!! I had to keep on reminding myself that this was not one of those doosri biwi dramas in which both the wives are trying to woo the husband but this was actually a 'battle' between a saas and bahu. The way it was shown made it look like Arsalan's mother was the first wife who needed to do everything she could in order to spend some precious moments with her husband – son alone and the other wife could do absolutely nothing about it!
I fail to understand all the characters in this drama now. Komal thinks Arsalan belongs with mommy dear – why exactly did she get married to him then? Rayna who insisted that these two should get married now thinks this is a good time to remind Komal that she still loves Wajdan over and over again! Arsalan is a mommy magnet but at the same time we see him blaming Komal for insisting that they should live with his mother when they had the option of living away from her. The only thing I could relate to was Arsalan's Khala wanting to get out of this situation she got herself into. It is so convenient to sit and gossip about someone but so difficult to do anything else that demands more time and attention to be there for someone!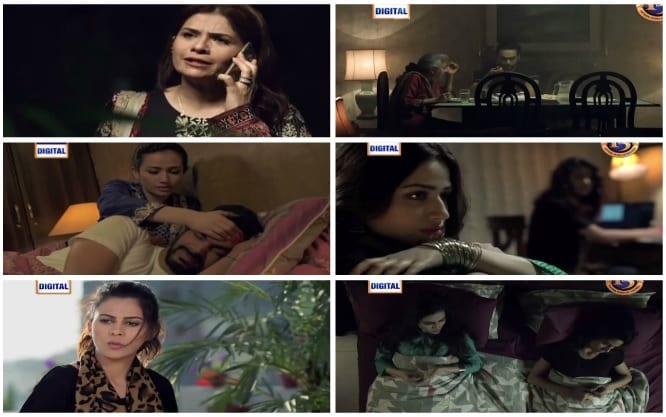 Sana Javed's hairstyles yet again kept on changing after every few minutes. Komal's character has failed to impress; her sacrifices and her fixation with ensuring that all the sons of the world stay with their mothers till death do them part is just plain annoying. I am having a very difficult time liking her character now. She is turning out to be more of a drama queen than anything else although I am quite sure that her character was not conceived like that but I can't help but think that most of her problems are self-created!! Why get married at all when you don't love a man?? The scene in which Rayna and Komal were lying down on the bed and talking wasn't impressive at all; I found the way it was shot really weird! Why not just show the girls' faces when they were talking?
There is no sign of Imran Abbas or Sania Saeed till now which is really putting me off!! Most of us started watching this drama for these two actors more than anyone else and making people wait like this is a very cheap tactic to ensure that the viewers continue tuning in to this show every week. I read in the credentials that the actors playing Wajdan's parents only made a guest appearance which means we definitely won't be seeing them again. Now we need to find out if same is true for the other two actors we saw on the main title picture of the drama!
Did this episode annoy you as much as it annoyed me? Are you only watching this drama now to see whether Imran Abbas and Sania Saeed will finally make an appearance or not? Do share your thoughts about tonight's episode.
Fatima Awan