So finally we saw the first episode of the much awaited mini series Akhri Station and it certainly did not disappoint. There is a feel to the drama which is evident from every scene and dialogue. The cast is well suited and the play keeps the viewers engaged till the last moment despite the dull and dim lighting, which by the way were very fitting to the situation.
It started with Sanam Saeed appearing very middle class, very somber and very practical. She has found a seat in women's compartment of a local train with a few other women, including Malika Zafar shown as a mother with an infant, a friendly Pathan woman and a transgender who is thrown away from another compartment on this basis. This was followed by the entry of a very hassled and distressed woman called Yasmeen with a little girl.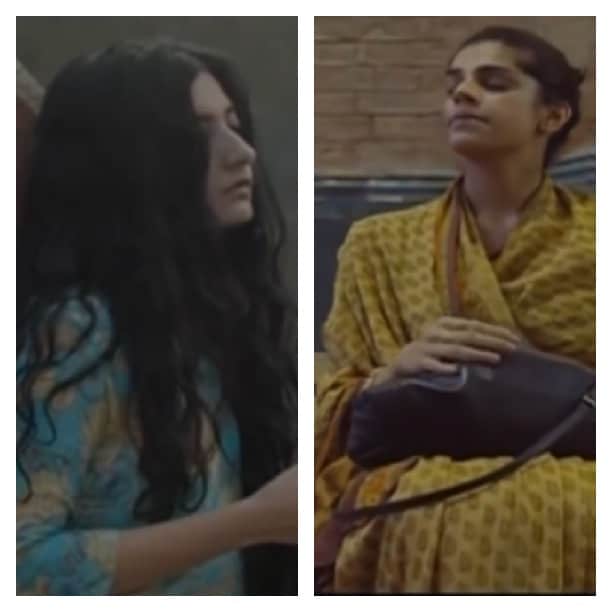 Yasmeen is played by fashion model Eman Suleman whom I believe is acting in a drama for the first time, but maybe it's just me who hasn't seen her before. Her acting does leave a little to be desired but she is still doing a pretty decent job. It's not an easy character to play but Eman is lending it the much needed raw vulnerability and passive aggression of an oppressed wife. Her hair and makeup less face is very suitable to the role. Her story is told in this first episode.
While it's not a very unusual story, considering the social and cultural set up of Pakistan, such stories are rarely given any recognition in the mainstream media which is usually all about the glamorous divas with rich fathers and husbands and exciting careers of their own. In reality, the majority of Pakistani woman are like Yasmeen, stuck with a man who does not have the sources or the ethics to try and provide for his own family, while the mother being a mother does everything possible to give her children a better life and future. She has no parents, a father in law who is supportive but useless and a mother in law who is in a typical fashion, blaming Yasmeen for her own son's ugly habits and making excuses for him.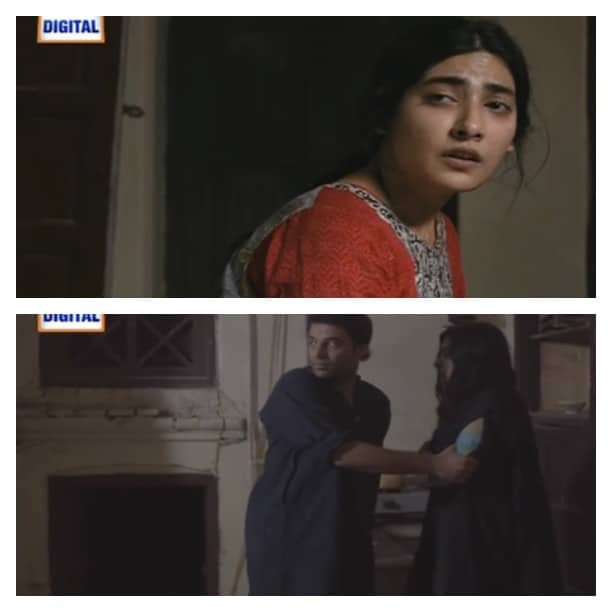 This leaves her with no one to turn to for her and her daughter's needs. When the odds become higher and debts start to pile, her husband starts to use her as a prostitute. She is literally forced to have unwanted sexual encounters with clients that her husband brings so her daughter can have a decent meal. Yasmeen is distraught at the state of affairs and hides her face in shame whenever she is out. The milkman's reaction was very aptly shown as most people are like this. They will waste their merchandise rather than give it for free to someone who is requesting it, who is then forced to illegal and dishonorable means to earn and when that money comes to them, they want to wash their hands before using such a filthy income. Oh, the irony of this world.
It is shown that Yasmeen was bearing all this but when she got to know that her husband is already marketing their daughter as a future prostitute and waiting for her to grow up to bring their "rizq", proves to be the last straw for the mother in her. Tricking her parasite of a husband, Yasmeen runs away with her little one and ends up in this train compartment where she meets these strange women, all troubled in their own ways.
It was a great start and has been written keeping human psychology in mind. When you are so caught up and distressed, there is nothing like a non judgmental group of people whom you have nothing in common except belonging to the same gender and that connects you on a much deeper biological and emotional level.
Looking forward to the next story..