So this episode brought Gulmeena's story to us after a brief recap of Yasmeen's. It was good to see Yasmeen in such good spirits and dreams to make a legal livelihood for herself and her daughter. She got reassurance in Sanam Saeed's calm and collected response. Aurat bhi toh Allah ki makhlooq hai.. 
Gulmeena's story was equally tragic, equally heartbreaking and so so sad. Ammarah Butt did a great job as a young and naive girl who has had to grow up more than her years till the day she could not take it anymore.
The only issue I had was that the use of pushto language, while suited the poor people who are shown as IDPs, limited the amount of conversation I could comprehend in a scene, and even had to go back over some of them to try and get the meaning of dialogues.
It started with Gulmeena transported back to the time this tragic story of hers actually started. Displaced from their village and their home, a heavily pregnant Gulmeena is scared for her and her child's future. Her mother in law Amma Gul leaves no stone unturned to torture her physically and verbally. Her husband, Yousuf, however is a humane man and even went against his evil mother's wishes to take his young wife to the doctor. They never reached there though and Gulmeena became mother to a baby boy. Just as the couple is dreaming of going back, finding their family and making them happy by showing the newest member, fate takes another cruel turn and Yousuf suffers a fatal heart attack, leaving Gulmeena and his several weeks' old son at the mercy of total strangers. They however managed to find Yousuf's family since Gulmeena herself is shown as an orphan.
Without the shield of a loving husband, Gulmeena suffers terribly at the hands of her mother in law. One thing that stood out was the fact that even though women are shown so terribly suppressed and men so atrociously dominant, in Yousuf's parents the case is totally opposite. His father cannot even take a stand for the young daughter in law he so wants to protect but is helpless in front of his wife. So it seems, ruling over your household and having a strong say in it is more of a stroke of luck, no matter which culture. Amma Gul is one of those rare women who would actually benefit from a taste of male dominance and chauvinism but she has been really really lucky.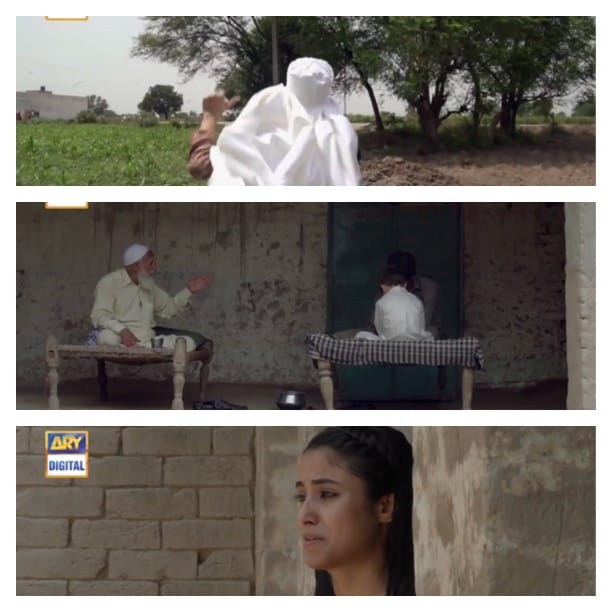 In her spite and hatred, the evil Amma Gul tricks Gulmeena into marriage by falsely agreeing that her baby Rustum will go to her new husband's house. Her new husband, old enough to be her grandfather is an illetrate old beast of a man who has no mercy for the young mother or her infant. In the throes of her husband's cruelty, Gulmeena finds the courage to run away from this degrading and unhappy life. When her husband totally refuses to agree to let her son live with her, she just packs up and leave. It was sad and happy at the same time to see her running through the fields with her little belongings packed in a small black cloth. A woman running away from an existence which would eat her body and soul if she stays. A woman facing her fears of making it alone in the big bad world rather than staying in the false security of a marriage where she does not even get basic human respect. You have to pick and choose your battles but they never end and Gulmeena took the path to freedom, to achieve the only happiness she has ever known, her little son.
One thing that is shown common between the two stories till now is the strong maternal instincts of both Yasmeen and Gulmeena, and it is extremely realistic. A child truly is a mother's biggest weakness and her greatest strength, both at the same time.
So it was another great episode by Kashaf Foundation and Sarmad Khoosat. Despite being a little difficult to understand because of language and lighting, it made for an impactful story. So glad they took unknown faces for these roles. That makes it look all the more real, all the more heartbreaking..
Here's to strong women
May we be them
May we know them
May we raise them